Notes from the Holme Circle Civic Association meeting
The hour-long meeting last night of the Holme Circle Civic Association drew about 20 people. And while most came out for an update on the Stokes property, many took interest in the city's Recycling Rewards Program.
RecycleBank: Carla Castillo of RecycleBank was at the meeting with hopes of signing up more Northeast residents for the Philly Recycling Rewards program, which took effect in our region June 1. Those who participate in the elective program will earn points — which they can redeem in various ways — based on how much the community recycles.
"The city wants to encourage every single household to recycle," Castillo said.
Castillo also came with two big announcements. Starting today, she said, Philadelphia will now recycle plastic containers numbered one through seven. Until now, only plastics one, two and three were accepted, requiring earth-friendly homeowners to strain their eyes to determine which type of plastic appeared in the small, triangular recycling symbol on containers. Now, every plastic with a triangle is recyclable.
And beginning in September, schools will be invited to participate in the program by creating eco-minded projects. Those who've signed up with RecycleBank will the option of donating their points to a specific school's project (a rain garden or compost site, for example), which will result in monetary rewards for the school.
Stokes Property: Making headlines recently for a controversial zoning request, the Stokes property's future is stable for now. Samuel Stokes, owner of the farmhouse at 2980-86 Welsh Rd., has left the property, said Elsie Stevens, 8th PDAC member and Holme Circle resident. While there are "no plans to save the farmhouse," members of the Stokes family will reside there for at least the next two years.
Stevens relayed her conversation with Stokes to HCCA members, revealing that unless a developer were to offer the homeowner $400,000 for the "deteriorating" property, the house will remain intact for the next two years. Beyond that, Stokes has agreed not to pursue zoning for multi-family homes, based on the negative reaction from the neighborhood at last month's meeting.
8th PDAC: The 8th Police District Advisory Council will host a National Night Out Aug. 3, during which time families can come together for food and festivities, and take advantage of free services like bike etching and child fingerprinting. The PDAC is also looking into hosting a one-day gun amnesty, allowing gun owners the opportunity to turn in a gun in exchange for a gift certificate for food.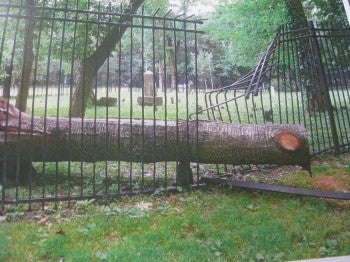 Holme Avenue Cemetery: The fence around the small cemetery on Holme Avenue next to Crispin Gardens has suffered damage from a fallen tree. 8th PDAC's Elsie Stevens petitioned the HCCA to help cover the estimated cost of $1,000. Already, the Holmesburg Civic Association, Friends of Pennypack Park and Lower Dublin Academy have each chipped in $200. Stevens requested the HCCA do the same, and volunteered to donate $100 of her own money if the civic fronts the other $100. Acting HCCA President Joe Razler agreed to help the cause, pending a discussion with the treasurer, who was not at the meeting.
The Holme Circle Civic Association will next meet Wednesday, Sept. 22.
WHYY is your source for fact-based, in-depth journalism and information. As a nonprofit organization, we rely on financial support from readers like you. Please give today.