Notary license taken from Philly's top election official
Philadelphia City Commissioners chairwoman Lisa Deeley quietly surrendered her notary license last summer. It could impact her re-election bid.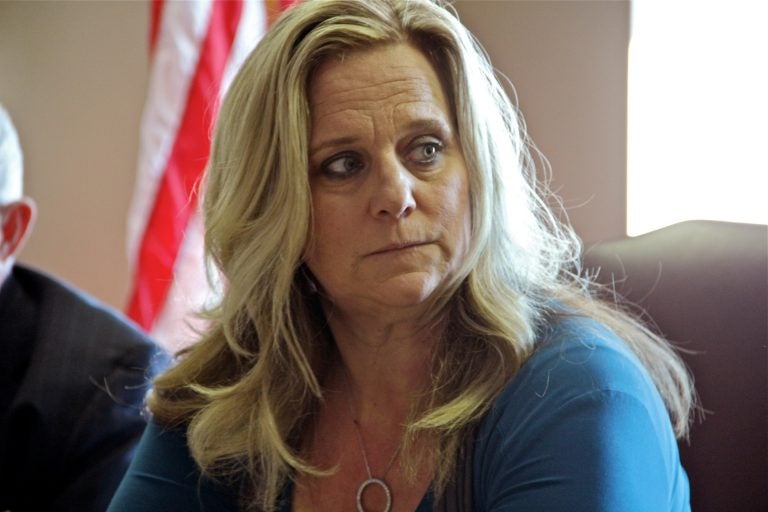 Lisa Deeley's re-election bid for Philadelphia City Commissioner has hit a snag just weeks before the crowded Democratic primary.
The Philadelphia Inquirer reported that Deeley permanently surrendered her notary license last summer because she approved signatures on two death benefit documents without asking for identification, a violation of state law.
Deeley, the commission's chair, also didn't log her services in a notary register, according to a consent agreement she signed in early August. 
City commissioners aren't required to have a notary license, but critics say Deeley's decision isn't a good look for someone running to oversee city elections.
"Signatures are really the most basic line of defense in the election process," said David Thornburgh, president of the Committee of Seventy.
To get on the ballot in Philadelphia, candidates need a certain number of registered voters to sign their nominating petitions. Candidates running for city commissioner, for example, need to turn in at least 1,000 valid signatures.
Voters can't cast a ballot until they sign a poll book, verifying their identity.
"Our elections are under attack right now and will be even more so leading up to the 2020 presidential election. Any suggestion of impropriety by those who run our elections harms Pennsylvania and Philadelphia and the country. We have to get it right," said Jen Devor, one of 13 Democrats running to fill two spots on the three-person board. A Republican fills the remaining slot.
On April 1, 2010, Deeley met with Charles "Chuck" Costello, an acquaintance, and a woman identifying herself as Costello's wife. Deeley approved a document waiving a wife's right to her husband's death benefits without asking the woman for identification, according to the agreement.
On Jan. 24, 2011, Deeley again met with Costello and the woman. Again, she approved a death benefit document without properly verifying the woman's identity.
The woman who signed the documents in front of Deeley was not Costello's wife, Lynda.
Deeley's lawyer, Jim Crumlish, said his client was scammed, and that the consent agreement has no bearing on her ability to be a city commissioner.  
"It was a once in a lifetime event that was very disappointing, as anyone who is trying to act honorably and faithfully to their commission, to be taken advantage of," he said.      
Deeley declined an interview request.
In a statement, she said she surrendered her notary license to "avoid any distraction in my work serving the people of Philadelphia."
"I'm running this campaign to talk about the work we've done in making elections in Philadelphia more transparent and more efficient. I'm proud of the work I've done in increasing poll worker pay, rolling out a robust education campaign around elections, and ensuring that people held in city prisons get access to absentee ballots so they can exercise their right to vote.
"And I'm running to continue these reforms and to make Philadelphia a national model for elections," said Deeley.
It's unclear if this episode will cost Deeley her spot, which comes with a $140,000 salary. Incumbents in Philadelphia are typically able to defend their seat, though past commissioners have been ousted.
In 2011, Democratic ward leader Stephanie Singer unseated Marge Tartaglione, the fiery leader of the Philadelphia City Commissioners for more than three decades.
Tartaglione's campaign came under fire after her daughter, a deputy in her office, was cited for ethics violations. Political rivalry also played a part.
Political consultant Mustafa Rashed said Deeley surrendering her notary license won't change the calculus of this race, but he does see a silver lining.
"If there's one good thing that could be said out of this, it's going to make us all have a better understanding of what exactly it is, what a commissioner does, the roles they serve, the functions they have," he said.
The primary is May 21. In addition to city commissioners, voters will choose Philadelphia's next mayor and City Council.
WHYY is your source for fact-based, in-depth journalism and information. As a nonprofit organization, we rely on financial support from readers like you. Please give today.