Northeast Philly Food Feed: Survey could help bring fresh produce to the Northeast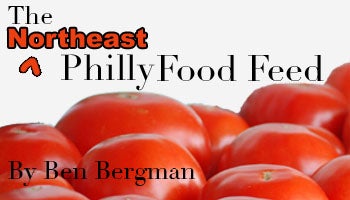 The Northeast has two farmers markets – Oxford Circle and Frankford. Mayfair's will officially debut next Spring. Help gauge the region's interest in fresh produce and maybe bring a farmers market to your neighborhood by taking this survey.
You know, if you get collard greens fresh enough, you can actually hear them. The leaves are so firm that if you kind of crinkle them a little bit, they make noise. I admit it, I like to listen to fresh food…I'm a farmers market junkie.
For the past three years, I have immersed myself in farmers markets. I have managed them all over the city, from West Philadelphia to Chestnut Hill, Broad and Olney to Bridge and Pratt. Through it all, I have made strides in eating seasonally; enjoying produce during it's growing season. You won't see me eating asparagus in January or apples in April. Odds are, these types of out-of-season selections are coming from thousands of miles away, picked too early or picked too late (nothing worse than buying "fresh" produce from the supermarket just to have it go bad after two days).
While some may say that food from a farmers market is pricier than its grocery store counterparts, see me when your lettuce goes bad in two days…mine regularly lasts at least a week.
Freshness goes a long way toward flavor, too. I didn't know certain vegetables and fruit tasted good until I had them fresh – really fresh. Not fresh from Washington State but fresh from Reading or Lancaster or even urban farms in Philadelphia proper! Until I was like 30, I didn't know apples didn't have to be mealy.
Speaking of apples…up until pretty recently, I didn't realize there were apple varieties not limited to Red Delicious, Golden Delicious and Granny Smith. Have you ever tried a Honeycrisp apple? How about a Jonagold or Cortland?
Moving on to other produce, have you ever tried or even heard of Laminate kale or kohlrabi? These fruit and vegetable varieties weren't even on my radar screen for most of my life. Now I am inundated with them. You should be too.
That brings me to my next point…farmers markets are woefully underrepresented in Northeast Philadelphia. Whereas there are nearly 50 farmers markets seasonally in Philadelphia, the farthest Northeast a weekly market runs is the Oxford Circle market. Mayfair has held previews of one it plans to set up in the spring.
Even so, what about Bell's Corner or Holmesburg? How about Parkwood or Somerton? Don't these communities deserve their shot at audible collards? I believe the answer is a resounding, "Yes!" and want to see if you feel the same.
After reading this and checking out the pictures I have included (these are from last week in Chestnut Hill…they could be on Castor Ave!), please take this five minute survey to assess the Northeast's interest in these markets. I work with people who can make this happen and your opinions will go a long way toward gauging an interest and moving forward. Also, if you have an interest in being involved in the planning of such a project, please contact me directly at phillyfoodfeed [AT] gmail [DOT]com
Philadelphia has more than 50 farmers markets. The Northeast deserves them, too.
Ben Bergman writes the Philly Food Feed He lives in Parkwood and grew up in Castor Gardens. Check out all the Northeast Philly Food Feed entries here.