Northeast Philadelphia Hall of Fame honors its first inductees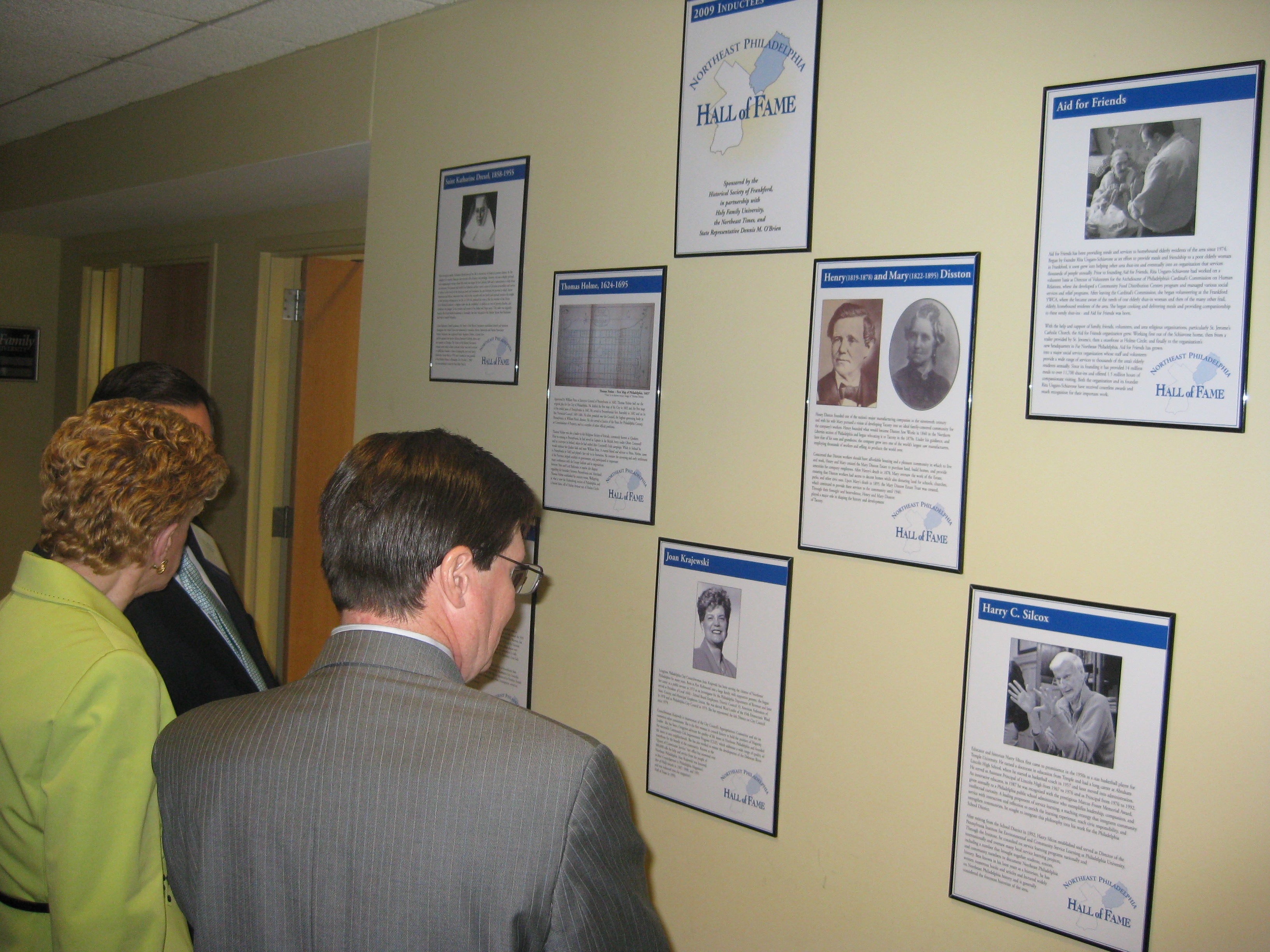 The Northeast welcomed the first inductees into its hall of fame yesterday, celebrating more than 300 years of accomplishments in our region.
More than 100 guests, honorees and elected officials gathered in Holy Family University's John M. Perzel building to formally honor the first eight Northeast Philadelphians to be included in the Northeast Philadelphia Hall of Fame — something its creators plan to make an annual event.
"A [Northeast Philadelphia Hall of Fame] is long overdue," State Rep. Dennis O'Brien said in his address to the events attendees.
What they mean
Prior to the inductions, Rep. O'Brien explained why each had been chosen. (Read more about the inductees below)
Thomas Holme is responsible for making this the "greatest city to live in."
"If it weren't for the Disstons, I don't think we'd have the area of Tacony."
Tom Gola "is a hero and a mentor."
Mother Katharine Drexel was "brave" to do work she could have been persecuted for.
Joan Krajewski is "the toughest politician" next to Frank Rizzo.
Aid for Friends "paved the way for services in the home."
Harry Silcox is the "foremost historian" in the area.
The concept of a hall of fame devoted exclusively to the Northeast came about five years ago in a conversation between O'Brien and Northeast Times staff writer Tom Waring. The idea remained just that until 2007 when O'Brien, Waring and others partnered with the Center for Northeast Philadelphia History, an offshoot of the Historical Society of Frankford. With the help of steering and selection committees, the plans for the first Northeast Philadelphia Hall of Fame induction ceremony were underway in 2008.
The year of planning, organizing and selecting led up to yesterday's event — a formal, catered affair provided by partners Rev. Paul Andell, president of the Historical Society of Frankford and pastor of St. James Lutheran Church; Sr. Francesca Olney, president of Holy Family University; John Scanlon, editor of the Northeast Times; and O'Brien, state representative of the 169th District.
"Denny O'Brien was really the driving force" behind the idea, Historical Society of Frankford Secretary Patricia Coyne told NEast Philly.
The goal of the hall of fame, as stated in the induction ceremony program, is: "To foster the development of civic values and a sense of community in Northeast Philadelphia, along with a greater awareness and appreciation of the area's rich history, by honoring the lives and accomplishments of its most distinguished citizens." The ceremony began with remarks from O'Brien, who then handed over the mic to Jack McCarthy, the project director for the hall of fame and planning director for and archivist for the Historical Society of Frankford. McCarthy presented photos of highlights of the Northeast's history, including a map from 1843.
"There are two misconceptions about the Northeast," he said. The first being that the Northeast has no history, the second that the Northeast is not diverse. McCarthy disspelled both myths with his photos.
Below watch Rep. O'Brien speaking about the value of Holy Family
McCarthy then went on to introduce the eight inductees – seven individuals and one organization – with a video about each.
Thomas Holme (1624-1695) The namesake of neighborhoods Holmesburg and Holme Circle, Holme was a surveyor appointed by William Penn to lay out the original plan for the City of Philadelphia. He came to Pennsylvania in 1682 and established his home, Wellspring, in Holmesburg. He is buried off Holme Avenue just west of Crispin Gardens.
Henry (1819-1878) and Mary (1822-1895) Disston The Disstons founded Disston Saw Works in Northern Liberties in the 1840s, and then relocated to Tacony 30 years later with the idea of building a family-centric community for their employees. Mary created the Mary Disston Estate, which provided land, homes and amenities for Saw Works employees.
St. Katharine Drexel, 1858-1955 Born into a wealthy family who spent summers in Torresdale, Katharine Drexel devoted her life to helping impoverished Native Americans and African Americans, and established Sisters of the Blessed Sacrament, an order of sisters who continue her mission.
Tom Gola A former LaSalle University basketball player and coach, Gola went on to play professionally for the Philadelphia Warriors. Following his sports career, he served as a state representative and Philadelphia city controller before running for mayor in 1983.
Joan Krajewski Councilwoman Krajewski has represented the 6th District for 30 years and is the first woman to ever be Majority Leader. She is also responsible for establishing the Community Life Improvement Program, and was named Best Councilperson by Philadelphia magazine in 1987, 1990 and 1991.
Below watch Krajewski speak about the Northeast
Harry C. Silcox A star basketball player for Temple in the 1950s, Silcox went on to coach at Lincoln High School, where he later served as assistant principal and principal. Upon his 1992 retirement, Silcox established and directed the Pennsylvania Institute for Environmental and Community Service Learning at Philadelphia University, and devoted his time to researching and writing about the history of Northeast Philadelphia. He has since become a noted author, lecturer and scholar specializing in Northeast history.
Aid for Friends The first organization to be inducted into the hall of fame, Aid for Friends was started by Rita Ungar-Schiavone in 1974. What began in Ungara-Schiavone's home, then slowly grew to fill a trailer behind St. Jerome's Church and a small storefront on Holme Avenue, is now a large operation in the Far Northeast that has served 14 million meals to more than 11,700 shut-ins.
After honoring inaugural class to the Northeast Philadelphia Hall of Fame, O'Brien took the mic one final time to express his gratitude to all those involved in the event.
"The selection group has done us proud," he said. "I have a glowing feeling in my heart today."