North Philly warehouse now home to new Philly Good Food Lab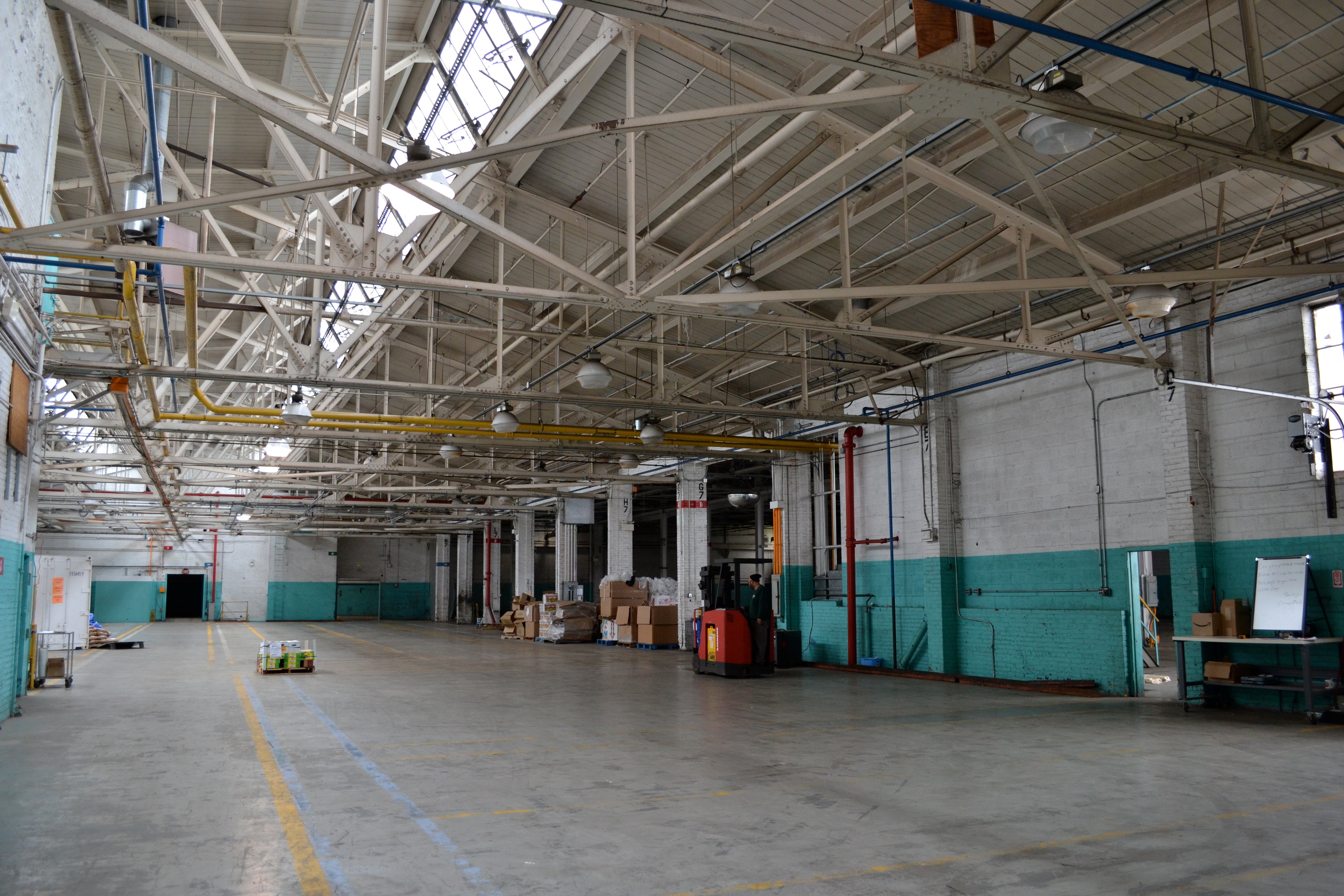 Drive along East Erie Ave, and you might ask yourself, how can the city fill its big, old blocky factory buildings now that much of the manufacturing has left? Talk with anyone involved in the local, sustainable food business, and you might ask yourself, how can Philadelphia expand and support this resource restricted movement?
In at least one instance, these two, seemingly separate questions might just have the same answer: The Philly Good Food Lab.
At the corner of Erie Ave and D Street, Common Market is turning an old auto-parts remanufacturing warehouse into a food-focused co-working space – a space they're calling the Philly Good Food Lab.
Common Market is a mission-driven food distributor that delivers local, sustainably grown food to larger institutions like schools, hospitals and workspaces. This allows farmers to sell products to a wider clientele, and because Common Market aggregates the food in its warehouse, customers have more product options than they might if they purchased directly from individual producers.
Now Common Market wants to take this model a step further and share their new Erie Ave home with other local food enterprises and entrepreneurs. To do so, Common Market is launching Philly Good Food Lab, which will lease flexible warehouse and office space to like-minded food businesses.
ROOM TO GROW
Common Market has grown quickly since it launched in 2008. Today the nonprofit works with 75 farmers and more than 150 customers. Common Market's distribution truck runs six days a week, and they expect to do $2 million in sales this year.
Until this past January, Common Market was operating out of about 2,000 square feet of rented space at a Share Food Program, Inc. warehouse, where at one point they had to store apples in a refrigerated truck parked outside. Then, after two years of searching, Common Market found the perfect building – a 70,000 square foot building most recently lived in by the auto-part remanufacturing company Cardone.
"They were really good owners," said Leah Pillsbury director of development at Common Market. "…That was one of the things [we liked] about the building. It's in really good condition."
Before making the $1.2 million acquisition – which was funded with a mortgage loan and grants that Common Market plans to repay – Common Market toured many potential spaces. They found the Cardone building clean, in good shape and ideally located. The building's infrastructure is what really sold Common Market though, Pillsbury said. It has good bones.
The former Cardone building has four loading docks, one drive in bay and potentially room for a fifth loading dock

Common Market was drawn to the building's well-kept infrastructure

The warehouse offers a blank slate where Common Market will build walls to suit tenants

Common Market will build a 6,000 square foot cold storage system. In the meantime, it is using temporary cold storage units

The building is wired throughout
Some of the other spaces Common Market looked at were beautiful and huge but lacked features like loading docks, she said. This building has four loading docks, one drive-in bay, and there is talk of building a fifth loading dock.
At more than 70,000 square feet, the building has space for Common Market and then some. It is a clean slate, with space and flexibility for Common Market to design and install a new, 6,000 square foot cold storage system. There is even enough upstairs office space to house Common Market and other tenants.
"It felt important to have a space we could grow into," Pillsbury said.
Common Market decided to buy, not rent. The nonprofit wanted a permanent home, without the fear that after making costly investments, they would need to relocate again.
Another requirement was that the building be in Philadelphia.
"The number one thing was we wanted to be in Philadelphia," Pillsbury said. "It's part of our mission to invest in the city and its people."
FOSTERING A REGIONAL FOOD SYSTEM
"We're really looking to support farmers and support local business," Pillsbury said.
Through Philly Good Food Lab, Common Market will offer "creative space for local food enterprises and entrepreneurs" and include these businesses in the established Common Market distribution network.
Ideally, Philly Good Food Lab will host five to seven tenants, each renting between 1,000 and 10,000 square feet, Pillsbury said. They hope to have 25 percent occupancy by the end of 2013, and so far they've already secured their first tenant – Mycopolitan Company, a startup mushroom growing company that will operate out of the warehouse basement.
"We didn't think our basement would be the first thing to rent," Pillsbury laughed.
Mycopolitan hopes to develop chicken mushrooms, which have eluded cultivation at a commercial level, as its main product, said co-founder Tyler Case. Mycopolitan will also grow other special-variety mushrooms and develop agricultural products and techniques where, for instance, mushrooms might be used to increase crop yields.
At 10,000 square feet, the basement space Mycopolitan will rent is more bang for the buck than the startup would likely find elsewhere.
"If we were to be building a facility outside on a farm, we would have to build insulated green houses which cost probably 30 grand for 1,000 square feet," Case said.
Mycopolitan, the first Philly Good Food Lab tenant, will take over the 10,000 square foot basement

Pillsbury said Common Market did not think the basement would be the first place to rent out

One of the first upgrades Common Market made upstairs was installing new carpet in part of the building's shared meeting space

The Common Market staff has moved all of its office operations into the new head quarters

Space formerly used as a chapel for the building's employees will be converted into office or meeting space
Initially Case mentioned that Mycopolitan Company might want to rent and build upstairs kitchen space to make value added products. Someone at Common Market suggested that instead Philly Good Food Lab could bring in a tenant with a commercial kitchen and that Mycopolitan might be able to work in that space.
"I really see that there's a lot of potential for cooperation," Case said.
The Common Market staff joke that they hope a coffee roaster, cheese producer and beer brewer decide to join Philly Good Food Lab too, Pillsbury said. What more could you need?
While no other tenants are definite yet, a nondairy ice cream producer has expressed interest in renting cold storage space, where the company might store bulk ingredients and finished products.
In most cases, tenants will have to invest some capital to outfit the space they rent with necessary equipment. After that, Common Market will charge a square-foot rental rate and small common area management fee.
While Common Market owns the building and will anchor the Philly Good Food Lab, it will be just as much a part of the "lab" as the other members. Like many local, sustainable food enterprises, Pillsbury said, Common Market needs space to incubate.
A Common Market sign hangs on the front of the building, where the original building owner's name peeks through

In total, the building boasts 70,000 square feet
WHYY is your source for fact-based, in-depth journalism and information. As a nonprofit organization, we rely on financial support from readers like you. Please give today.