New Jersey birders stunned by influx of snowy owls from Arctic region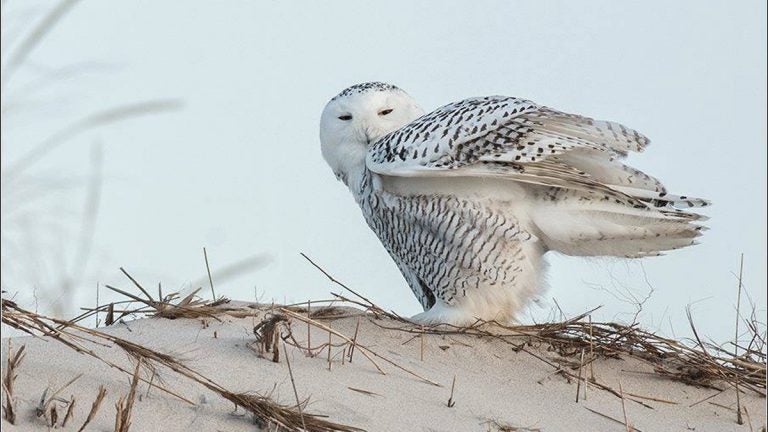 New Jersey birders are all aflutter over an influx of snowy owls, Arctic predators that seldom stray into the Garden State but are doing so this winter in numbers that are unprecedented in at least 50 years.
By December 6 around 20 of the birds had been seen at various locations including Stone Harbor Point, Sandy Hook, and Forsythe National Wildlife Refuge, starting in late November.
The count sharply exceeds the state's typical winter tally of zero to three, and is expected to increase as the winter goes on as more birds venture south from their normal wintering grounds in Canada.
"This is really just the beginning," said Pete Dunne, director of the Cape May Bird Observatory. "When you get an increase this big, typically birds just continue to move in."
Dunne, a nationally known birding expert, said the birds' wide dispersion from their normal territory — known in ornithological circles as an "irruption" — was unprecedented in his 50 years of birding.
Given the expectation that the owls will continue to arrive, the influx may become the largest since birding records began. "It has the potential to be the biggest irruption ever," Dunne said. The two previous largest irruptions occurred in the winters of 1890-1891 and 1926-1927.
The birds have clearly been driven south by a shortage of food in their normal wintering habitat, Dunne said, although reasons for the shortage are less clear.
One theory is that the species had a very good breeding season because of an abundance of lemmings — small rodents that are a major food source for the owls. The resulting population boom means there isn't enough winter food for all the birds in their regular winter territory, forcing some to fly south.
"There is not enough winter prey to support the expanding population," Dunne said.
There's also speculation that because of climate change, a reduced area of Arctic ice has reduced the habitat of creatures on which the owls prey during the winter.
The number of birds and their wide dispersal also fuels speculation that there has been a very significant drop in the food supply in relation to the number of owls depending on it, perhaps because of climate change, Gordon said.
"If these birds were able to find adequate prey further north, they would not be moving south," he said. "It may be that the population of owls is very high, or the population of prey is very low, or both," he said, noting that lemming populations historically run on a boom-and-bust cycle.
Outside of New Jersey, the birds are appearing in other northeastern states, southeastern Canada, the Great Lakes region, and even Bermuda, said Jeffrey Gordon, president of the American Birding Association.
Snowy Owls — with distinctive black-and-white patterning and a wing span of more than four feet — generate excitement among birders at any time because they are big, handsome birds that live in remote regions that most people never visit, Gordon said. The fact that they are now visible in significant numbers, and in unfamiliar habitat like New Jersey, adds to their mystique.
"Most people who watch birds don't get a chance to see one," Gordon said. "It's a reason to celebrate."
Even outside the birding community, the birds are likely to attract attention because of their size and rarity. "It's like when you get a really bright comet or the aurora borealis," Gordon said. "You don't need a degree in astrophysics to be awed by it."
In Delaware, state officials marked the birds' appearance with a press release that offered tips for spotting one and noted the highly unusual nature of their presence.
"This year is shaping up to be extraordinary and unprecedented," said Anthony Gonzon, a biologist with the state's Division of Fish and Wildlife, in the statement. "Over the course of six days surrounding Thanksgiving, at least six snowy owls have been sighted, providing Delawareans a great opportunity to share in this phenomenon."
Scott Barnes, Director of Birding Programs at New Jersey Audubon, said hundreds of people have been out to see the owls across the state, generating excitement among expert birders and the general public alike.
"It's always a thrill to see them," he said. "They are regal looking with beautiful yellow eyes and feathered feet."
But he urged watchers to keep their distance from the owls, many of which are young birds that are not yet competent hunters and so may be undernourished and overstressed from their long flight from Arctic Canada.
"We don't want people to stress the birds out," he said.
In their temporary habitat of New Jersey and other U.S. states, the owls will look for territory that resembles their native Arctic tundra, and so are likely to be seen in treeless environments like marshes, open fields, and beaches, but will also look for elevated positions, said Dunne of CMBO.
People lucky enough to find one should avoid the temptation to get too close, and should certainly not try to flush the bird or make it fly, Dunne said.
But he urged people to take advantage of a rare opportunity to see the Arctic bird on their doorstep.
"This is one that they will be talking about in 20 years," he said.
_______________________________________________
NJ Spotlight, an independent online news service on issues critical to New Jersey, makes its in-depth reporting available to NewsWorks.