New 'Safe Corridors' program brings parent patrols to opioid-plagued Kensington
The Philadelphia Resilience Project's Safe Corridors initiative intends to make walks back and forth to school safer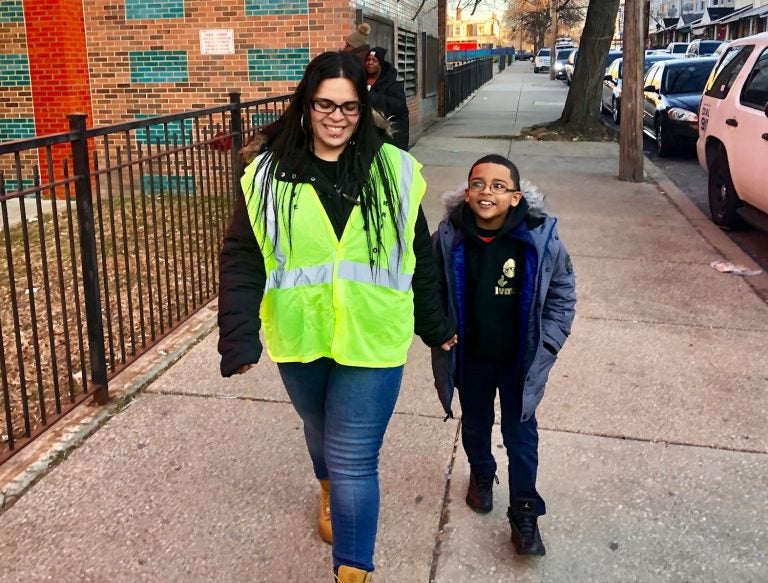 This story originally appeared on PlanPhilly.
—
Every school day, Dalia Burgos of Kensington walks her three children to school. The short walk has become a time for learning, but not in the way that Burgos would ever have hoped. Her son Albert, a second-grader at Lewis Elkin School, already knows the dangers of the opioid crisis. As he's watched people inject drugs, he has come to recognize hypodermic needles and other paraphernalia of addiction.
"It's hard that, at 7 years old, I have to teach him about what's going on in this neighborhood," said Burgos, 31. "No kid should be even subjected to that."
On Tuesday, Burgos' walk to school became official with the launch of an initiative pairing school communities with parent volunteers who are vetted, trained, and outfitted in fluorescent yellow vests to patrol school grounds and the surrounding catchment area.
The Philadelphia Resilience Project's Safe Corridors initiative intends to make walks back and forth to school safer in a section of the city caught in the grip of the opioid crisis.
Through the program, parent volunteers are keeping an eye out for any potential threat to students.
"The safety and successful education of our students is our No. 1 focus," said Elkin principal Charlotte Maddox. "That sense of security that they have builds their self-confidence that they need to enter into a safe place and to be ready to learn."
The school expects to have eight volunteers by the end of the week, and it is looking for 25 volunteers, said Maddox. Twenty-five is the sweet spot for sustainability, according to the school leader. She said there is no hard requirement threatening the program, and faculty will participate if necessary.
The Resilience Project is also looking to bring the program to five other schools in the opioid-affected area — Frances E. Willard; Philip H. Sheridan; Isaac A. Sheppard; William H. Hunter schools; and Russell Conwell Middle School. All are currently recruiting for school parent-volunteers.
The project began after the mayor signed an executive order creating an opioid response team to address the city's crippling drug problem. Its focus area is Kensington, the epicenter of the city's opioid crisis.
WHYY is your source for fact-based, in-depth journalism and information. As a nonprofit organization, we rely on financial support from readers like you. Please give today.