New parking policies could cost motorcycle, scooter drivers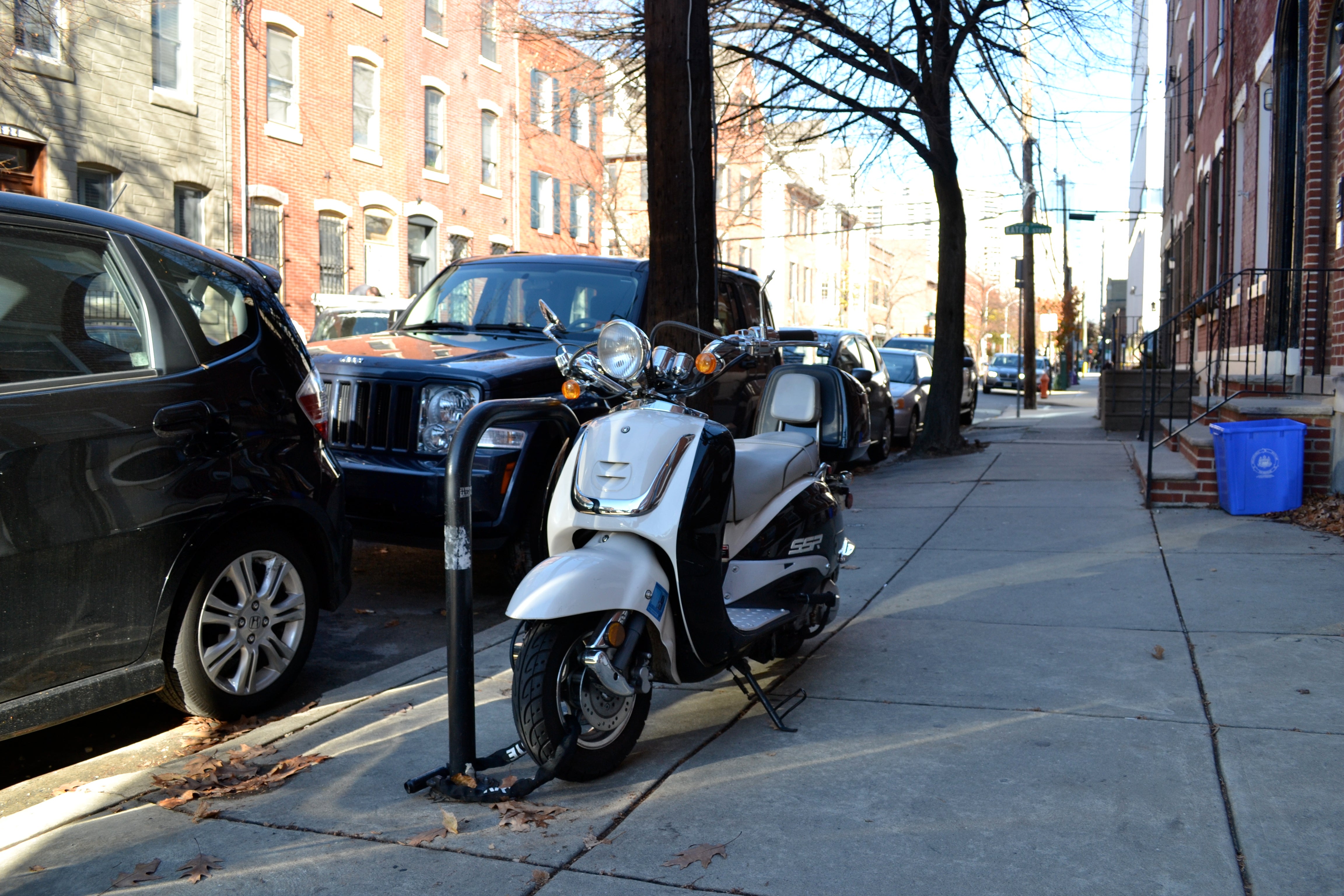 Motorcycle and scooter owners who were shocked when the Philadelphia Parking Authority (PPA) began doling out $76 tickets when those vehicles were parked on sidewalks, may be in for even more of a surprise when PPA's new parking policies go into effect on Jan. 6.
Scooter parking became a heated topic in mid-October, when the PPA began ticketing vehicles parked on sidewalks. In response to complaints, PPA has updated its scooter and motorcycle parking policy and added what some might conisder pricey permits. The buzz around scooter parking has died down though, and it seems many are unaware of the new parking policies – policies that could cost them.
As part of PPA's new stance, motorcycles and scooters will still be prohibited from parking on sidewalks, unless the owner has a residential parking permit (RPP). In that case, the owner will be able to park the scooter or motorcycle in front of his or her home – and only that residence. Thanks to recent legislation, parking permits range from $35 to $100 and must be renewed annually.
PPA will also install "parking corrals" in new and existing designated scooter and motorcycle parking zones. Drivers will be able to park in these areas with either a $5 day pass or a $120 quarterly permit.
"I think it sucks," said scooter driver Dan Schauble. "That bothers me a lot. They're not stupid. Anything they can do to make money, they'll do it."
Schauble bought his scooter a year-and-a-half ago in an attempt to save money. Riding year-round, he has already put 8,000 miles on the vehicle, which he frequently parks on the sidewalk or in bicycle parking areas – both of which are free.
"I pay nothing," he said. "Why should I? I'm not blocking traffic."
For years, the PPA was self-admittedly lax with motorcycle and scooter parking. Despite state laws that ban these vehicles from parking on the sidewalk, PPA had an internal policy in which if there was not a scooter or motorcycle zone in close proximity and if the scooter was parked within the property line of a building, that vehicle would not be ticketed. But, according to Deputy Executive Director Corinne O'Connor, drivers and PPA enforcement officers alike were confused over what was ticketable and what was not. To clear up confusion, PPA began enforcing the state law – ticketing the two-wheeled vehicles even when they were parked where they had previously been allowed.
That led to a wave of public outcry and media attention, which in-turn spurred these latest changes.
Designated parking zones and corrals
Even before scooter parking made the news this fall, PPA had 43 parking zones where only motorcycles and scooters are permitted to park. In these zones, the meter fee is one-half of the prevailing rate on the block. One problem with this is that the vehicles are in the roadway and risk being damaged by other, larger vehicles. To provide some protection, PPA will install parking corrals in its existing parking zones. PPA hopes to have the corrals installed by early spring 2014 and to add more designated parking zones with corrals based on public input.
"Right now the only corrals are for bicycles, but we're going to basically take that concept and go from there, O'Connor said.
Motorcyclists and scooter drivers will be able to park in these zones with either a $5 day pass (sold in books of five) or a $120 quarterly parking permit.
"If you compare them to how much vehicles are paying for a space in the street, it's definitely less," O'Connor said.
That may be true, but for scooter and motorcycle drivers who have been parking for free on sidewalks, $120 per quarter will likely cause sticker shock.
In addition, the permits and day passes will not be valid at meters or kiosks outside of the parking zones. In those areas, drivers must pay the full kiosk or meter price. PPA will offer $5 daily parking for scooters and motorcycles in four of its garages.
PPA is requesting public input and "suggestions on ways to improve and accommodate scooter and motorcycle parking in the city" and is requesting the public communicate via Twitter (@PhilaParking) and Facebook.
New motorcycle and scooter parking regulations go into effect Jan. 6

New motorcycle and scooter parking regulations go into effect Jan. 6
WHYY is your source for fact-based, in-depth journalism and information. As a nonprofit organization, we rely on financial support from readers like you. Please give today.