New Jersey provides $5M to help pregnant women recover from opioid addiction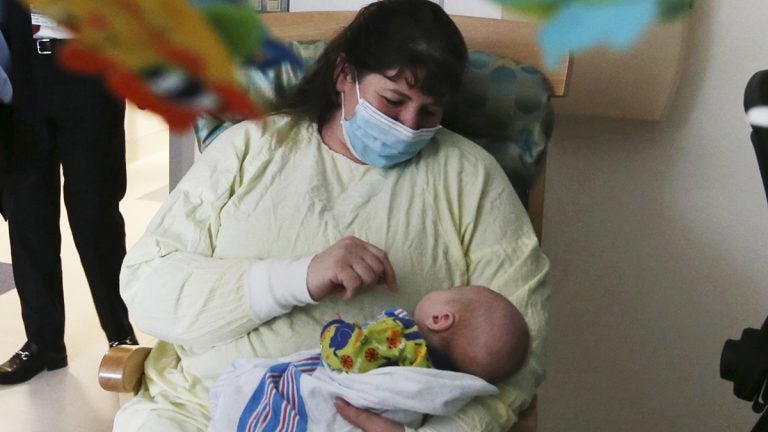 "A Place to Call Home." That's what Robins' Nest Inc., a community health agency in Glassboro, Gloucester County, decided to name its new sober-living program focused on pregnant women. Next month, its doors will open — and Melissa Fox, the nonprofit's COO, says she envisions who will be waiting to come in.
"I see her in my mind's eye: coming to the door, pregnant. And committed to her recovery because of her unborn child, but just needing some additional support," Fox said. "Not having anywhere to go. Maybe sleeping in a car. Maybe coming from a shelter, and holding … another little child's hand."
As a live-in, residential program, A Place to Call Home will support pregnant women and new mothers struggling with addiction to opioids, such as heroin and prescription painkillers. Fox's team has worked hard to know the community, and the women it will serve: an estimated 24 to 30 mothers in the first year. As the women receive support such as child care, transportation, and long-term housing, the team will also help the expecting and new mothers make — and keep — doctors' visits, interviews, and other appointments.
"It's for women who are unstably housed, and who need to be in a safe place to go through recovery," she said, adding that the goal is for the space to feel family-oriented and supportive. "We know that a stable environment is critical. It's crucial to a sustained recovery."
A Place to Call Home was recently awarded more than $635,000 in funding from the New Jersey Department of Health, as part of a total $5 million in competitive contracts announced by Gov. Chris Christie last week.
"It is imperative that we give these babies a fair start on life and ensure mothers get the treatment they need to restore their physical and psychological health. This approach … will promote long-term recovery while offering ongoing medical care and support services," Christie said in a statement.
The goal is to help women who want to stop using during their pregnancy — but can't. Dr. Hendrée Jones, director of Horizons, a residential substance abuse treatment program at the University of North Carolina, says some pregnant women hide their opioid use, even from their doctor, because of shame. They keep it a secret for fear of judgment and criminal charges. This leaves the infant at risk for opioid dependency or Neonatal Abstinence Syndrome (NAS). Babies go into withdrawal.
"They can cry more than non-opioid-exposed babies," Jones said. "So they're going to be sleeping less than other babies. They're going to be having more difficulty sucking and swallowing, more difficulty gaining weight. And that crying can predispose babies to maltreatment if the caregiver becomes incredibly frustrated."
800 women — and babies — may benefit
Since 2011, between 500 and 630 infants have been born with NAS in New Jersey each year. A baby who is difficult to soothe makes it harder for a mother to stay in recovery.
And infants born dependent to opioids cannot be considered addicted, Jones added.
"Babies do not have the life experience to meet the definition of addiction. They can be born physically dependent to a substance like opioids, benzodiazepines or alcohol, and they can be born and experience withdrawal," she explained.
Treatment for opioid addiction during pregnancy includes methadone and buprenorphine. Jones recommends mothers and caregivers maintain skin-to-skin contact with a baby experiencing NAS symptoms. Reducing stimulation by keeping the infant in a low light, low noise room, swaddling the baby, and a "head-to-toe" rocking motion can also help reduce the severity of a baby's symptoms, she added.
For infants experiencing withdrawal symptoms, Jones said the best treatment is a nurturing parent. It can be difficult to stay patient, she said, but it's important to stay calm, and keep watchful. NAS can appear between two and five days after birth, Jones said, depending on a number of different factors.
"So if Mom hasn't disclosed that she's been using opiates during pregnancy — if there wasn't a urine test done on mom or done on baby, or if those urine toxicologies came back negative — it is a possibility that Mom and baby could go home, and then baby could start experiencing withdrawal signs and symptoms," Jones said.
The New Jersey Department of Health estimates the new funding will provide treatment for more than 800 women statewide. In addition to Robins Nest, four other health systems that serve pregnant women and new mothers addicted to opioids will receive funding: Capital Health System ($989,000); The Center for Great Expectations Inc. in Somerset ($787,000); Cooper Health System ($1.5 million); and Eva's Village Inc. ($1.1 million). The programs will launch next month and continue until June 30.
"We want to make sure that once they leave, they have the ongoing and sustained stability that they need in their family unit, so that they can continue safely on their recovery journey," Fox said.