New bills focus on housing affordability, zoning remapping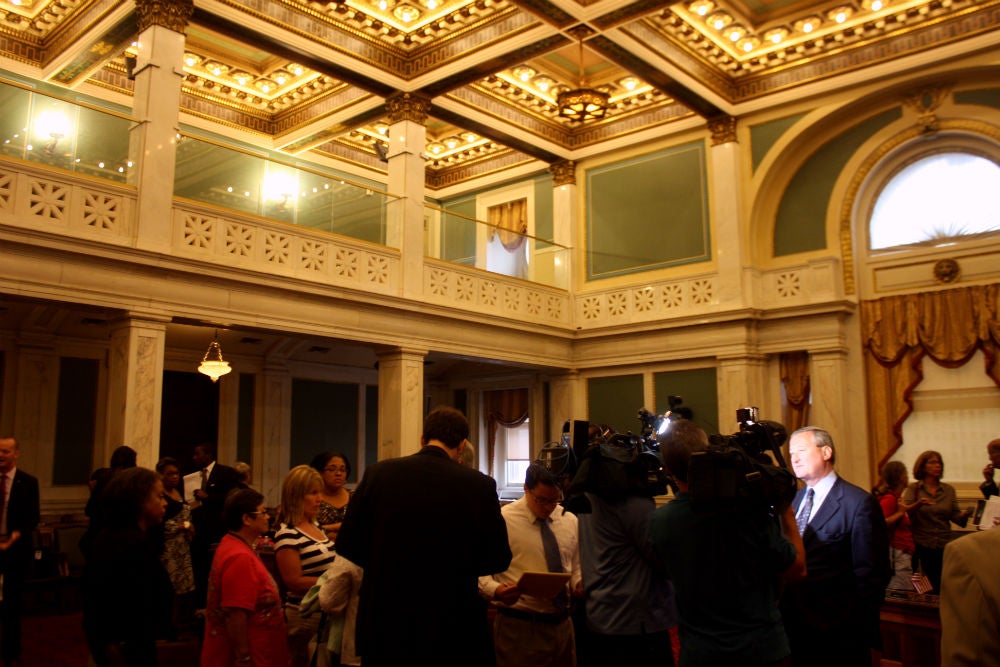 Councilman Kenyatta Johnson introduced a bill Thursday morning that would extend access to the city's Longtime Owner Occupants Program (LOOP) to people who live in government-subsidized housing. Previously, the program, which limits how much a property tax bill can rise in a single year for qualified homeowners, was unavailable to owners who've already received a tax abatement of some kind.
"The bill I introduced today amends the Longtime Owner Occupants Program, and it will allow individuals who live in affordable houses, and who have received some type of abatement, to be included for the actual tax relief under the LOOP program," Johnson told PlanPhilly.
"Right now, individuals who live in affordable housing—obviously, they don't have a certain amount of income, their taxes may have tripled, and currently they don't qualify for the tax relief under LOOP because they have had some type of abatement in the past. But also, they're in some type of a catch 22, because they can't sell their homes because of a deed restriction, so the legislation that we introduced today will allow them to have the opportunity to participate in LOOP."
Owners who qualify for LOOP—those who have owned their homes for 10 years or more, and who don't earn more than 150 percent of Area Median Income—will pay taxes on a new assessed property value that's no greater than three times the value of the previous year. Johnson previously co-sponsored a bill that extended LOOP and other tax relief programs to a wider group of homeowners.
At Thursday's meeting, Johnson took a moment on the floor of Council to acknowledge the Philadelphia Coalition for Affordable Communities, the group which recently kicked off its Development without Displacement campaign. Last year, much of that group would show up regularly to Council meetings, wearing bright yellow t-shirts that read Campaign to Take Back Vacant Land, and speak in favor of the adoption of a land bank. Their shirts are green now, and they advertise the new campaign.
Also on Thursday, Council's first meeting in nearly three months, Councilmembers Mark Squilla and Darrell Clarke introduced bills remapping portions of Center City and North Philadelphia.
Squilla's bill makes corrective changes to a small area of Society Hill, changing an auto-oriented commercial property to commercial mixed-use and a single-family property to a multifamily designation. The bill was introduced at Planning Commission's request, according to Squilla's office.
Clarke's bill makes a host of changes to wide stretch of North Philadelphia west of Temple University. These changes were also introduced as part of the Planning Commission's district remapping process.
Also worth noting: At-Large Councilman Wilson Goode, Jr., introduced a bill that would require firms who take advantage of the city's Job Creation Tax Credit to pay a minimum wage equal to the higher of 150 percent of the federal minimum wage or $12 per hour, adjusted for inflation.
WHYY is your source for fact-based, in-depth journalism and information. As a nonprofit organization, we rely on financial support from readers like you. Please give today.