Neighborhood Gardens Trust names executive director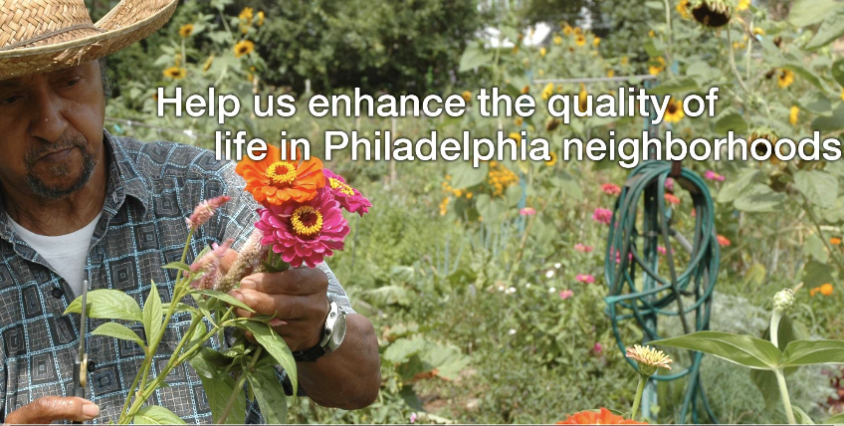 The rejuvenated Neighborhood Gardens Trust, an affiliate of the Pennsylvania Horticultural Society with a mission of preserving, protecting and increasing the number of gardens and open spaces across the city, announces the appointment of Jenny Greenberg as NGT's first Executive Director. Greenberg, a city planner and non-profit professional, has been focused throughout her career on the environmental restoration of underutilized urban spaces and fostering opportunities for city residents to engage with nature.
NGT President Margaret McCarvill made the announcement on behalf of the Board of Directors in conjunction with a thank-you event for sponsors, partners and gardeners. "As an independent non-profit organization committed to growing the vibrant community of neighborhood gardens and open spaces in Philadelphia, it was time for NGT to broaden our structure with our own executive director," McCarvill said. "Jenny's background, experience and commitment to preservation and expansion of open space and city gardens make her the perfect person to lead NGT into its next phase of growth."
A grant-writing consultant to the Delaware River Waterfront Corporation since 2010, Greenberg developed funding strategies and grant proposals for major public projects along the Central Delaware River Waterfront in Philadelphia, generating over $9 million for the implementation of projects including Pier 53 Park, the future Pier 68 Park, the Delaware River Trail, and Spruce Street Harbor Park. Formerly Vice President for Neighborhood Initiatives with Cooper's Ferry Partnership in Camden for more than ten years, Greenberg worked with community groups to create neighborhood plans for environmentally sustainable development anchored by new waterfront parks and a citywide greenway. She also worked with neighborhood stakeholders to build the capacity of local community-based organizations, serving in a variety of roles including acting executive director, board member, grant writing consultant, and project manager.
"Community gardens anchor neighborhoods and bring residents together to make our city move livable and green. I am delighted to serve as the Executive Director of the Neighborhood Gardens Trust as it seeks to sustain and expand community gardening in Philadelphia," Greenberg said.
Greenberg holds a BA from Vassar College and a Master of City Planning from the University of Pennsylvania. She serves on the Board of Directors of the University City Arts League and previously served as the Board Chair of Moonstone Preschool during a major expansion and building campaign. A native of the Mt. Airy section of Philadelphia who attended Central High School, Greenberg lives in West Philadelphia with her husband and two children.
About the Neighborhood Gardens Trust
The goal of NGT is to increase the number of gardens and open spaces from the 34 it owns or leases to more than 100 by the end of 2016. The recent passage of legislation creating the Philadelphia Land Bank, a mechanism for turning vacant land into productive use, will help NGT reach this goal, reflecting the rising trend of households growing their own food and the increase in community gardening. The parcels of land under NGT's umbrella range from single house lots to 3.7-acre spaces. The gardens include tranquil spots filled with flowers and trees to bountiful vegetable gardens that contribute to the PHS City Harvest program, which raises fresh, healthy food for families in need. NGT's predecessor, the Neighborhood Gardens Association, was established in 1986. The renamed Neighborhood Gardens Trust became an affiliate of PHS in 2012. For more information, visit www.ngtrust.org for details on NGT and its individual gardens.
Media contact: Alan Jaffe, PHS, 215.988.8833, (m) 267.968.0859, ajaffe@pennhort.org
WHYY is your source for fact-based, in-depth journalism and information. As a nonprofit organization, we rely on financial support from readers like you. Please give today.