Northeast Times bought by Broad Street Media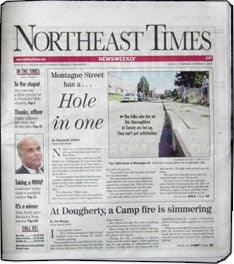 The Northeast Times has been sold, and will be under the new ownership as of Dec. 15. The company, Broad Street Media, LLC, will separate the Times from former affiliates the Philadelphia Inquirer and Philadelphia Daily News. We wish the Times the best of luck with the transition and hope the paper can continue serving our region as it has for nearly 80 years.
According to Editor and Publisher: Broad Street Media, LLC today announced that it has signed an agreement to purchase the non-daily community publishing assets of the Broad Street Publishing division of Philadelphia Media Network Inc., which recently acquired the Philadelphia Inquirer, the Philadelphia Daily News and philly.com. The purchaser is a newly-formed LLC whose principals include brothers Clifford and Stuart Richner, and Darwin Oordt.
…
The principals bring with them a wealth of experience in the suburban and community publishing industry. The Richners' principal business is Richner Communications, Inc., which publishes 28 community newspapers and shoppers in Long Island, NY. Oordt, an industry veteran who recently served as president of the Maryland Pennysaver, is currently chief executive officer of NJ Media Group, LLC, publisher of the New Jersey Marketeer, a group of shoppers in northern New Jersey also owned by Oordt and the Richners. This is a homecoming of sorts for Oordt who at one time served as chief executive officer of Broad Street Publishing, and who brings with him extensive knowledge of the publications and the greater Philadelphia market. MORE Read more about the purchase here.