N.J. condo association to state: Don't touch our dunes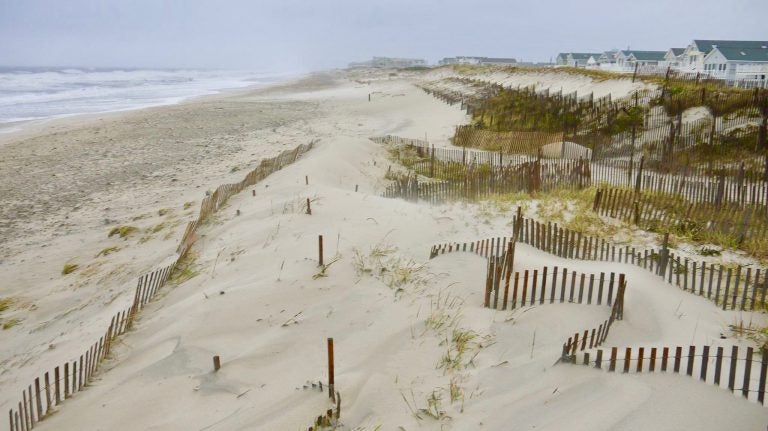 A condominium association that controls a stretch of beach in Ocean County has filed a lawsuit to prevent New Jersey from beginning a dune building project that it says will put the community at risk.
Midway Beach, an enclave of mainly summer bungalows just north of Island Beach State Park in the South Seaside Park section of Berkeley Township, is well-known for its privately-built high and wide dunes that saved the community from tidal flooding during Superstorm Sandy.
In a court document filed in Ocean County Superior Court last week, Midway Beach Condominium Association officials argue that the state's proposed plan offers a dune that is shorter and narrower than the one currently in place, adding that the new dune would ultimately reduce the value of the property and place the adjacent community at greater risk.
A plan for a continuous dune and wider beaches in Ocean County is already in the implementation stage. As of late October, crews are currently working in Mantoloking, a small municipality in northern Ocean County, and will eventually reach Midway Beach.
A court brief submitted by Anthony Della Pelle, the condominium association's attorney, indicates that the state has previously conceded that the existing  system comprised of dunes with an average height of 27 feet and width of 150 feet are "higher, larger, and stronger" than the state's plan.
In a report, Midway Beach's coastal engineer says the existing dune is well-vegetated and stable and the proposed project "does not provide an appreciable storm damage protection benefit for the existing property."
New Jersey is seeking to exercise its eminent domain powers to seize a 1,600-foot strip of oceanfront land for the U.S. Army Corps of Engineers to construct 22-foot high dunes.
Larry Hajna, a New Jersey Department of Environmental Protection spokesman, said properly engineered beaches and dunes protect lives and property.
"We commend those property owners and coastal communities that have worked cooperatively over the years to provide easements that are necessary for construction of a coast-wide system of engineered beaches and dunes," he said. "They recognize the importance of protecting their own communities as well as mutually protecting their neighboring communities."
In a WHYY report earlier this year, Dominick Solazzo, the association's resident dune expert and maintainer, said for decades, volunteers have built up the expansive dune system organically through creative erosion control without any tax dollars.
And Stewart Farrell, director of the Stockton University's Coastal Research Center, said the Midway Beach system represents the "the most dynamic 'bootstrap' dune project on the coast," according to a National Geographic article,
"There's no need for bulldozers or shovels when the wind does the work of building the dune," he added.