'Mystery' sand piles reappear in Shore town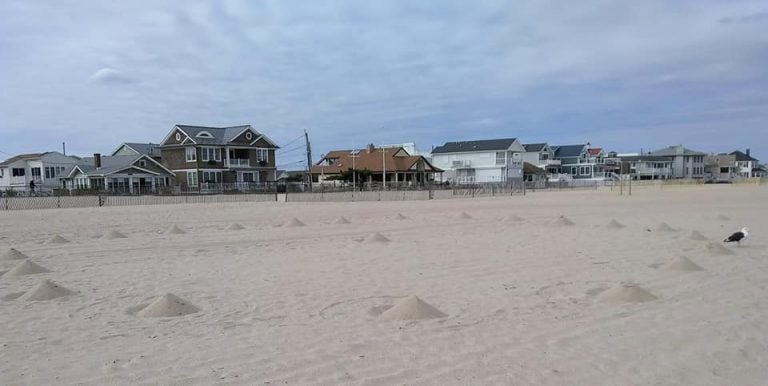 Symmetrically formed sand piles have once again appeared on an Ocean County beach.
Jerry Meaney, publisher of the Facebook page Barnegat Bay Island, NJ, says the piles are scattered throughout Point Pleasant Beach.
"Strangers who are not aware of how the mounds are made come up with all sorts of mystery theories like space visited the beach," he said. "Yup, really."
But in reality the sand art is the handy work of a retired cop who just wants to give people something to talk about and enjoy, according to Meaney.
When the mounds first appeared during the winter of 2014 and Meaney posted pictures online, the social media speculation mill began churning.
Ideas ranged from the sand hoisted from holes dug by metal detector enthusiasts to aliens creating something akin to crop circles.
"The only reasonable explanation is that aliens formed them overnight. They got tired of crop circles," commented Michael Stalker.
Some internet sleuthing led to a scientific explanation that gained traction on Meaney's page: "frost heaving."
Citing wikipedia, Lori Mastrianni Austin explained: "Frost heaving results from ice forming beneath the surface of soil during freezing conditions in the atmosphere. The ice grows in the direction of heat loss, starting at the freezing front or boundary in the soil."
But the speculation — even the scientific theory — is unfounded.
Now more than four years later, the creator's objective continues to be a success: people are talking.