'Mr. Burns' glows amid its vision of darkness at Wilma Theater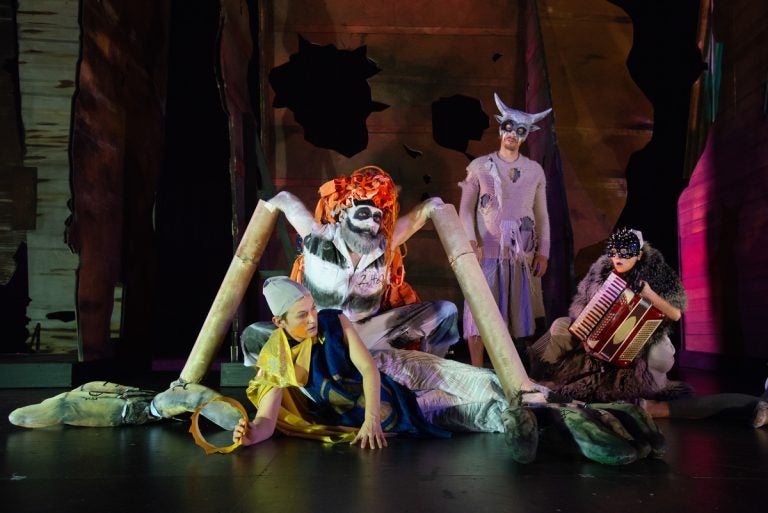 Before the world was electrified, people managed. But imagine how life would be if suddenly, through some disaster or attack or both, we were now literally powerless.
That's the post-apocalyptic scenario for Anne Washburn's challenging, ambitious "Mr. Burns," wearisome in its first act and evermore brilliant as it moves forward in time in two more. It's a challenge to mount and an achievement for Wilma Theater, where the arresting production bristles with complex staging by the Russian-born director and translator Yuri Urnov, a third act completely sung to new music by Michael Kiley, and settings (Misha Kachman), costumes (Meghan Healey) and lighting (Thom Weaver) that demand far different concepts for each act.
I mention the design and creative team first because "Mr. Burns," with its inventive and oddball concept, demands an unusually high-pitched theatricality, if the Wilma's production is taken as the standard. Washburn's play is part opera, part comedy, part apocalyptic nightmare. The show's foundation rests on Matt Groening's long-running animated TV cartoon, "The Simpsons," which it uses as a cultural icon that draws people together after the apocalypse.
"Mr. Burns" — named for the creepy character in the Simpsons who owns the local nuclear power plant — is not for everyone. You probably won't see the spark in it if you have scant knowledge of the cartoon series, or if you don't buy into "The Simpsons" as a cornerstone of modern American culture. The idea of three hours (including two intermissions) inside an apocalyptic vision also may seem overbearing, especially in a too-long first act that can seem indulgently tedious.
At the first intermission, I couldn't see the sense in this "post-electric play," as it's subtitled, after a group of young adults tried mightily to remember each line of a Simpson's episode called "Cape Feare." For them, it was obviously a way of passing time and finding scant comfort inside the space where they hide in virtual darkness from a new and terrifying world of exploding melted-down nuclear sites, strewn bodies and general ransacking.
But then came the mostly funny, more accessible Act 2, and I began to see the play come together as a tale about seeing ourselves through the stories we share. It's seven years later, when only a bit of the power grid is restored – but obviously not enough for TV or movie production. Troupes of actors travel by horse from place to place to entertain people, and their most popular re-enactments are episodes of TV shows, complete with commercials. We look in on one such troop that competes with many others to portray the Simpsons.
By Act 3 it's 75 years later, and a rebuilt society reflects on its past — in this case with a daring performance that mixes ancient Greek tragedy, opera, dance, passion plays and even kabuki. By this time, history blends with fiction: Their entertainment recalls the apocalypse is a good-versus-evil story with characters from "The Simpsons." It's spellbinding and performed in song, with the cast playing instruments that accompany the vocals.
That masterful seven-member cast seems like 20 throughout the night. The actors alternate as Simpson family members and others (including Itchy and Scratchy, the grossly violent cat-and-mouse cartoon Homer Simpson loves to watch) as the acts change. Mary Tuomanen is outstanding as Bart Simpson in the third part, when she sings herself into a life-and-death fight with Mr. Burns, played with rampant nastiness by Jered McLenigan.
Depending on the act, Ross Beschler is Scratchy, Campbell O'Hare is Itchy, Brett Ashley Robinson is Lisa, Sarah Gliko is Marge and Lindsay Smiling is Homer. All of them also take the roles of real people, each strongly acted in a show that's as much a triumph for its storytelling as it is for its audacity.
—
"Mr. Burns" runs through November 11 at Wilma Theater, Broad Street between Locust and Spruce Streets. 215-546-7824 or wilmatheater.org.