Major market-rate housing proposal concerns residents of Point Breeze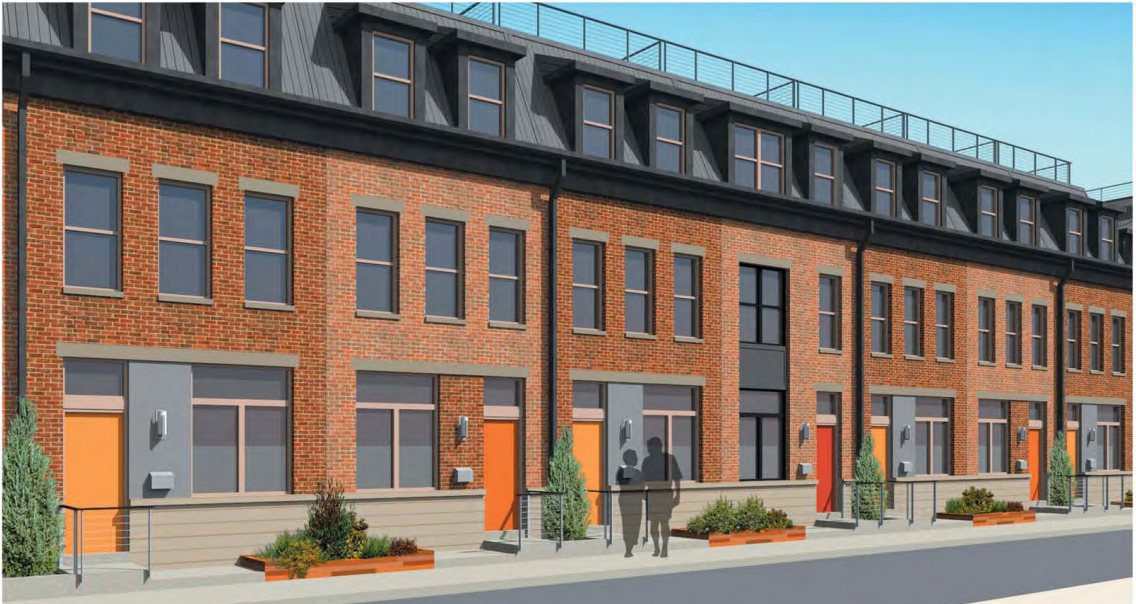 The future of Philadelphia is being negotiated in Point Breeze.
On Tuesday, tensions were reportedly high in the South Philadelphia neighborhood, where voters were deciding the outcomes of dozens of contested committee elections. And tensions were high in Center City, where Planning Commissioners were scheduled to weigh in on the proposed development of nearly 50 market-rate houses, three stories each, with no parking spaces, on the 2000 block of Wharton Street.
Technically, the issue before the Commission was granular: should the zoning board grant a variance to a developer who hopes to build houses on a property zoned for industrial and commercial use?
But the real issue is deeper, and requires conversations about whether the historically low-income Point Breeze neighborhood should continue to be gentrified in the usual way, with much of the new development catering to the housing needs and lifestyle preferences of people who don't yet live there.
The property, zoned ICMX (Industrial Commercial Mixed-Use), is currently home to two vacant warehouses, but the surrounding neighborhood is comprised mostly of two- and three-story homes. There is also a high level of vacancy in both the residential areas and on the nearby Point Breeze Avenue commercial corridor.
The development includes 48 homes with green roof decks. After discussions at recent Civic Design Review meetings, the architects removed pilot houses from the design and added mansard roofs, which taper back from the property line above the second story. But they did not address parking concerns.
Point Breeze residents and City Councilman Kenyatta Johnson's office raised concerns not only about the lack of parking space in the proposal, but also about the number of units, the height of the buildings, the disregard for economic diversity, and community involvement in the development process. Seven witnesses spoke in opposition to the project. Only developer Howard Silverman and his architects testified in support.
After hours of discussion, the Planning Commission voted unanimously to recommend that the zoning board hold a decision on the variances until more negotiations could take place between community members, the developer, and Councilman Johnson.
2000 block of Wharton Street. Both warehouses on right were slated for redevelopment.

Point Breeze development site at Wharton and Woodstock. 48 homes planned for property on right. An additional 22 were planned for property on left, but rejected by ZBA.
What is zoning?
Zoning is the practice of deciding what types of buildings can be built and what sorts of activities can occur in different areas of a city. It can be used to set limits on the height of new houses and how many people can live in them, encourage more activity around public transit stations, and keep strip clubs, gun shops, and factories away from residential neighborhoods. Philadelphia adopted a new set of zoning rules in 2011. They can be found in Chapter 14 of The Philadelphia Code.
It's not clear what the result of those conversations will be, if they take place at all. The opponents and the proponents of the project accused each other of being unwilling to negotiate.
The zoning of the property is also obsolete, which complicates matters. The developer's plan would be allowed by right if the property were zoned RSA-5 (Residential Single-family Attached), a common rowhouse designation that covers much of the surrounding area. Alan Greenberger, the Planning Commission chairman and deputy mayor for economic development, said the current zoning is "an accident of history," and that the property should likely be zoned for residential use. The area has yet to be remapped through the citywide district remapping process.
The current ICMX zoning requires parking to be built at a rate of one space per unit, while typical rowhouse development does not entail any parking requirement. That has caused the developers and some members of the Planning Commission to question whether residents are truly concerned about parking access or are just using that issue to oppose the project entirely.
Claudia Sherrod, director of South Philadelphia H.O.M.E.S., Inc., said that the vote at a recent community meeting on the project was 182 opposed, 82 in favor.
"Maybe it should just stay industrial," she said, rather than support 48 new market-rate homes. In order to fit 48 houses on the parcel, each lot would be 800 square feet.
Jack Williams, a resident of the neighborhood, said that a lot of new development in Point Breeze is out of character with the neighborhood. It addresses "the needs of the people who want to make money," Williams said.
"I've got a sneaking feeling it's a little more than just improving the neighborhood," he said. "… It's going to run us out."
Haley Dervinis, a Point Breeze resident who made headlines last summer after she received a cease and desist letter from developer Ori Feibush for comments she made online, said the project "does not fit in at all with what Point Breeze has going on." (Feibush attended Tuesday's meeting; a blog post on his realty company's development website, Naked Philly, said that OCF Realty is the broker for the project.)
Tiffany Green, a member of Concerned Citizens of Point Breeze and a veteran of zoning battles, said she opposes not just the variance for this project but by-right development in general, which she said is unfair to communities.
Theresa McCormick, another member of Concerned Citizens, said she would like to see the property be developed into some type of use that creates jobs for residents.
Alan Greenberger said the Commission has to respect landowners' basic property rights, and that the way to guide development appropriately is through the thoughtful use of zoning. He said he hesitated to force the zoning board to make a decision that should be up to City Council and the Planning Commission, thus his recommendation to table the decision until more discussions are held.
The developer said he'd agree to more negotiations with community members, but only in the presence of Councilman Johnson, and only if nobody shouts or talks over each other.
So that's the crux of the thing. Tiffany Green and others are fighting for what they see as the community's right to determine how it gets developed. (Green also said the Commission should reconsider Councilwoman Jannie Blackwell's recently shelved bill that would limit building height on two-story blocks.)
The developers are fighting for what they see as their right to build what they want on properties they own.
And the Planning Commission and Councilman Johnson struggling to figure out how to guide new development that makes everybody happy when it's the real estate market—not community groups or planning commissions—that always seems to determine what gets built.
"We're going to keep coming back to the same place over and over and over again," Greenberger said.
The zoning board hearing for the project is scheduled for next Wednesday, May 28, at 2 p.m. A proposal for 22 additional homes in an adjacent lot is scheduled for today, May 21, at 2 p.m.
WHYY is your source for fact-based, in-depth journalism and information. As a nonprofit organization, we rely on financial support from readers like you. Please give today.