Montco DA tries new technology to solve a cold crime
Nearly six months ago, a gunman attacked and raped a 19-year-old jogger in Norristown Farm Park.
While he struck in broad daylight, he attacked her from behind, so she couldn't tell police what he looked like.
Investigators interviewed dozens of people, checked area surveillance video, ran his DNA in a national database of criminal offenders (without finding a match), and combed the scene for clues — but they have hit a dead end.
So they're turning to a new technology to help jumpstart their stalled investigation: DNA phenotyping.
That's a technology in which scientists use DNA evidence to determine the ancestry of the suspect. That then helps them predict the person's physical appearance — everything from eye, hair, and skin color to chin, forehead, and nose shape — and generate a composite drawing.
So Tuesday, Montgomery County District Attorney Kevin R. Steele released a composite drawing, developed under that science by Parabon NanoLabs of Reston, Virginia, of a suspect in the Aug. 1 attack. Specifically, they're now hunting for a black male with medium brown skin in his 20s to early 30s, of average build, and a height of 5-foot-5 to 5-foot-10. He was armed with a black semi-automatic handgun and struck between 10:30 and 10:50 a.m. that day.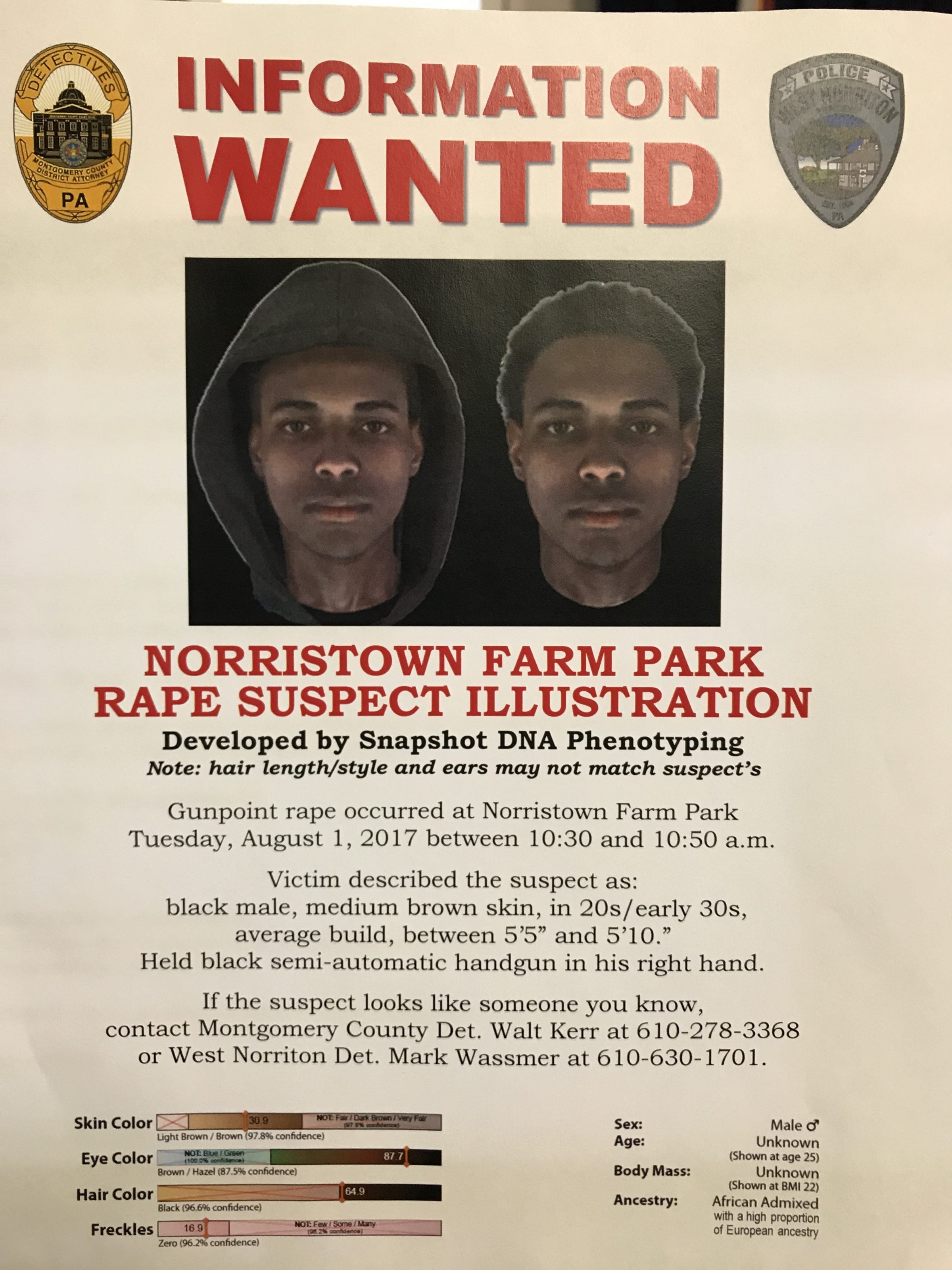 "This is an approximation of what our rapist could look like. Of course, it's not a photo ID. It's not something we got off a driver's license. It's an approximation," Steele said.
The technology does have critics who worry that it's more science fiction than science.
The ACLU has raised concerns about its accuracy, saying environmental factors can affect a person's appearance as much as genetic traits.
"You can dye your hair or shave it off, grow a beard, eat well or poorly, lose or gain weight, become a drug addict, get disfigured in an accident, get too much sun, smoke, lighten or darken your skin, have plastic surgery, change gender, and do many other things that can affect your appearance, but which have zero tie to your facial DNA," ACLU policy analyst Jay Stanley wrote in November 2016, after Parabon used DNA phenotyping to create a composite in an unsolved 2001 murder from Orlando, Florida. (The case remains unsolved.)
If the real rapist looks nothing like the composite, DNA phenotyping could detour investigators away from catching the culprit, Stanley added.
But Steele said investigators needed to do something "outside the box" to generate leads in a stuck case.
"We had a violent gunpoint rape in Montgomery County. And we need to solve this. And we need help in solving this," Steele said.
The image will cost the county $3,000 to $4,000, he said.
A $10,000 reward is being offered for clues leading to the arrest of the rapist. Tipsters, call (610) 278-3368.