Michelle Obama gives advice, hugs to Philly girls
Hours before her evening event at the Wells Fargo Center in South Philadelphia, Michelle Obama surprised a group of teens with a visit.
Listen
1:30
Michelle Obama was set to appear at the Wells Fargo Center in South Philadelphia Thursday night, for what's billed as "an intimate conversation" about her new book, "Becoming."
She came into town early, to sit down with a dozen African-American high school girls and talk with them about having the confidence to do new things — travel or go to college — outside their comfort zones.
The students were from the citywide, extracurricular group beGirl.world, which encourages teens to seek opportunities to travel and study abroad. They assembled at the African American Museum of Philadelphia, seated in a small circle, believing they were going to talk with Michelle Obama's interviewer, comedian Phoebe Robinson.
They all had a copy of "Becoming" and a ticket to the evening event.
When Obama arrived, the surprise caused a roar of excitement and a few tears. Hugs went all around.
After they settled — and introduced themselves one by one to the former first lady — the girls asked her informal questions, mostly about self-confidence, overcoming fear, and striving beyond their circumstances.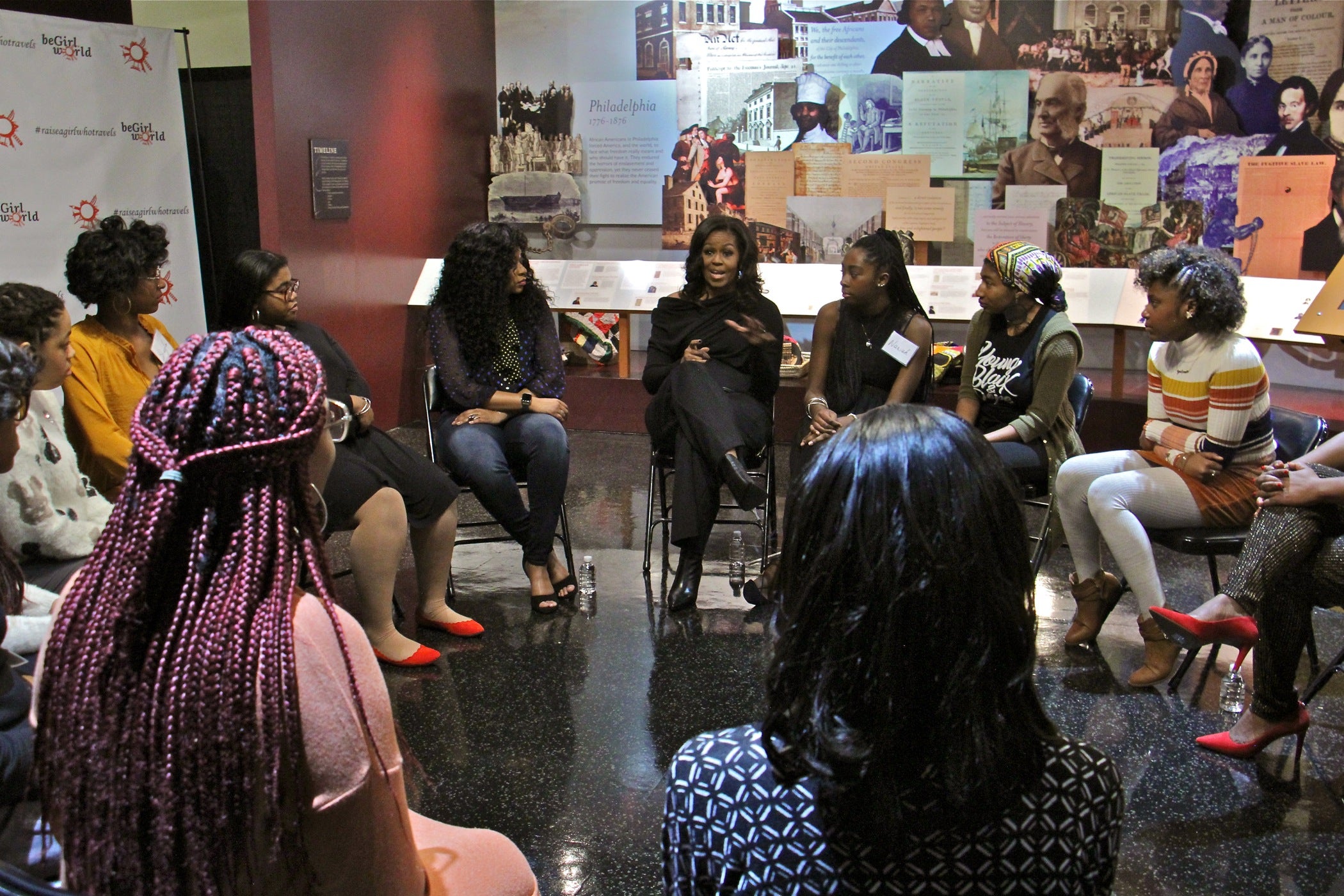 Obama admitted that, as a teenager in Chicago, she had been afraid to travel.
"It was something I didn't know. It was new. The idea of leaving your neighborhood – let alone your city – and being away from home," she said. "It's so important to travel and see the world. The world is big, and it's important to know it. I wish I had known that when I was your age."
Just a few hours before she was to step on stage in front of thousands at the Wells Fargo Center, Obama admitted that she has not gotten over the anxiety of putting herself outside her comfort zone. She has, however, learned to work through anxiety.
"When you think about that fear you get when you're about to do something new, just think about it as practice: The more I do it, the more accustomed to it I will get," she said. "But don't ever stop yourself because of that."
At least some of the young ladies had evidently had time to read the book. One said she related to what Obama had written in the second chapter of "Becoming," in which she describes being under-challenged in school.
Obama advised the girls to learn to advocate for their own needs, and not rely on others who may not have their best interests at heart. As a high school student, Obama was advised not to apply to Princeton University. She was told it was beyond her abilities. She did not heed that advice and graduated cum laude in 1985.
"You can work beyond whatever limitations you have on your paper," she told the girls. "You can impress people with who you are and what you do. You're always in control of that."
WHYY is your source for fact-based, in-depth journalism and information. As a nonprofit organization, we rely on financial support from readers like you. Please give today.