Menendez trial plods along as government officials detail alleged favors
Listen
0:00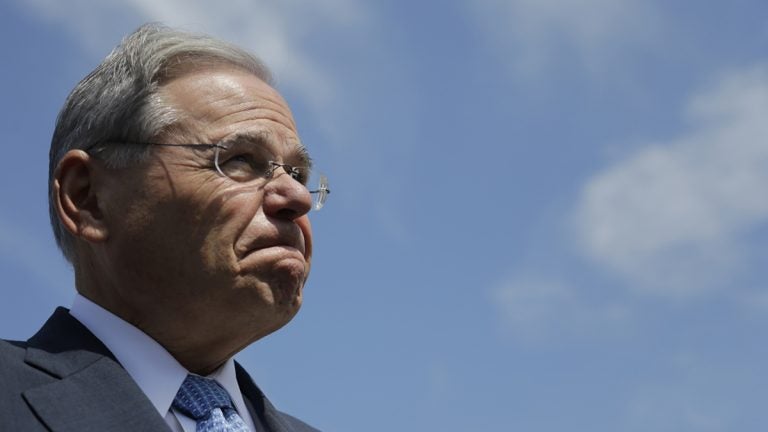 U.S. Justice Department prosecutors called two federal employees to the stand in court in Newark Tuesday, attempting to show how U.S. Sen. Bob Menendez exerted his political influence to benefit a wealthy friend.
Menendez, a New Jersey Democrat, and Florida ophthalmologist Salomon Melgen each face about a dozen counts of federal bribery, conspiracy, and fraud charges. Prosecutors say the men traded political favors for lavish gifts over the course of seven years.
For the four weeks the trial has been unfolding, prosecutors have called former Senate staffers and Melgen's foreign girlfriends to the stand to detail the alleged seven-year quid-pro-quo arrangement.
On Tuesday, a U.S. Commerce Department official testified about a 2012 meeting he had with Walter Bastian, a deputy assistant secretary, and Elio Muller, an attorney and friend of Melgen.
Commerce Department official Scott Smith claimed that Muller threatened the department, saying that Melgen would become a "bull in the Commerce Department china shop" if federal officials did not help him settle a contract dispute in the Dominican Republic. Melgen had been hoping to secure the rights to sell cargo-screening equipment to the country's government.
"This was probably the most threatening meeting I ever had at [the Department of] Commerce," Smith said.
Smith added that when Muller argued in the meeting that Melgen had powerful connections, "I had a very good idea" he was talking about Menendez.
But Muller never uttered Menendez's name in the 2012 meeting, Smith admitted in cross examination. Nor did Bastian respond to Muller's threat, Smith said.
Eventually Menendez did intervene in Melgen's port contract dispute, meeting with William Brownfield, an assistant secretary, and attempting to stop Customs and Border Patrol officials from donating cargo-screening equipment to the Dominican Republic, according to prosecutors.
U.S. State Department official Mark Wells testified that, while he worked in the Bureau of International Narcotics and Law Enforcement, he was tasked with helping to resolve the Dominican Republic port contract dispute.
Wells said Menendez promised to hold a hearing on the issue if Wells and his colleagues did not resolve the matter quickly. "You do want to avoid a hearing," Wells said, referring to the added resources needed to prepare for Senate testimony. "You want to come up with a good solution."