Meet Sadaf Jaffer, New Jersey's first female Muslim mayor
"I want to be that person I needed to see when I was younger," Jaffer said.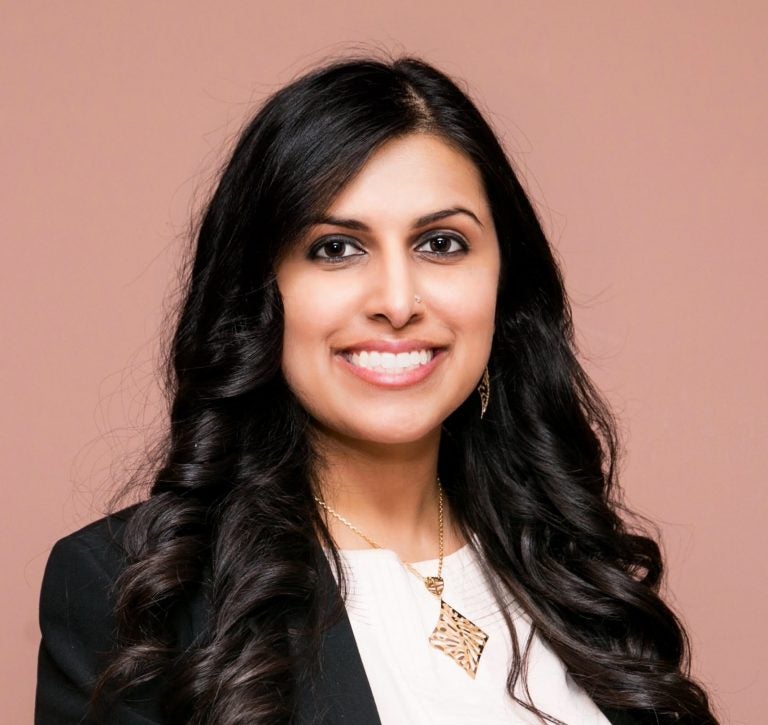 This article originally appeared on NJ Spotlight.
—
Who: Sadaf Jaffer
Age: 36
Hometown: Montgomery Township in Somerset County
Family: Married to Daniel Sheffield, one daughter
Job: Mayor
Why she is special: Jaffer is the first female South Asian mayor in New Jersey and the first female Muslim mayor in the state. She also is thought to be the first and only female Muslim mayor in the United States.
Her background: Jaffer was born in Chicago; her mother was born in Pakistan and her father, in Yemen. She did her undergraduate studies at the Georgetown University School of Foreign Service and got a doctorate in Near Eastern languages and civilizations from Harvard University. Jaffer moved to New Jersey with her husband in 2012. She is currently a post-doctoral researcher at Princeton University, where she is looking into South Asian social media, revising a book manuscript about an Urdu writer and teaching courses related to Islam in South Asia and South Asian American film and literature.
Why she got into politics: Jaffer had not considered running for office when she was growing up. "I remember on the day of my swearing-in that this is an unexpected life milestone," she said.
But, she had "always wanted to be in public service" and that influenced her decision to go to the School of Foreign Service, she said. As time went on, she began to see the importance of focusing on local government.
Jaffer said she was "very focused on the local issues in my town" and had ideas about improving the community. She started thinking about running in 2013. A friend told her about the Emerge program that trains Democratic women interested in running for office. Through New Jersey's program, she got in touch with Democrats at all levels of government. Since 2014, she has served as the Democratic State Committee's Somerset County director for the South Asian American Caucus.
When she was canvassing in her hometown, Jaffer found a lot of people did not know much about local government. She said she met with the mayor at the time about the lack of public involvement in government and he told her, "If we're doing our job, no one should be paying attention." Jaffer disagreed.
"Mostly what I saw myself as doing was education," she said. "That is something that is very comfortable for me … I just wanted people to know what was happening in their local government, how they could get involved. And so I think people started paying attention."
How she won: In 2016, the Republican incumbents in Montgomery were running unopposed and so Jaffer mounted a write-in campaign for township committee. She didn't win that year, but she did get on the ballot in 2017 and won a seat. Last November, Democrats took control of the committee and Jaffer was chosen by her fellow committee members to be the mayor.
"We had an amazing voter turnout," Jaffer said. "I think at the local level there definitely were changes and people paying attention locally to what was happening and maybe wanting to have something different." While she is focused on being mayor, Jaffer does not discount running for higher office in the future.
Facing 'dog-whistle politics': Jaffer said she faced some negative campaigning in 2017. "My opponent sent out mailers that said my ideas were dangerous and extreme and kind of misrepresenting what I had said in various venues," she said.
Which of her ideas were "dangerous?" "It wasn't very clear. I think it was mostly just dog-whistle politics," Jaffer said. "I think it was just trying to make people fearful, basically, of the unknown. There are those very familiar tropes that are used."
It didn't work.
"I think that that backfired on them," she said. "I saw how much support I have from my community. And that's really heartening. And to see how many people are really happy to see someone from a new, underrepresented group being in a position of power."
Jaffer was leery to call situations she has faced during her life discrimination, but she acknowledged she probably didn't have it as easy as a white woman.
"It's more of a thinking or feeling," she said. "I would certainly say that I've been in context where I think being a woman of color … has made it difficult or uncomfortable or I don't think I've gotten the same treatment that I would have otherwise."
In her first month as a member of Montgomery's governing body, Jaffer said there was an anti-Muslim bias crime in the township: Someone left pork on the car of a Muslim family.
In response, Jaffer started a group discussion that now has become the Montgomery Mosaic project. "It's a meeting every month for the past, like, year-and-a-half talking about different issues," she said. "You know we have had things on Islamophobia and [racism against blacks] but we've also had intercultural holiday parties."
Her agenda for Montgomery: She said her greatest emphasis is on community-building because of growth and change in the township over the last two decades.
"I think that when there isn't really a downtown, we need to be proactive in community building," Jaffer said. "I also am really committed to transparency and communication."
She said she held a town-hall style meeting about a new municipal building project and plans to hold more. Jaffer also is working on further educating the public about how their township works. She is also trying to boost diversity on township boards.
"I think that Montgomery Mosaic is one of the most innovative things that I've been involved in that is trying to build community in our town," Jaffer said.
On being a role model: Jaffer said she didn't think about breaking any barriers when she ran for office and was not trying to be the first woman Muslim mayor. She also said she doesn't feel pressure because of the milestones she has carved, but she does feel she has a responsibility.
"I want to be that person I needed to see when I was younger," she said, "because I do think it's very, very important that we do have that increased representation."
Jaffer has been getting invitations to speak not only in New Jersey, but all over the country. Last month she spoke at an event titled Reimagining Muslims in American Politics at Rutgers University in Newark, as well as other events in Michigan, Virginia, Texas and Minnesota.
"I've been invited by a number of mosques to come and speak to their community about how I got involved," Jaffer said. "I'm always happy to do it because I think there clearly aren't enough people who are from minority backgrounds and women."
WHYY is your source for fact-based, in-depth journalism and information. As a nonprofit organization, we rely on financial support from readers like you. Please give today.