Meet Rick Magder, Fairmount Park Conservancy's new director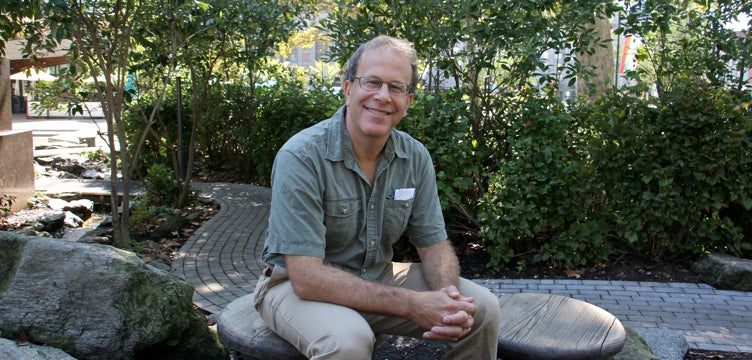 Rick Magder hadn't been in his new position as executive director of Fairmount Park Conservancy (FPC) a week and already he was up and running.
Literally.
Just five days into the gig, he joined neighborhood kids on a 5K race along Boxers Trail in East Fairmount Park. "There was this terrific sense of 'it doesn't matter where you're from — we all just have to finish the darn race and do it in 95-degree heat'," he says with a chuckle. "Parks are the place where common divisions fall away."
But, he continues, that attribute can "go way beyond being a place of memories, of running together, or playing on the baseball diamond together. Parks can be a place where kids can learn about science, about conservation, about climate change."
The 55-year-old has dedicated most of his career to green space and its role in urban renewal. Growing up on the edge of Detroit in the 1960s — "I was in the [area code] 313," he says with a laugh, "so I have some cred" — he watched the city "go up in flames." He thinks of riding the bus downtown and sees the experiences as some of "those moments in life when you realize that for whatever reason you care about certain things."
The realization sent him first to the University of Michigan where, while pursuing a B.A. in political science, he studied natural resources management and urban history; and then to Columbia University, where he obtained a masters degree in public administration with a concentration in urban policy.
He spent some time in New York and Washington, D.C. working on environmental, public housing, and community health issues for organizations like the Regional Plan Association, Children's Health Fund, and National Audubon Society. He then founded Groundwork Hudson Valley (Yonkers, NY), a chapter of an international enterprise aimed at rejuvenating neglected neighborhoods through projects such as community gardens and playground restoration. After overseeing the day lighting of the Saw Mill River and opening an environmental education center on a barge in the Hudson, he moved on to become the executive director of the national Groundwork effort.
In looking to bring similarly ambitious programming to this city's park system, job one will be to take advantage of Mayor Kenney's Rebuild Initiative, which calls for $300 million from bond sales (plus more in government funding and philanthropic support) to invest in improving parks, rec centers and libraries. "This is a once-in-a-century opportunity to reinvent the park system," says Magder. "High on my list is to look at what we want to accomplish in terms of filling the funding gaps in our projects' master plans."
Which leads to Magder's concurrent priority: "The organization needs to better communicate how we relate to the community, our relevance, and the difference between us and Parks and Recreation," Magder says. That department is a government agency with "responsibilities over a massive system that includes rec centers and libraries and a maintenance agenda that leaves little room for the luxury of saying 'there's this cool program in Copenhagen…'" he elaborates.
Despite a relatively small staff of 25 (amped up by a recent merger with Fairmount Park Historic Preservation Trust), the role of the Conservancy is to use its $11 million budget (the bulk of it reserved for capital projects) to conceive of and test good, imaginative ideas that will activate the parks and augment Parks and Rec programming. As an example Magder cites the installation of iconic features found in European cities: cutting-edge playgrounds, say, or funky bridges. "I'd like to see us push the envelope and draw people from outside the neighborhoods or even the city."
Prior to his arrival, FPC had already begun such efforts. In 2014, it started an $11 million initiative called 'Reimagining the Civic Commons', a collaborative effort among Philadelphia's public space leaders to reimagine civic assets. That program, incubated in Philly, is now spreading to other cities thanks to support from the John S. and James L. Knight Foundation. In 2015, the Conservancy was one of just six organizations nationally to receive a $3 million grant from ArtPlace America to incorporate arts and cultural strategies into its work.
For several years, FPC has worked on a multi-million restoration of Hunting Park in North Philly, and on efforts to better connect the Strawberry Mansion neighborhood to the Schuylkill River so it acts as a gateway to the park. And it's about to break ground on Centennial Commons, its phased $6.5 million Civic Commons project that includes building new park amenities and "porches" along Parkside Avenue in the park's Centennial District, near the Please Touch Museum.
Fairmount Park is, says Magder, "as great an urban park as there is in America. It offers an amazing amount of green space, it's got great institutions, it's got wonderful waterfronts, it hosts many, many festivals." Some of his favorite areas include the Schuylkill River greenway, Bartram's Gardens, and Parkside. "But it's a big city and there's a lot I haven't yet seen," he says.
As he makes his way through the system, he's sure to get a better handle on how neighborhoods do, or don't, connect to the park. "There are vast areas that feel isolating," he says. "Better connections can only help make the parks more relevant to nearby communities."
This is the kind of work that he says he loves most. "It's about really changing the lives of kids and other residents. In five or ten years, I'd like to see a lot more activity in East and West Park and a lot more community ownership. When we accomplish that, I'll feel that in a real way we've contributed to the resurgence of some of those surrounding neighborhoods."