May 5: Designate Germantown Boys & Girls Club | 200-year-old wooden water mains | Community in Centennial Commons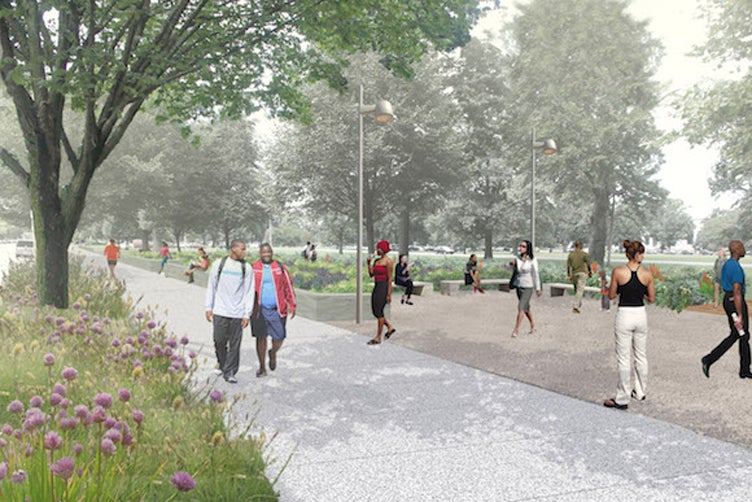 Inga Saffron calls on the Historical Commission to designate the Germantown Boys & Girls Club as historic, no matter how tempting the dreamy vision of a new facility built in its stead might be. "Someday, Germantown may get the lavish new rec center it deserves. But it also makes sense to hold on to the one it already has." The commission will take up this case on Friday.
The construction industry is struggling with a shortage of certain skilled workers, including electricians, finished carpenters, roofers, and project managers, according to several surveys conducted by the Associated General Contractors of America and National Association of Home Builders. Where did all the skilled workers go? Looking at reports from the Bureau of Labor Statistics and national census data, Econsult's Bernard M. Markstein traces over some key factors, including the construction employment highs and lows before and after the housing boom, the aging construction workforce, and the cultural stigmas that that deter younger workers from entering the field.
As our Catalina Jaramillo reported last month, Phase 1 of Centennial Commons in Parkside broke ground on April 20; how do the key players in the 'Reimagining the Civic Commons' project envision redesigning the gateway to West Fairmount Park with people in mind? For Hidden City, John Henry Scott discusses the design process with staff from Studio Bryan Haynes, the William Penn Foundation, and the City of Philadelphia, highlighting key issues including managing stormwater runoff from the grounds and creating the 'center of gravity' where people can "go to meet your neighbors, to hang out, read a book, start a conversation."
Repair crews discovered 200-year-old wooden water mains while replacing a water line on the 900 block of Spruce Street, the Inquirer's Emily Babay reports. According to PWD's archives, the wooden pipes were laid between October 1811 and October 1812. Julie Snell, who teaches a Temple University class on urban ecosystems, happened to bike past the scene and alerted PWD historian Adam Levine. The department has saved part of the pipes for educational demonstrations and credits Snell's intervention for saving the relics of our earlier infrastructure.
"If you live in the United States, there is a nearly one-in-four chance your tap water is either unsafe to drink or has not been properly monitored for contaminants in accordance with federal law," reports the New York Times on a new Natural Resources Defense Council study on water safety.
WHYY is your source for fact-based, in-depth journalism and information. As a nonprofit organization, we rely on financial support from readers like you. Please give today.