Mariposa and Common Market Work to Meet Fresh, Local Food Demand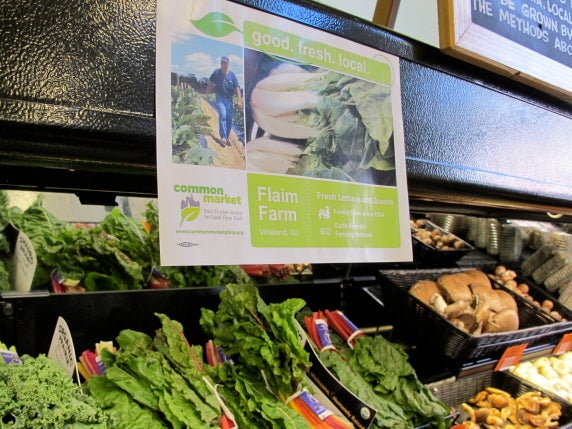 When Common Market started in 2008 as a way to provide a direct link between regional farmers and urban food providers, it had just five customers. One of those customers, Mariposa Food Co-op, was a four-person-staff, 700-member co-op operating a single-aisle storefront grocery on Baltimore Avenue.
Since then, Common Market and Mariposa have experienced remarkable growth, and this March that growth became visible when Mariposa managed a $2.5 million relocation from its 500-square-foot storefront to a nearly 5,000-square-foot retrofitted, historic bank just up the street from its former location.
"In some ways it's like we're growing together, and we are filling this need that people want to have access to fresh, local food," said Tatiana Garcia-Granados, who co-founded Common Market with her husband Haile Johnston.
In the past two years, Common Market has experienced 85 percent annual growth and has added more than 100 new items to its product line. Mariposa now has 19 staff and 1,300 members. It has opened its sales to non-members, and in the first weekend in its new location, had to call for backup. Luckily, Common Market was there to provide an emergency delivery.
"During our first week we got a couple deliveries outside of our regular schedule because [Common Market] knew we were busier than we thought we'd be," said Bull Gervasi, a co-op member and project manager of the expansion. "… Those kinds of things are really nice and kind of unique in a distributor, to reach out and offer that kind of support."
For Mariposa and Common Market, the relationship is mutually beneficial.
As a direct link between regional farmers and the urban marketplace, Common Market acts as a single source for items as varied as honey, canned tomatoes, turkey burgers and cheese. Gervasi said that, with such a small staff, it would be difficult for Mariposa to source all of these items individually.
And for Common Market, whose customer base is about a quarter retailers and 50 percent schools and hospitals, having a year-round customer like Mariposa helps mitigate some of the seasonal surges in demand that come from working with schools. Mariposa is also willing to carry some of the more unique products such as tofu and yogurt that some customers do not always have capacity for or interest in.
"The other thing that's really great about [Mariposa] is we don't have to educate them," Garcia-Granados said. "They understand what we're doing, why we're doing it. They share the same values as us."
Those values are rooted in providing fresh, local food to all.
"We're in the city and we're surrounded by some of the richest farmland in the nation, but there's really no linkage, no way for the food to get from the countryside to the city," Garcia-Granados said.
Together, Common Market and Mariposa create one direct link between regional producers and urban consumers, and Garcia-Granados and Gervasi both said an increased interest in purchasing fresh, local foods and supporting local economies has driven the tremendous growth Mariposa and Common Market have seen in recent years.
That increased demand, coupled with a lack of fresh food access in Mariposa's immediate vicinity, helped push the co-op to expand to its new location at 4824 Baltimore Ave.
"If you look at their old store, it was so tiny, and to think of the number of people that were buying their food out of this tiny little store, it shows you the pent up demand for it," Garcia-Granados said.
Mariposa began contemplating the move in 2007 when it had approximately 700 members and realized its space limited the products it could offer and customers it could connect with.
The $2.5 million relocation is a phased project, Gervasi said.
The first phase, opening the retail, prep-rooms and offices, is complete. The next two phases will include building a rooftop garden, adding educational components and looking into alternative energy ideas for the building.
In just the first two weeks in its new location, Gervasi said the co-op has been busier than any of the members expected. In the last two-week pay period alone, Gervasi clocked 180 hours.
Still, he said, he is excited to have the new store up and running.
Long-time partner Common Market is excited too, Garcia-Granados said. As Common Market and Mariposa continue to serve the increased demand for fresh, local food, she said the partnership will continue.
"We're working hand-in-glove," she said.
WHYY is your source for fact-based, in-depth journalism and information. As a nonprofit organization, we rely on financial support from readers like you. Please give today.