March 21: Westmoreland Coal Company building | Energy-efficient school investments | Neuroscience and urban design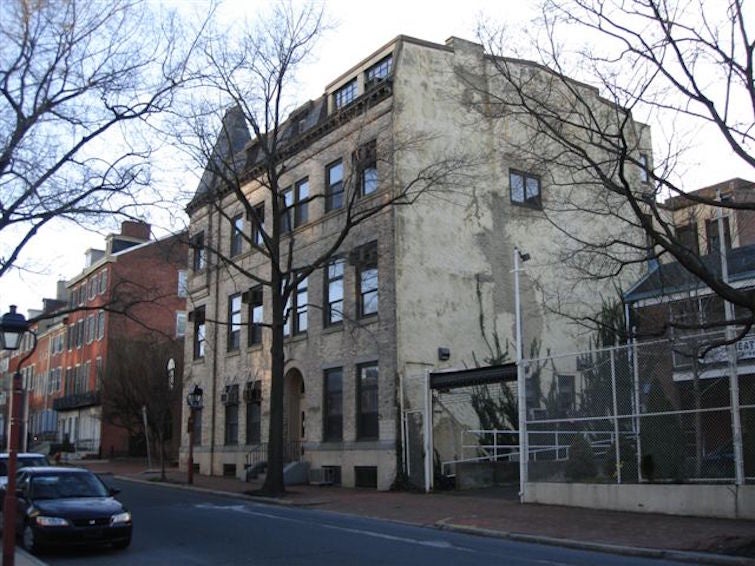 Hidden City uncovers the life, times, and new life of former Westmoreland Coal Company at 3rd Street and Willing's Alley, a historically designated building that "lends distinction, density, and a dash of mystery to a block lined with Society Hill town homes." The 19th century white brick enameled office building, which has sat vacant for the last 12 years, once housed the headquarters of the biggest mining company in the bituminous coal industry and other fossil fuel companies, such as local gas pipe manufacturer Morris, Tasker, and Company. Following the Wall Street Crash of 1929, the building is best known as the Salvation Army Settlement and Day Nursery, which remained in use until 2005.
Philadelphia school officials have come up with a plan to replace boilers, roofs, and HVAC and lighting systems with more energy efficient models to both improve deteriorating school building conditions while reducing energy costs by half, NewsWorks' Katie Colaneri reports. Following the school district's report in January that "identified more than 12,000 deferred maintenance projects it cannot afford to complete" given the estimated $4.5 billion price tag, this project could save the district $600 million over the next 20 years and also set aside funds to help pay for other repairs.
New Jersey legislators are attempting to resume the Garden State's participation in the Regional Greenhouse Gas Initiative, NewsWorks' Phil Gregory reports. Environmental groups and industry associations disagree over whether the program is an effective way to reduce carbon dioxide emissions from power plants, though most agree that Governor Christie is likely to sign the bill since the governor has vetoed previous bills to get back into the program in the past.
A Supreme Court case over a property rights dispute "could make it tougher for state and local governments to limit development in coastal areas," PBS News Hour reports. Justices are split over whether a Wisconsin county conservation regulation that treats side-by-side lots as a single parcel must compensate landowners if the restricted use takes away a property's economic value.
Researchers want to add cognitive neuroscience and biometrics to the smart city vernacular, Quartz reports. Neuroscientists argue that planners and designers need to understand how sensory conditions of dense urban living, including noise and odors, reduced natural space, and constant human interaction, make residents feel to better inform urban design and governmental policies.
Planners, city officials, and local lenders have a new tool to identify their peer cities based on metrics considering equity, resilience, housing, and outlook. In an effort to help cities develop localized processes and policies, the Chicago Federal Reserve to used public data from 300 U.S. cities with populations of 50,000 or more in 1960 to develop Peer City Identification Tool. Pete Saunders contributes to Forbes on how policymakers can use this tool to find cities with comparable attributes that have dealt similar problems.
WHYY is your source for fact-based, in-depth journalism and information. As a nonprofit organization, we rely on financial support from readers like you. Please give today.