Mantua: Volunteers Plant Trees Along 40th Street Pedestrian Corridor
Led by People's Emergency Center (PEC) and UC Green, a group of 12 volunteers took to 40th Street near Lancaster Avenue this weekend to spruce up the urban landscape. The group planted seven trees on the sidewalks in front of designated homes.
PEC, an organization committed to serving homeless families in West Philadelphia, and its real estate development arm, the PEC Community Development Corporation, sponsored the event with the help of a $30,000 Vital Neighborhood's Initiative grant from the Preservation Alliance for Greater Philadelphia. PEC will use the grant to invest in improvements to the public environment. Saturday's tree planting event marked one of the organization's first steps in implementing the funds.
"This is a big pedestrian corridor between Market Street and Lancaster Ave[nue]," said Zac Sivertsen, a PEC Community Development Corp. associate. "It's important to beautify this area and get people to go in between."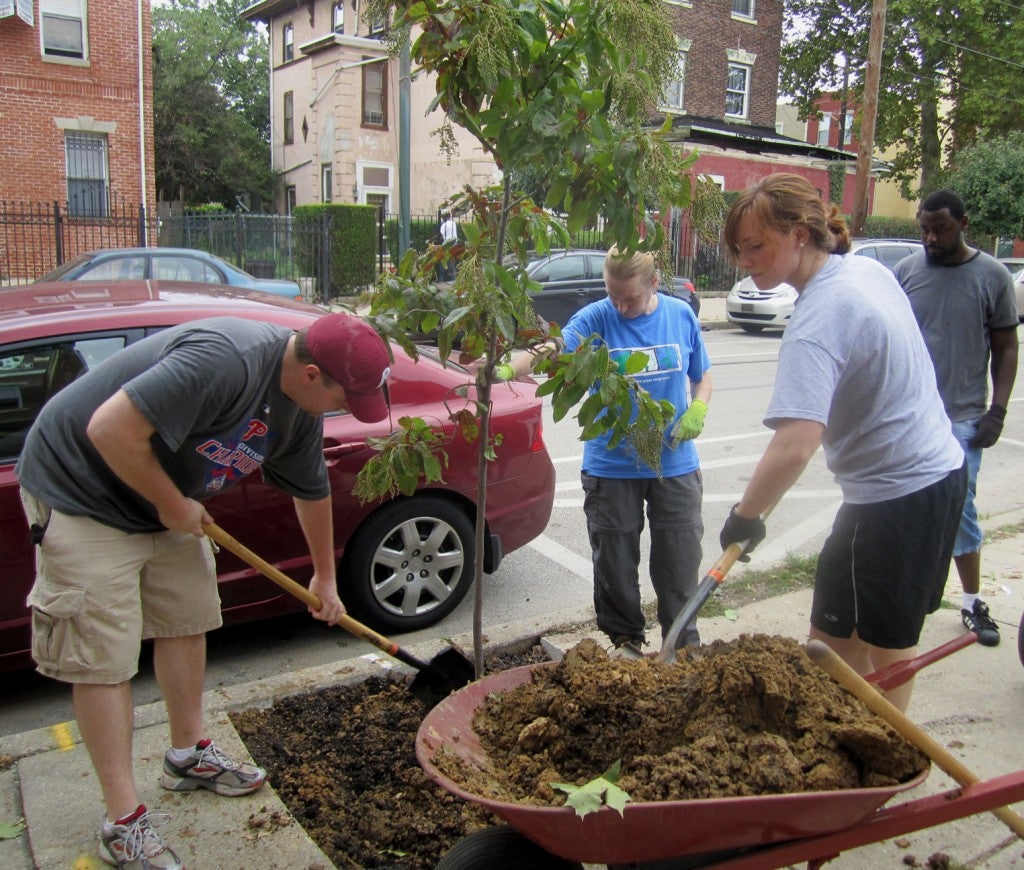 Because PEC does not typically plant trees, it collaborated with UC Green, a cooperative community greening organization based in University City. The planning process took nine months and involved finding residents who wanted trees planted in front of their homes, determining which trees were best suited for each location, obtaining permits and cutting square holes in the concrete sidewalks so the trees could be planted.
Sue Pringle, the executive director of UC Green, said it was not difficult finding homeowners who wanted trees planted in front of their homes.
"I think people are recognizing that trees have property value," she said. "We find year after year it gets easier to find people who want trees. There is a lot of tree envy."
Christine Fisher and Kara Savidge will be bringing Eyes on the Street/PlanPhilly dispatches from Mantua and Parkside as part of their work for Philadelphia Neighborhoods, a publication of Temple's Multimedia Reporting Lab. PlanPhilly is a partner in this project, so expect to see stories from other Philadelphia Neighborhoods as well.
WHYY is your source for fact-based, in-depth journalism and information. As a nonprofit organization, we rely on financial support from readers like you. Please give today.