Major fentanyl bust marks Montco's designation as heavy drug-trafficking area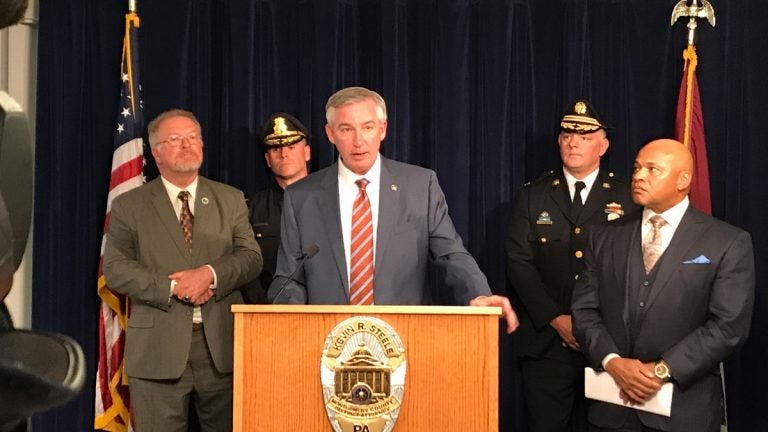 "Enough fentanyl to kill half the population of Montgomery County" was confiscated during a drug bust at a Cheltenham shopping center, county officials said Tuesday.
Philadelphia residents Lincoln Payano Del Orbe Jr., 25, and Christina Mota Soto, 29, were charged in the sale of the kilogram of fentanyl, a deadly opioid. Also charged was Wilbert Taveras Payano, 33, of Bronx, New York, whom law enforcement officials allege was the source of the drugs.
The Montgomery County district attorney's office announced the arrests one week after the county was named a "federal High Intensity Drug Trafficking Area."
Montgomery County District Attorney Kevin Steele said law enforcement officials seized a kilogram of fentanyl after an undercover drug buy at the Cheltenham center.
"We're the third biggest county in the state, and this fentanyl is that deadly," Steele said.
County detectives working with the Drug Enforcement Administration made the bust on July 24 after paying $64,000 for the fentanyl through a confidential informant. They initially bought a sample of the drugs, which they had been told was heroin. Testing revealed it to be fentanyl. Detectives then arranged to buy the kilogram of fentanyl.
Steele said the drugs could have fetched a total street value of $3 million.
Fentanyl is often sold on the street as heroin to unsuspecting buyers, either in its pure form or as an additive to the less potent opiate. Fentanyl can be 40 to 50 times stronger than heroin.
Steele said the number of overdoses projected for 2017 is on par with the 249 deaths in Montgomery County last year. But this year, more than half of the fatal drug overdoses in the county involve fentanyl.
Officials said they look forward to more intelligence sharing among law enforcement agencies as the county joins the Philadelphia-Camden High Intensity Drug Trafficking Area.
"This is just an extension of what's already a solid working partnership," said Jerry Daley, the organization's executive director.
The designation could eventually mean more federal dollars to fight the flow of drugs into the county, Daley said, although he couldn't say when or just how much funding the county might might receive.