Lower North Plan gets warmer reception at final public meeting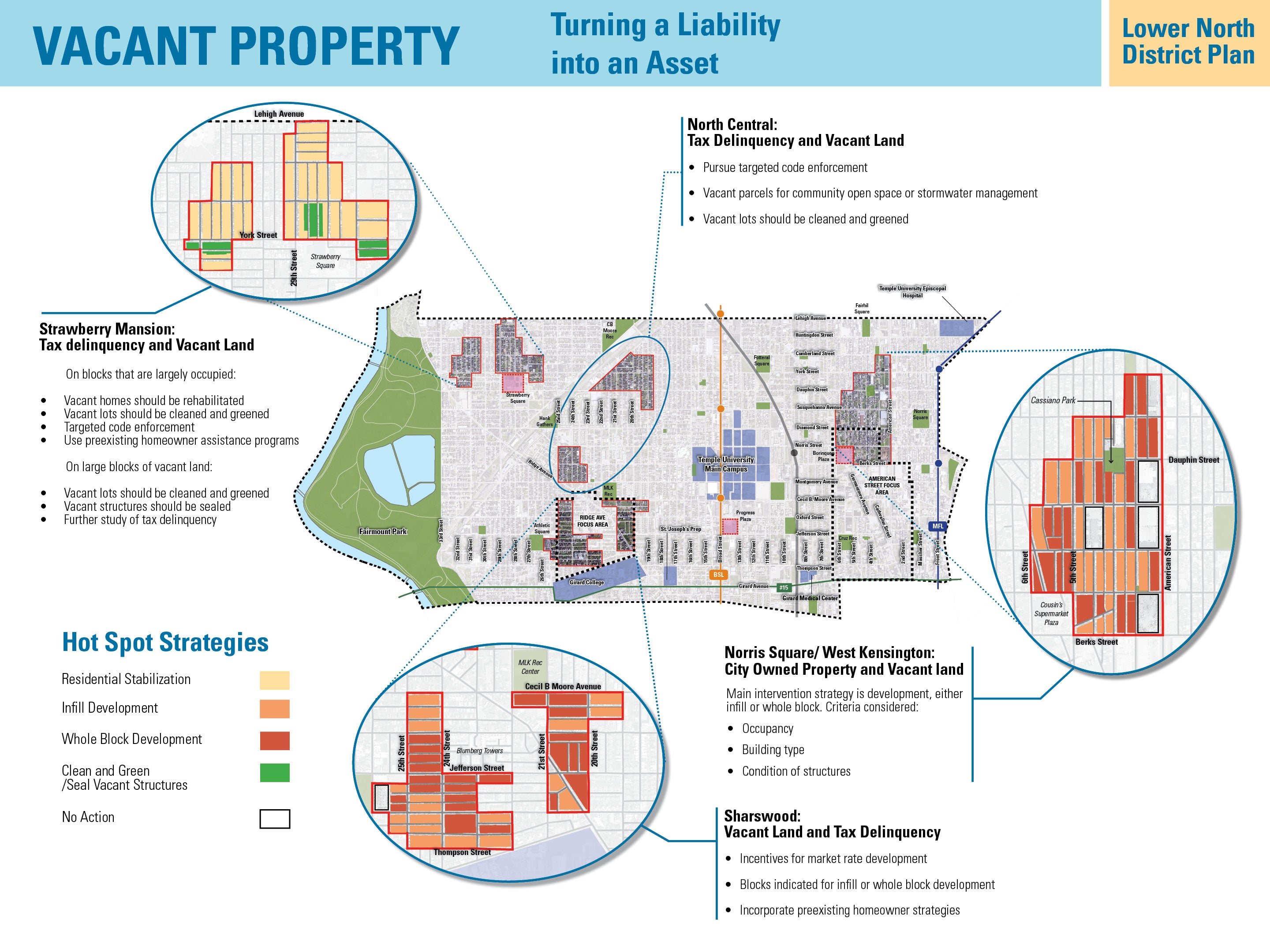 There weren't big changes in the latest version of the Lower North District plan presented last week at Temple's Howard Gittis Student Center. But reaction to the plan was more positive than at previous sessions, where citizens sometimes voiced frustration that they were not being heard – even when planners assured they they were – and feelings surfaced that the future did not include them.
"It's excellent," said North Philadelphia Resident Travis Lively after reviewing the key recommendations of the current draft, which includes calls for targeted public investment, a focus on the reuse of vacant properties, the preservation of single-family homes, and zoning changes designed to concentrate commercial development and foster redevelopment of former industrial zones. "It brings change. It possibly can bring better neighborhoods."
Other plan recommendations include improving major commercial corridors, in part by concentrating development; improving mass transit and preserving historic assets, including those in Strawberry Mansion.
Much of the plan is geared at concentrating efforts in those parts of the district that planners say either remain strong or are showing signs of redevelopment right now, such as market pressure for more housing. The district's population is now slowly growing, but remains at less than half of its peak of 270,000.
In addition to Lively's North Philadelphia, the plan, one of 18 district-level portions of the city's comprehensive plan planners will complete in coming years, covers North Central, Norris Square, Olde Kensington, South Kensington, West Kensington, Yorktown, Ludlow, Brewerytown, Green Hills, Cecil B Moore, Sharswood, Strawberry Mansion.
Filling in vacant properties with homes, parks or other uses is especially important to Lively, both personally and professionally. He's a dad. "Neighborhoods being distressed like that affects people in certain ways, mentally." he said. "Imagine your a little kid, and you see vacant lots every day. It does something to you. Seeing nice homes and clean streets, it makes you more positive about things."
Professionally, Lively is both a carpenter who works on ships at the Navy Yard and a landlord who buys, refurbishes and rents homes in his neighborhood and others. Another part of the proposal he likes: Taking down the Blumberg Apartments and re-establishing 23rd Street as a connector. The city's housing authority has applied for grant money to do this, but it will take time – new, neighborhood-scale replacement housing must be built for current residents first.
"They're talking about bringing down something negative, and replacing it with something positive. I wouldn't have bought (properties near Blumberg to renovate and rent), but now I want to," Lively said.
Glenda Tate, whose family runs the All In The Family Group non-profit that focuses on the Village Community within Strawberry Mansion, liked the ideas planners presented for vacant land, including allowing residents to take over some parcels for side yards and others for parking – a use happening informally in some places now. She said the planning process alone has been helpful, as she's met other community activists she can join forces with and city government contacts who can help them get things done.
City Planner and Lower North Project Manager David Fecteau and other planners were stationed at boards that presented the key ideas from the draft plan. They answered questions and jotted down feedback that will be used to further refine the draft before it is presented to planning commissioners in January. Much information is presented on-line now, and the draft will also be posted there after the commission review. Hard copies of the information are available at local library branches: Cecil B Moore (2320 Cecil B Moore Avenue);Kensington (104 W. Dauphin Street); Lillian Marrero (601 W Lehigh Avenue); Ramonita Rodriguez (600 block of Girard Avenue); and Widener (2808 W Lehigh Avenue). The public comment period will remain open through Feb. 28, with the finalized plan going back to commissioners for adoption in March. Feedback can be emailed to Fecteau at David.Fecteau@phila.gov.
WHYY is your source for fact-based, in-depth journalism and information. As a nonprofit organization, we rely on financial support from readers like you. Please give today.