Love Note #75: Kim Broadbent loves the industrial landscape at Wayne Junction in Germantown
Today Eyes on the Street continues our Philly Love Notes collaboration with a preservationist's affection for the historic – and still operational – Wayne Mills.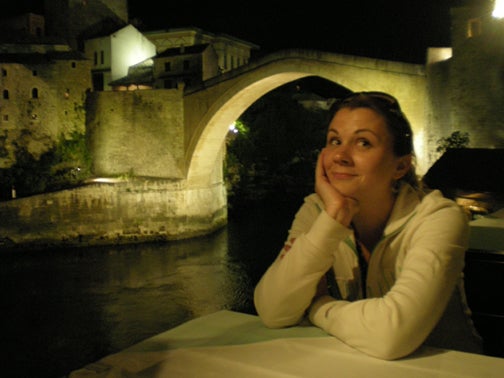 Favorite Spot: Wayne Mills
Neighborhood: Nicetown/Germantown (on the border)
Address: 4501 Wayne Avenue
I am: A supporter and scholar of historic preservation with an uncanny ability to attract stray animals.
Years in Philly: 8
Current home: Roxborough
My love note: My favorite complex of buildings in Philadelphia is Wayne Mills, built in 1885 for New Glen Echo Mills, and in use as a textile factory ever since. That's a pretty amazing feat. This brick complex, strategically located next to the Wayne Junction train station, occupies nearly an entire city block. That's a lot of room to house the many processes necessary for a textile mill, including a dye house!
Very soon after New Glen Echo Mills built this site, other manufacturers built factories across the street and workmen's housing soon followed, creating the industrial landscape that you see from the Wayne Junction station platform. Although Philadelphia will never again be the Workshop of the World, it makes me glad to know that there are family-run manufacturers still successfully operating in this city. Wayne Mills creates the specialty products that Philadelphia was once known for – and that's why I love these buildings.
———
Philly Love Notes is a collection of reminders. There is too much in the city that is forgotten or overlooked. Philly Love Notes seeks to rediscover those places — to remind the city, and us, that it is loved. Want to share your favorite spot? Drop Philly Love Notes an email with your idea.
Eyes on the Street has teamed up with Philly Love Notes to feature especially plannerdly love notes about places in Philly on this blog. So far we've shared love notes about bikes at Rittenhouse Square, a walk through Ed Bacon's greenways, Penn Treaty Park, and Drexel Park.
This piece originally appeared on Philly Love Notes on September 25, 2012.