Lou Kahn awarded Brendan Gill Prize for FDR Four Freedoms Park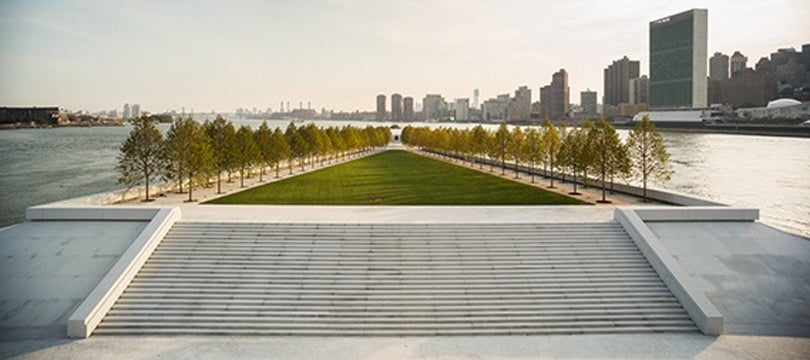 The Municipal Arts Society of New York will posthumously award famed Philadelphia architect Louis Kahn the 25th Brendan Gill Prize in recognition for his "magnificent conception and design of FDR Four Freedoms Park on Roosevelt Island" in New York City's East River.
When Kahn died of a heart attack in New York's Penn Station in 1974 his briefcase contained the designs for Four Freedoms Park. After decades of uncertainty and doubt, FDR Four Freedoms Park was finally dedicated in October 2012. The park is a memorial to President Franklin Delano Roosevelt, taking its themes from the four essential freedoms mentioned in Roosevelt's 1941 State of the Union speech (Freedom of Speech/Expression, Freedom of Worship, Freedom from Want, Freedom from Fear).
The Municipal Arts Society Brendan Gill Prize is awarded annually "to the creator of a work of art made during the previous year that captures the energy and spirit of New York City." Former US Ambassador William J. vanden Heuvel (Chairman of the Four Freedoms Park Conservancy whose devoted campaigning led to the park's realization) will accept the award on behalf of Louis Kahn and FDR Four Freedoms Park on February 26. The cash prize will be put toward the park's maintenance.
Lou Kahn born on this day in 1901, so we can't help but think that today's announcement makes an awfully nice birthday gift.
Want More?: