Look, up in the sky! A bald eagle brings joy near the Art Museum
The distinctive white head and white tail have been spotted near the Schuylkill. The city's two rivers provide a great habitat, experts say.
Listen
4:34
A couple of weeks ago, Susanne Fries was walking with a friend along Kelly Drive near Boathouse Row at about 8:30 in the morning, lamenting the increased traffic and wondering if she should find a quieter route. Suddenly, she saw a huge bird flying toward Lemon Hill with what looked like a fish in its mouth. With its distinct white head, clearly it was a bald eagle.
"Other people stopped and looked, and I was like, 'Wow,'" she said. "It just brought a little bit of joy in these difficult times."
I saw the eagle myself, earlier this week just north of Kelly Drive on Pennsylvania Avenue. As I walked, something made me look up, and there it was – a giant, dark and silent, not more than a half a dozen feet above my head, climbing slowly north. I looked to see if anyone else saw what I saw. But the UPS driver was too busy with his packages, and the cyclist was pedaling the hill with his head down.
Shari Hersh spotted the bald eagle while walking along the Schuylkill River on MLK Drive near the Art Museum early one Sunday.
"It was a little after 7 in the morning, very quiet. I saw this amazing bird," she said. "It was so big, very distinctive markings, with the white head, white tail, and he was doing all these maneuvers."
Obviously, this was not your average bird.
"So he was doing maneuvers with his wings and banking and fluttering, and he was descending," Hersh said. "Gulls were chasing and harassing him. So he flew over by the edge of the Water Works between the Art Museum and Lloyd Hall."
There are at least two bald eagle nests in Philadelphia. One is at the John Heinz National Wildlife Refuge near the airport, where they can be spotted catching carp.
They can also be seen regularly in South Philadelphia's FDR Park and around Pennypack Creek in the Northeast.
"Which is great news," said Renee Carleton, a biology professor at Berry College in Georgia, where the campus hosts a pair of nesting bald eagles. "So lucky for you all to have eagles."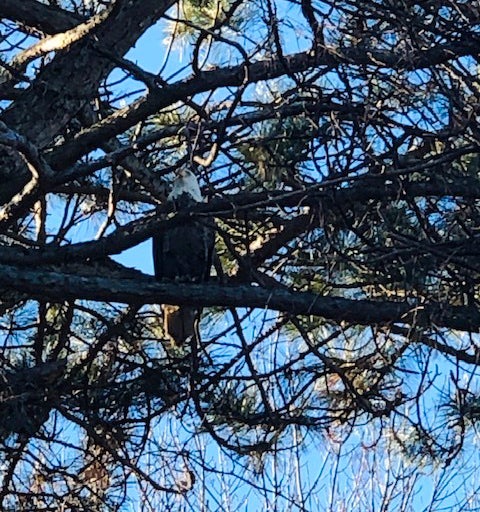 Carleton said the city's two rivers, which meet at a wetland near the airport and empty into the Delaware Bay, provide a great habitat.
"And as the eagle flies, you're not far away from the coast," she said. "So all of that coastal area, especially, that's prime eagle habitat. Bald eagles are making a big comeback."
The eagle flying along Kelly Drive could be a migrating bird or one that is younger and looking to take up permanent residence, Carleton said.
Jason Weckstein, curator of ornithology at the Academy of Natural Sciences and an associate professor at Drexel University, said he saw an eagle overhead while driving on the Schuylkill Expressway near the Art Museum recently.
"It had a gull on its tail," he said.
Other birds will often chase raptors like eagles, hawks, and osprey away from their territory because the larger birds may steal food — what scientists call kleptoparasitism. Eagles, Weckstein said, are opportunistic and often feed on roadkill or injured waterfowl. They're not very good killers, he said.
"The river is a good source for dead and dying fish," he said. "And so it could be they're just hunting the river. It could be that there's a nest somewhere."
Weckstein has already counted almost 20 distinct eagles in his suburban Wynnewood neighborhood.
"And what's amazing," he said, "is if we went back 20, 30, 40 years, we would not be seeing that many eagles. You know, they were highly endangered at one point."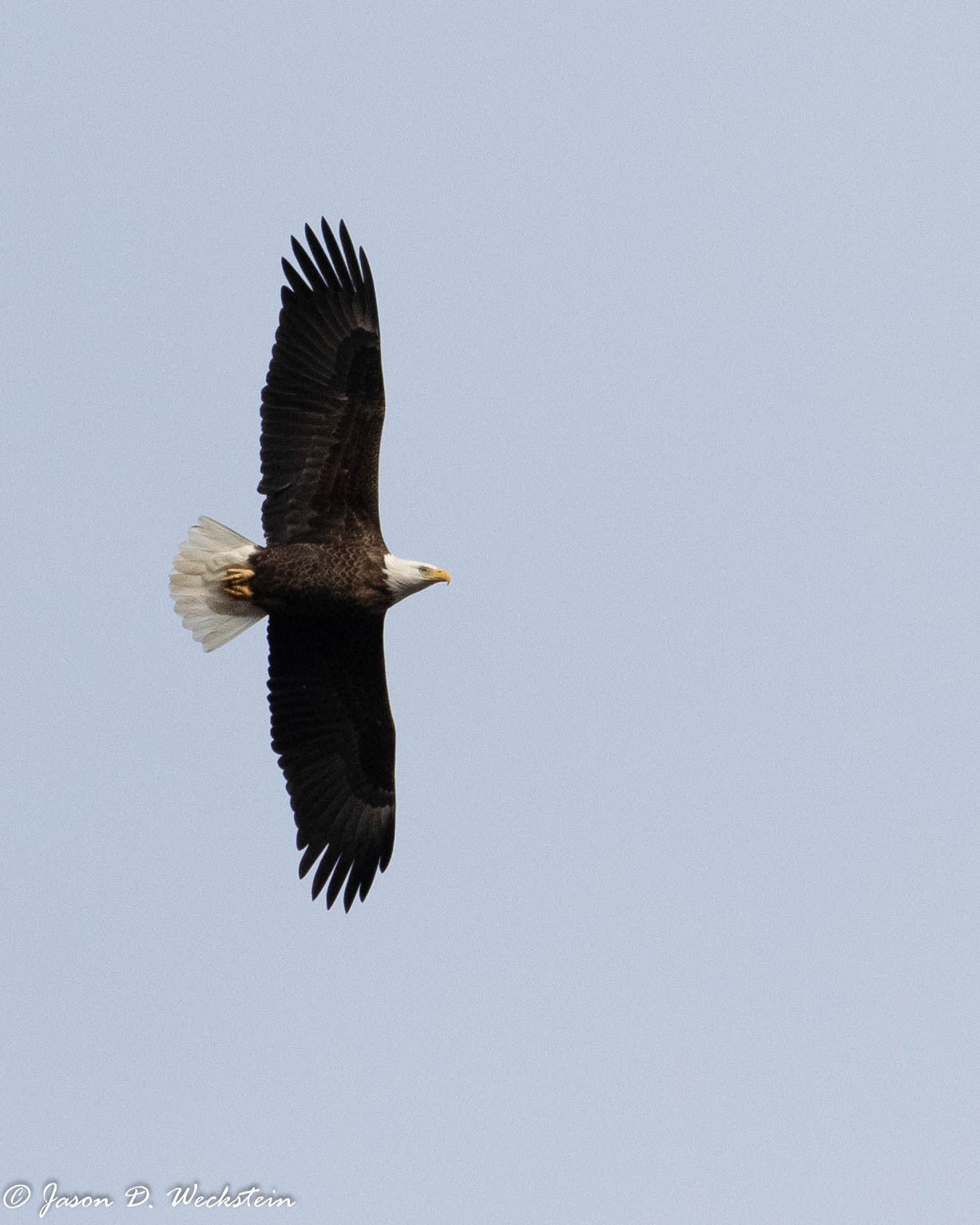 But no longer. Bald eagles were taken off the endangered species list in 2007, although they still have federal protections. Due to conservation efforts and a ban of the toxic chemical DDT, Weckstein said, eagles, osprey, and ducks are actually thriving, even while other bird species are declining, according to a 2019 paper published in the journal Science.
"The big story is that when we use good science and we make policies that are based on good science, we can do good things," he said.
Weckstein does wonder whether the pandemic has forced more people outside, slowing us down enough to see things we hadn't noticed before.
Keith Russell, program manager for urban conservation at Audubon Mid-Atlantic, said the eagles are now prevalent inside the city.
"There isn't a single place in the city where you might not look up and see a bald eagle," Russell said. "I live in Germantown, and sometimes I'm on Chelten Avenue, which is a big business district, and I look up, there's a bald eagle just flying by."
Eagles began arriving in the region in the late 1990s along the Delaware River, looking for fish, Russell said. And though Philadelphia's bird population has been well documented dating back to colonial times, he said there was no evidence of breeding eagles inside the city limits until the early 2000s. Audubon, along with the Delaware Valley Ornithological Club, sponsors a winter bird census every year, and the trend shows the eagle population climbing, from the first spotting of one bird in 1997 to 2020, when 18 eagles were recorded.
Despite their dime-a-dozen prevalence among experienced birders like Russell and Weckstein, Shari Hersh said she's walked along the river almost every day for the past 15 years and has never seen an eagle so close to Center City.
"They're very distinctive, they're ginormous," she said, "so it's not like you see a bald eagle in Philly every day."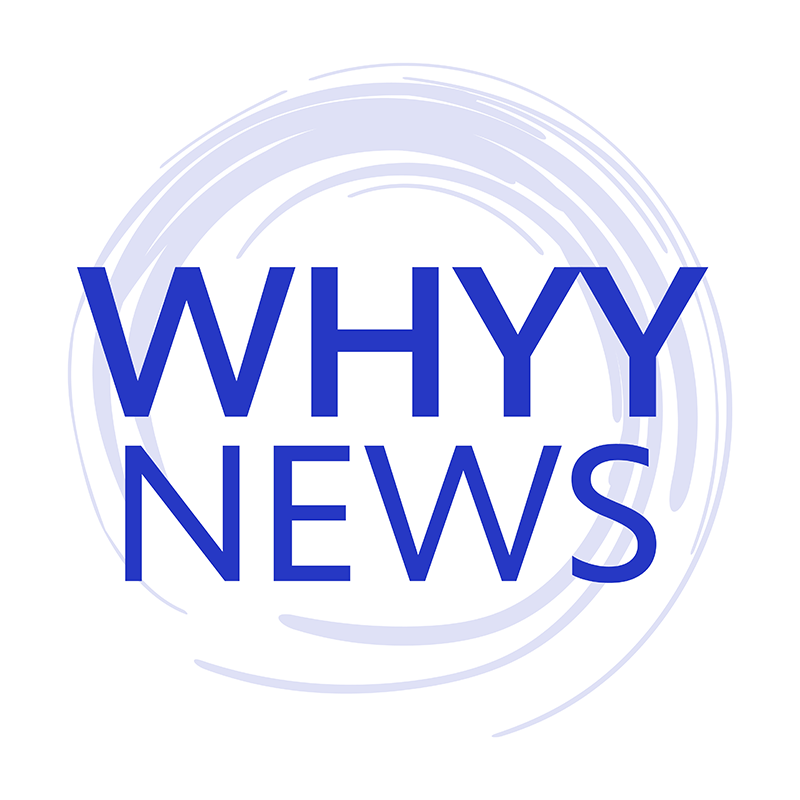 Get daily updates from WHYY News!
WHYY is your source for fact-based, in-depth journalism and information. As a nonprofit organization, we rely on financial support from readers like you. Please give today.