Look Up: Strolling through the late 19th Century
Feb. 9, 2010

By Alan Jaffe
For PlanPhilly
"Look Up" is a PlanPhilly feature that encourages appreciation of our architectural and historical environment. Each week, the photo essay will focus on a different Philadelphia area neighborhood and its distinctive building styles and details, all of which make up the physical fabric of the city and region.

A walk along Green Street, from 15th to 23rd Streets, in the residential Spring Garden section of the city is a journey through late 19th Century architectural design. The houses were built for the managerial middle class and later for successful industrialists, Preservation Alliance Executive Director John Gallery explains in his guide, "Philadelphia Architecture." The structures, built from the 1860s to 1890s, range from modest rowhouses and ornate twins to stately mansions and elaborate castles.
A wide brownstone is attributed to the Wilson Brothers, who designed buildings for the 1876 Centennial Exposition, the Reading Terminal, and the Pennsylvania Railroad's Broad Street station. Highly ornamented twin homes are attributed to Wilson Eyre, one of Philadelphia's most imaginative residential architects. Several diverse facades were designed by Willis Hale, a follower of the High Victorian Gothic School, whose clients included Peter Widener, William Elkins and other members of the city's elite.
The great houses have mostly been transformed into condos and apartments, although some remain single-family homes, including a Romanesque Revival structure recently put on the market by owner Vince Fumo.

A graceful, gabled Queen Anne on the 1500 block of Green is attributed to John Fraser, who designed Broad Street's Union League.

The Renaissance Revival-style Kemble-Bergdoll Mansion, on the 2200 block, is the work of architect James Windrim, who designed the Masonic Temple next to City Hall.


A corner tower distinguishes a beautifully maintained Romanesque Revival mansion on the 2200 block.

The recently renovated brownstone on the 1900 block is attributed to the Wilson Brothers.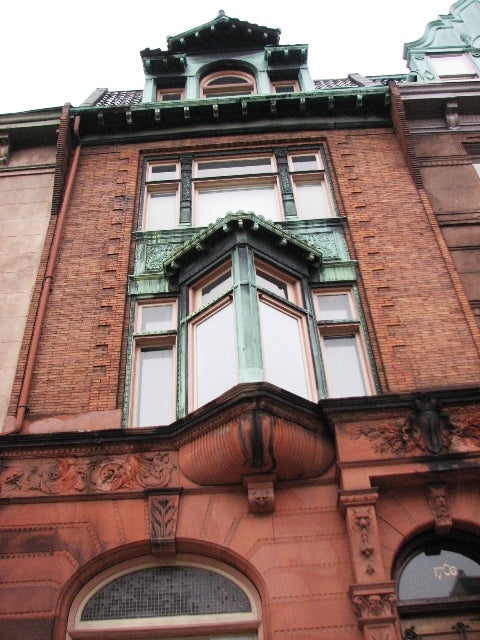 A fanciful façade on the 1700 block is attributed to architect Willis Hale.

A striking corner property, by Willis Hale, stands on the 2300 block.

A distinctive mix of brick and ceramic tile, on the 2200 block, is also attributed to Willis Hale.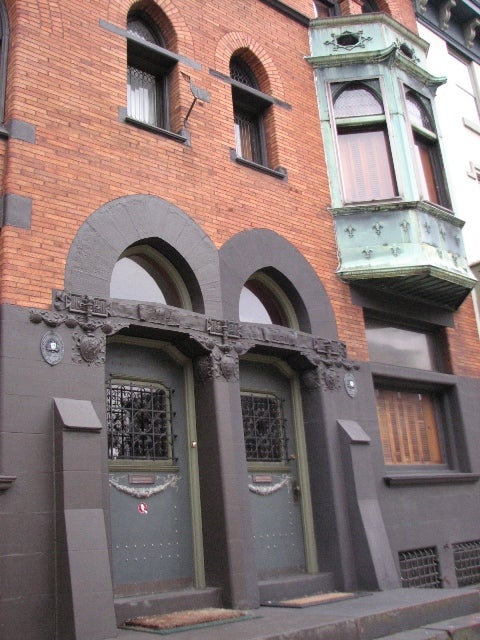 Beautifully decorated twin homes on the 2100 block are attributed to Wilson Eyre.

Another pair of twin entrances on the 2100 block feature decorative terra-cotta arches.
The 19th-century penchant for stone and terra-cotta adornment are found up and down Green Street in the form of angels, cherubs, ladies and demons.

Natural and mythical beasts also appear on the walls of Green Street.