Look Up! An architect's legacy on Spruce Street
"Look Up" is a PlanPhilly feature that encourages appreciation of our architectural and historical environment. Each week, the photo essay will focus on a different Philadelphia area neighborhood and its distinctive building styles and details, all of which make up the physical fabric of the city and region.
One of nation's finest architects, Frank Furness, designed more than 600 buildings in the late 1800s, most of them in the Philadelphia region. Some of his best work still stands, including the Pennsylvania Academy of the Fine Arts, Centennial National Bank (now the Paul Peck Center of Drexel University), University of Pennsylvania Library (now the Fisher Fine Arts Library) and the Merion Cricket Club. But as public appreciation for his High Victorian Gothic style faded at the end of the 19th century, many of his great buildings in Philadelphia were demolished.
On the 2100 block of Spruce Street, several houses by Furness and his contemporaries survive. They include a few brick houses by Furness's partner George Hewitt, with whom he collaborated on the Academy of the Fine Arts. Wilson Eyre, better known for his Arts & Crafts-influenced designs, is represented on the block by a Colonial Revival mansion.
The Furness buildings on Spruce are notable for their unfortunate current condition. The architect's characteristic ornamentation can still be found on the homes, though some elements have been lost or are in disrepair.
The Victorian house at 2100 Spruce Street was built by George Hewitt in 1883 for philanthropist Lucien Moss.
At the rear of the Moss mansion is its impressive carriage house on Cypress Street.
Wilson Eyre, whose work included the University of Pennsylvania Museum and the Mask & Wig Club, designed this more traditional Colonial Revival house at 2123-25 Spruce.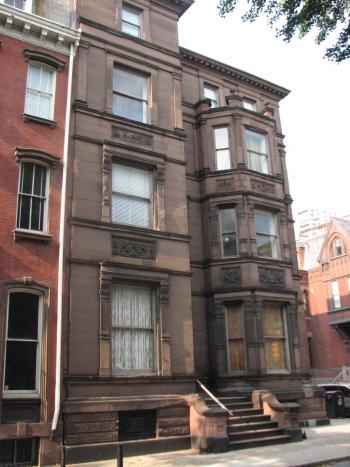 Many of the row homes along Spruce in the Rittenhouse neighborhood were made of brownstone prior to 1880, until architects found that it wasn't as durable as its name implied.
The house at 2129 Spruce was resurfaced in 1913 with multi-colored and decorative tiles produced at Henry Mercer's Moravian Tile Works in Doylestown.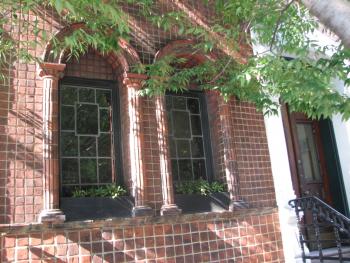 Mercer tiles give the home a beautiful texture and mosque-like appearance.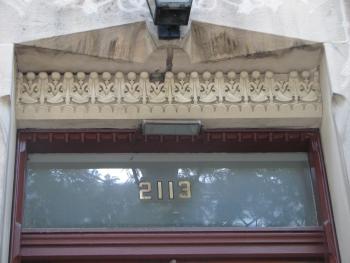 The designer's distinctive details survive above the entrance to the Furness home at 2113 Spruce.
A twin home at 2132-34 Spruce designed by Furness awaits restoration.