Local reps voice their opposition to President Trump's remarks in Helsinki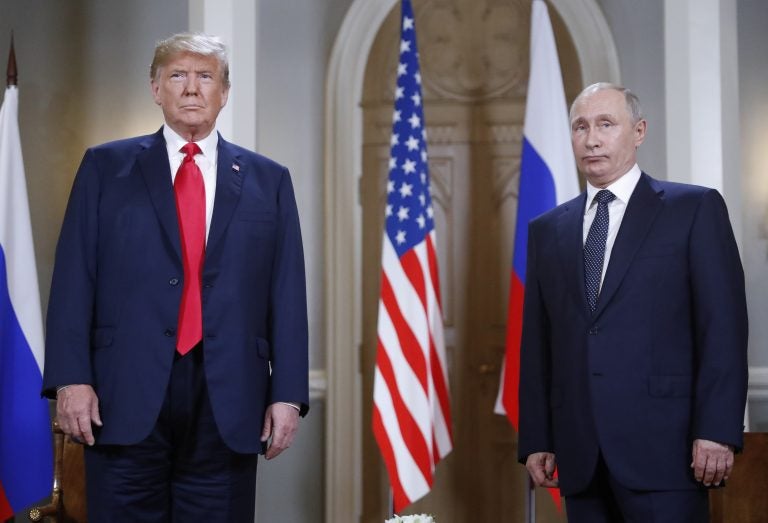 Updated: 5:55 p.m.
—
Key members of Congress, including some Republicans, are criticizing President Donald Trump's performance at a press conference on Monday in Helsinki with Russian President Vladimir Putin as "bizarre," "shameful" and a "missed opportunity" to stand up to Russia. During the press conference, Trump appeared to question U.S. intelligence on Russian election meddling while praising Putin's words during the one-on-one conversation between the two leaders.
Local representatives in Pennsylvania, New Jersey and Delaware also condemned the president's remarks.
New Jersey Sen. Bob Menendez tweeted that Trump's words were "jaw-dropping" and "disgraceful," while Pennsylvania Sen. Bob Casey questioned the value of the summit in a post on Medium yesterday before it took place.
In a long Twitter thread on Monday afternoon, Democrat Casey described Trump's rhetoric during the conference as "dangerous and reckless." He said Trump insulted U.S. law enforcement officers and intelligence agencies while on foreign soil.
"Instead of holding Vladimir Putin accountable in Helsinki, President Trump embraced him and in doing so diminished America's standing in the international community and shamed the office of the presidency," Casey wrote.
Republican Sen. Pat Toomey tweeted Monday afternoon that Putin was a "bad actor" and should be treated as an "international pariah." Without specifically mentioning or criticizing Trump, Toomey wrote that the U.S. should impose tough new sanctions on Russia.
Pennsylvania Rep. Brendan Boyle tweeted: "Donald Trump sells out America," while Rep. Frank Pallone of New Jersey's 6th District said that "Trump propped up a dictator." The only local Republican to have commented publicly online by the time this story was published was Frank LoBiondo, of N.J.'s 2nd District. "I strongly disagree w/ statement that Russia did not meddle in 2016 election," he tweeted.
A few other Democratic congressmen in the region also shared their opposition online.
It's ​shocking that Trump refused to confront Putin over Russia's meddling in our elections – taking Putin's word over our ​own government's.​ @RepBrianFitz must condemn this ​outrage & ​demand that Trump ​tell Putin ​to stay the hell out of American democracy.

— Scott Wallace (@ScottWallacePA) July 16, 2018
Trump's "both sides" statement exposes his continued inability to hold people accountable for wrongdoing. To suggest mutual blame when we just indicted their intelligence officers means he's abandoned reality to parrot Putin's talking points. #TreasonSummit https://t.co/GCN4Xr7NEC

— Rep. Bonnie Watson Coleman (@RepBonnie) July 16, 2018
President Trump has more respect and loyalty to Russia, the country who attacked our elections, than the United States of America. It's truly frightening!

— Dwight Evans (@RepDwightEvans) July 16, 2018
While  Trump was holding his press conference with Putin, Sen. Chris Coons of Delaware was holding court at the Chautauqua Institution in Western New York. Coons delivered the keynote speech at the group's annual gathering on Russian relations with the West. Coons told the gathering to expect an emboldened Putin to renew Russia's efforts to influence future U.S. elections.
"Our intelligence community concluded Russia will apply the lessons learned from its Putin-ordered campaign aimed at the U.S. 2016 presidential election to future influence efforts worldwide against U.S. allies in their upcoming elections and our own elections in 2018," Coons said.
Coons added he's "gravely concerned" that the president fails to see the challenge Russia poses to American democracy.
"President Trump was given a choice between backing the U.S. law enforcement and intelligence communities or siding with Vladimir Putin.  He picked Putin," Coons said.
He called the summit and subsequent press conference a wake-up call for Congress.
"We must reassert our responsibility for security and the rule of law in the United States," Coons said.
Beyond the local area, Sen. Jeff Flake, R-Ariz., tweeted, "This is shameful." Sen. Ben Sasse, R-Neb., called it "bizarre" and "flat-out wrong" for Trump to suggest that both countries are to blame for their deteriorated relationship.

Top Democrat Sen. Chuck Schumer of New York, said that never in the history of the country has a U.S. president supported an adversary the way Trump supported Putin.

Former CIA Director John O. Brennan tweeted that Trump's behavior exceeds the threshold of high crimes and misdemeanors.
"It was nothing short of treasonous," Brennan said.
—
Emily Scott and Mark Eichmann contributed to this report.