Live-blog: How shared vehicles slash greenhouse gas emissions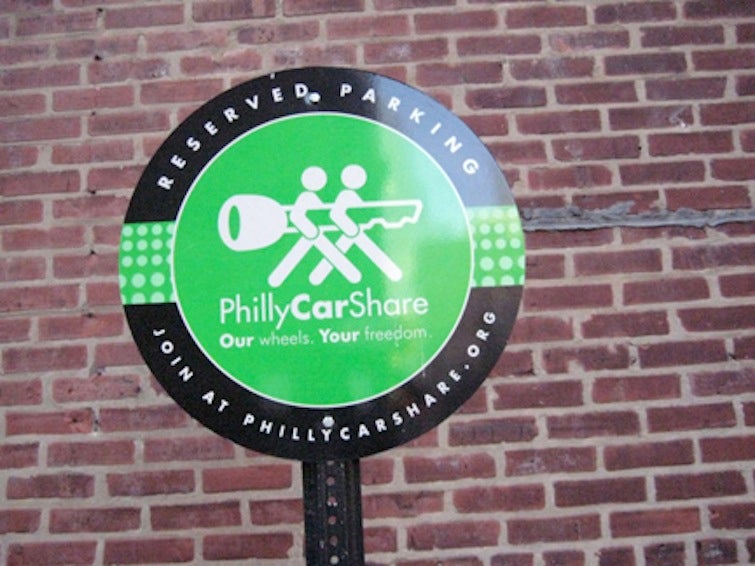 A new paper from T. Donna Chen & Kara Kockelman at the University of Texas at Austin looks at the behavioral changes people make when they join car share programs, and how those choices impact greenhouse gas emissions.
Their topline finding, drawing on a thorough review of existing research, is that individual energy and greenhouse gas emissions drop by as much as 51% when drivers join car sharing services, though they caution that the different studies they drew on found very different ranges, with much riding on local land use and transit conditions.
The exponential growth of car sharing services in the Americas is part of a broader economic trend favoring access over ownership, Chen told attendees of this morning's presentation at the Transportation Research Board conference, which is also driving the growth of services like AirBnB, tool libraries, and other so-called "sharing economy" services. It's also playing out against a backdrop of an overall decline in driving.
"2009 was the very first year that in the US, there were more cars scrapped than there were sold," she said, "so we're starting to see a decline in the total number of vehicles."
The biggest savings come from avoided travel or a shift in travel to other modes, but parking demand reduction and fuel purchase reductions also offer valuable savings, though Chin cautions there were fewer studies of parking and fuel savings to draw on.
Here are some of their other findings:
The forecast of market potential for car sharing varies quite widely – anywhere from 3% to 26%, with the most likely scenario being about 10% of North American drivers


The middle line estimate for vehicle reduction is about a 21% reduction in car ownership among car sharing members, on average.


Most studies think there is a vehicle replacement rate between 1 and 15% for each shared vehicle, while others have found it could be as high as 23%.


The percentage reduction in vehicle distance traveled is around 31% on average.


Fuel efficiency improvement from fleet turnover is about a 24%.


There are fewer studies on the impact on parking demand, but early signs suggest car sharing services do decrease parking demand as they grow.


Most studies expect bus and rail transit use to increase in tandem with the growth in car sharing, though there are some that predict no increase.
Chen and Kockelman include peer-to-peer car sharing services like RelayRides, business-to-consumer services like Car2Go, DriveNow, and Zipcar, as well as transportation network companies like Lyft and Uber X where amateur drivers rent rides in their personal cars to passengers much like a taxi service. The common thread is that people are increasingly open to traveling in a car that is not their own.
According to Chen, car share users tend to live in higher density neighborhoods with good walkability and transit access, are more highly educated on average, and are more likely to be childless. The typical car share user is someone who drives a below-average amount, and may only use vehicles occasionally for errands or short trips during the week, or for longer trips out of the city on weekends.
Some of the energy and emission savings are coming from fleet turnover – older dirtier vehicles being replaced with newer cleaner ones. Car share services tend to use vehicles that are smaller and more fuel efficient than the typical privately-owned vehicle (a 2005 Toyota Camry is the baseline vehicle for comparison in their paper), and the car share services replace them more often. In the US the average privately-owned vehicle is owned for an average of 6 years, but in a business-to-consumer model car sharing organization, the vehicles typically get replaced every 2 or 3 years.
People are also much more aware of the cost of a car share trip, says Chen. It's pretty easy to get in your privately-owned car and not think about what that trip is costing you, she explained, except for when you're filling up the gas tank. But when you use Car2Go, you know that the trip was $6. This price awareness tips people toward more transit trips and non-motorized modes.
There is also a land use component to the energy and emissions reductions, where a single shared vehicle can replace multiple private vehicles, reducing demand for parking and new road infrastructure. In turn, less vehicle demand means reduced vehicle production, which also tends to reduce emissions.
There are lots of other interesting nuances to explore in the paper, but the general trend appears to be what we'd expect: reducing private vehicle ownership and increasing the prevalence of shared vehicles reduces energy consumption and greenhouse gas emissions, especially in highly walkable places with good transit and non-motorized transportation infrastructure.