Gov. Phil Murphy fields N.J. questions on live call-in show
Host Nancy Solomon and Gov. Phil Murphy took phone calls and social media questions in the WBGO studio in Newark, New Jersey.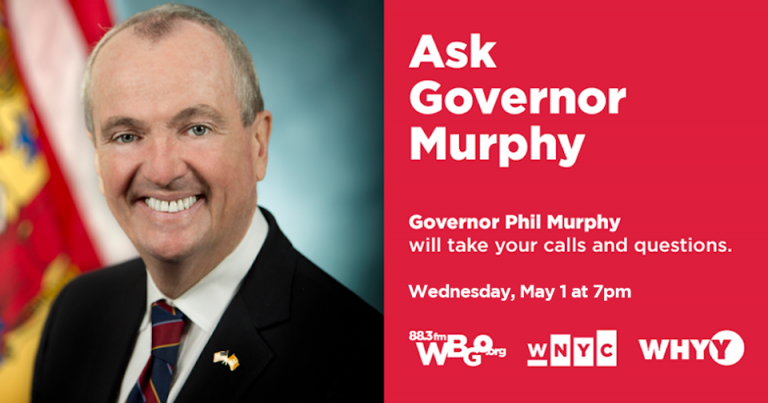 New Jersey Gov. Phil Murphy said he believes the Garden State is in a unique position when it comes to harnessing wind power as he discussed the state's environmental matters on the monthly "Ask Governor Murphy" program.
With host Nancy Solomon, Murphy fielded a wide range of questions from listeners who called in or used social media to seek the governor's take.
Murphy, who described himself as an environmentalist, said New Jersey's location right off the continental shelf makes it "uniquely qualified" to stabilize turbines on the ocean floor in the construction of wind farms. Other areas, including California, would have to have floating turbines because of the dramatic drop off the West Coast.
He defended the state's $900 million payment to PSE&G so the utility can maintain its nuclear operations over the next three years. The utility had threatened to shut them without the additional funding, and state regulators said keeping the nuclear energy industry afloat was vital so residents did not have to rely as heavily on alternative energy sources, such as natural gas, with harmful emissions.
In the absence of nuclear power, which Murphy said constitutes 90% of New Jersey's renewable energy sources, the state would have to rely heavily on fossil fuels.
Murphy also said an independent task force he's appointed continues its work to evaluate the state's controversial Economic Development Authority, which awards businesses billions of dollars in tax incentives for moving to New Jersey or remaining in the state.
An audit released this year found a lack of oversight and few policies to ensure that companies make good on promises outlined in their tax break agreements.
"Ask Governor Murphy" is WBGO News production in collaboration with WHYY and WNYC.
WHYY is your source for fact-based, in-depth journalism and information. As a nonprofit organization, we rely on financial support from readers like you. Please give today.