Light the Lights! The spring season opens with our NewsWorks theater preview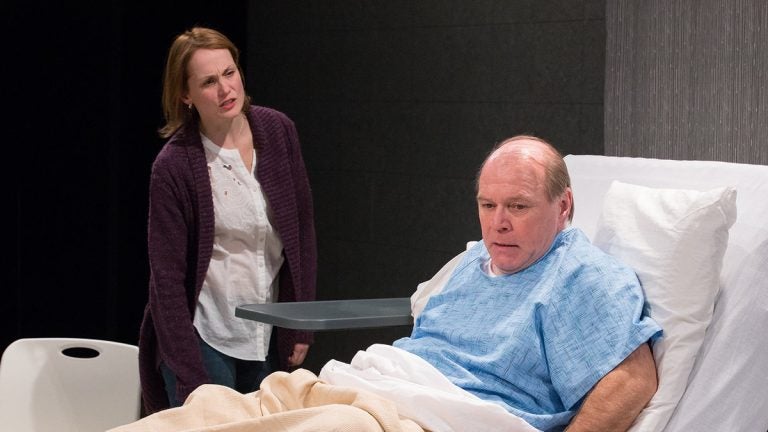 The second half of the theater season is beginning to bud, and with about 50 professional theater companies in metropolitan Philadelphia, it'll blossom quickly. There's something for everyone – and for Philadelphia theater-goers, who have a track record of supporting new work, the spring season is notable for its weight in world premieres.
Here's my list of shows you may want to consider during the spring season. It's based on productions I think could work well, on plays and musicals I like and on new work that I know little about but find intriguing. And here's my usual caveat: Even if I've seen a certain play or musical before, a new production can be a wholly different experience. So I can't vouch for these productions – I can suggest them only as theater-going possibilities.
Directions for use:
To visit the Web site of a theater company for any show, click on the title of the show and you'll be automatically linked.
The list is in chronological order of each show's first preview performance. Following previews – from one to four performances, and generally considered full dress rehearsals – comes the official opening night.
Buy two tickets and call me in the morning.
UNDER THE SKIN. Locally-based playwright Michael Hollinger has had much success over the years with plays premiered at Arden Theatre Company. His latest play, about a man dying of kidney failure and the estranged daughter whose kidney he wants, get a world premiere from Arden at its theater, now through March 15.
MISALLIANCE. An underwear scion looks to a quiet summer weekend at his estate, but… George Bernard Shaw's comedy of misplaced romance (among other things) is produced at Walnut Street Theatre's fifth-floor studio by the Idiopathic Ridiculopathy Consortium, Jan. 28-Feb. 22.
LONG LIVE THE LITTLE KNIFE. Inis Nua, devoted to producing plays from Great Britain and Ireland, presents this one by David Leddy, who directs Fire Exit stage company in Scotland. It's about two con artists, a husband and wife with a goal: to become the world's greatest art forgers. It runs Feb. 4-22 at Off-Broad Street Theater.
THE METAMORPHOSIS. Quintessence Theatre Group, devoted to presenting classic work, produces this stage adaptation of Franz Kafka's tale of a traveling salesman who suddenly transforms into a creature resembling a giant insect. What will his family – dependent on his generosity — say as he becomes less human and more frightening? It runs Feb. 4-March 1 at the Sedgwick Theater in Mount Airy.
MOTHERS AND SONS. Terrence McNally's super-smoothly written play about a gay man with a partner and a son, and the mother of his late boyfriend, is funny, tense and ultimately heartening. It began life two years ago at Bucks County Playhouse, ran on Broadway last season, and gets a new production from Philadelphia Theatre Company at its Suzanne Roberts Theatre, Feb. 6-March 8.
STAIRS TO THE ROOF. This early (and not frequently produced) Tennessee Williams play is set in an office building in the '20s, where a young man – in a theme that will run through Williams' work – is yearning. EgoPo Classic Theater presents it in the theater at the Latvian Society, Feb. 11-March 1.
MILK LIKE SUGAR. On Annie's 16th birthday, she enters into a pact with her friends – but can she keep it? Simpatico Theatre Project presents Kirsten Greenidge's play at the Adrienne, Feb. 11-March 8.
HOLD THESE TRUTHS. Plays & Players' presents Makoto Hirano – a dancer and actor and founder of Team Sunshine ("The Sincerity Project") — in Jeanne Sakata's play about a Quaker student who tries to understand the U. S. government's forcible removal of its own citizens of Japanese ancestry to camps during World War II. Hirano plays more than 30 roles in the play, part of Plays & Players' season of single-actor performances at its theater. The show runs from Feb. 12-March 1.
OTHELLO. Several local professional stages are producing Shakespeare this during the spring season and Curio Theatre, which has offered some outsider takes on the Bard in the past,is among them. This time, actor Dan Hodge is directing the story of the misled Moor, at Curio's Calvary Center space in West Philly, from Feb. 12-March 14.
MICKLE STREET. In 1882, while Oscar Wilde was touring the United Stes, he stopped in Philadelphia and crossed over to Camden toi spend the afternoon with Walt Whitman. In a world premiere from Walnut Street Theatre, playwright Michael Whistler imagines their discussion. The Walnut is producing the play in its third-floor Independence Studio, Feb. 17-March 8.
A MURDER HAS BEEN ARRANGED. An eccentric who'll inherit 2 million pounds on his 40th birthday throws a party that day on a theater stage, and in comes the long-lost relative who gets the money if the eccentric dies. The thriller by Emlyn Williams is staged by Hedgerow Theatre just outside Media, Feb. 19-March 29.
FORTUNE COOKIES. Four friends who first met at a department store have all grown older, and dined monthly at the same restaurant through their lives. South Camden Theatre Company's artistic director, Joseph M. Paprzycki, brings his play back to the company at its Waterfront South Theatre, Feb. 27-March 15.
MOON CAVE. Douglas Williams, Azuka Theatre's playwright-in-residence, examines the vagaries of notoriety in this Azuka world premiere about a guy who keeps out of public view after a childhood trauma that may lead people to recognize him. Then he meets a gal and … what does he tell her and what does he not? It's at Off-Broad Street Theater, March 4-22.
GHOST: THE MUSICAL. Media Theatre tackles this musical version of the popular 1990 film about a man killed in an attack one evening while he's on his way home with his gal. She can't get him out of her life, literally, after a weird medium connects them. The show, heavily dependent on multi-media imagery when it was on Broadway, plays out with swelling music. It runs March 4-29.
FIELD HOCKEY HOT. Michael Ogborn, who's scored several pantos for People's Light & Theatre Company and wrote the musical "Babycase," now takes on girls' field hockey in this world-premiere musical produced by 11th Hour Theatre Company. It runs March 5-22 at the Adrienne.
COLLECTED STORIES. What starts out as an everyday meeting between an established writer and a graduate student turns into a clash of values in Donald Margulies' play, presented by Isis Productions on Walnut Street Theatre's fifth-floor stage, March 5-29.
AND THEN THERE WERE NONE. Ten strangers lured by a mysterious host end up at a remote island resort, and then they begin to end up dead. Hmmm… sounds like classic Agatha Christie. Whodunit? The Walnut Street Theatre will tell you, on its main stage, March 10-April 26.
RAGTIME: THE MUSICAL. Life in turn-of-the-century America, as told through the tales of three families, in this musical produced by Bristol Riverside Theatre, March 17-April 12.
RASHOMON. What are the vagaries of being a witness? Akira Kurosawa's classic film asked that question, in the context of the murder of a samurai and the rape of his wife in 12th-century feudal Japan. This adaptation is produced by Luna Theater Company at its stage to the rear of the Church of the Cruicifixion on Eighth Street, March 21-April 11.
THE FAIR MAID OF THE WEST. All hands on deck! The Philadelphia Artists' Collective, which has been afloat before in with some of Eugene O'Neill's sea plays, returns to the waves with Thomas Heywood's "The Fair Maid of the West." It's an adventure tale and love story, with villainy thrown into the mix, at Broad Street Ministry, April 1-18.
A MIDSUMMER NIGHT'S DREAM. Four young lovers meet Puck and the others in the forest, in one if Shakespeare's most produced plays – this time by Philadelphia Shakespeare Theatre at its stage on Sansom Street, April 3-May 17.
BECAUSE OF WINN-DIXIE. Kate DiCamillo's children's novel about the close friendship between a girl and her dog becomes a musical by Duncan Sheik ("Spring Awakening)" and stars a dog in one of the two leading roles. Delaware Theatre Company produces it April 8-May 3 at its playhouse in Wilmington.
THE SUBMISSION. A white playwright uses a pen-name to write about growing up poor and African American. A major theater festival then decides to produce his play – so he hires an African American actress to play himself. Jeff Talbott's racially-charged dark comedy is from Quince Productions at Walnut Street Theatre's fifth-floor studio, April 9-25.
MARRY ME A LITTLE. Sondheim fan alert: This musical revue, with several lesser-known songs by Stephen Sondheim, tells the story of two strangers alone on a Saturday night in their apartments, just a floor from each other. It's from Montgomery Theater in Souderton, April 9-May 3.
TO THE MOON. Billed as "the story of a Ralph Kramden who longs to be a Jackie Gleason," this world premiere comedy by 1812 Productions' leader, Jennifer Childs, round out the stage company's season. It's about an underemployed man with big dreams, and plays at Christ Church Neighborhood House from April 16-May 17.
IN THE BLOOD. Suzan Lori-Parks' re-telling of "The Scarlet Letter" has Hester as the homeless mother of five children. She struggles to give them better lives but her reputation as a wanton woman, coupled with her poverty, thwarts her attempts. Theatre Horizon presents the play at its stage in Norristown, April 16-May 10.
WHO'S AFRAID OF VIRGINIA WOOLF? Edward Albee's American classic, on a booze-ridden night that strips away all social filters among two couples, is one of the more anticipated shows this season because its veteran leads – Pearce Bunting and Catharine Slusar – already demonstrated their propensity for igniting sparks in last season's "Annapurna" at Theater Exile. This Exile production's at Plays & Players, April 16-May 17.
KINKY BOOTS. The best-musical Tony Award winner boasts a terrific score by rocker Cindy Lauper and a rousing book by Harvey Fierstein. It's a "Rocky" story, but set in a shoe factory, not a boxing ring. (There is some boxing in it.) It's a joy to watch unfold, with a strong message about being different and being accepted. And you can't beat the choreography. It's coming to the Forrest Theatre as part of the Kimmel Center's Broadway series of national tours, April 28-May 10.
ROSENCRANTZ AND GUILDENSTERN ARE DEAD. From Wilma, the theater company that specializes in the work of Tom Stoppard, comes his comedy about Hamlet, as told by two of Shakespeare's minor characters. (It follows the Wilma's own production of "Hamlet.") And speaking of classics, it's got plenty of Stoppard's word games and intellectual riffing. At Wilma Theater, May 20-June 14.
I PROMISED MYSELF TO LIVE FASTER. Pig Iron Theatre Company's new work will have its world premiere at the Humana Festival of New American Plays in Louisville, then rolls into Philadelphia a month later. A guy named Tim meets up with intergalactic nuns who send him to retrieve the Holy Gay Flame from an evil emperor. I don't make these things up – but they do. It's at FringeArts, May 22-31.
THE HOUND OF THE BASKERVILLES. This adaptation is not exactly Arthur Conan Doyle's story about the curse that haunts the family of Baskerville Hall – for one, this version sounds ripe for laughs with a Sherlock Holmes who's not quite up to snuff (or whatever that is he's sniffing). Lantern Theater produces the play in its St. Stephen's Theater space, May 28-June 28.
THE THREE CHRISTS OF MANHATTAN. It's a momentous occasion for an atheist psychiatrist: the grand opening of her private practice. Then the patients start coming in – three of them, each believing he's the Savior. InterAct Theatre Company winds down a season of world premieres, this one by its artistic director, Seth Rozin, at the Adrienne, May 29-June 21.
HOW TO WRITE A NEW BOOK FOR THE BIBLE. Playwright Bill Cain, who is a Jesuit priest, wrote this semi-autobiographical play about caring for his dying mother. It's described generally as a family portrait, part comedy and part heart-warmer. People's Light & Theatre Company stages it at its Malvern complex, June 3-28.
RFK. If you're interested in the Kennedys or presidential history and you missed New City Stages' production of Jack Holmes' evocative play about Robert F. Kennedy, consider its return engagement. It's exceptionally well-performed by Russ Widdall, who returns, at the Adrienne, June 4-7.