Latest generation of City Hall peregrine falcons in fine health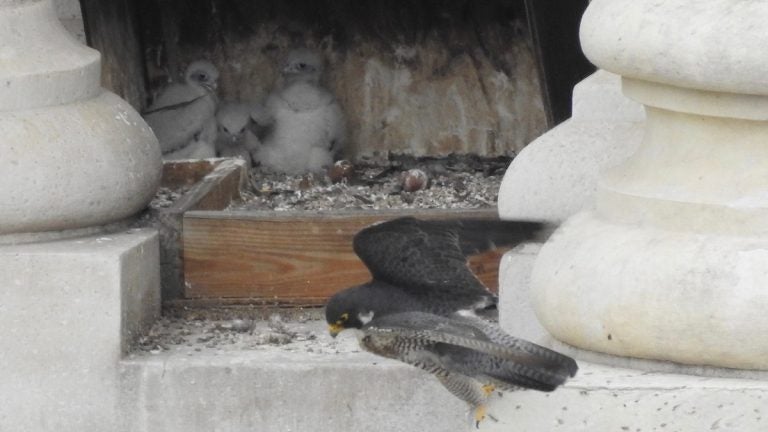 A nesting pair of peregrine falcons, now in their sixth year atop City Hall in Philadelphia, have gotten some good news from the doctor.
Their three chicks, which hatched earlier this month, are in good health following their first exam Monday by Arthur McMorris, the Pennsylvania Game Commission's peregrine falcon coordinator.
"They were all very healthy," he said. "They did have some blood-sucking flies on them, which is very common, and I dusted them with a powder to take care of the blood-sucking flies. Everything else was just really perfect."
McMorris also banded the chicks' legs so that their health and activity can be monitored in the future.
The falcons hatched just a few weeks ago, but McMorris said peregrine falcons grow fast and will be ready to fly by the time they're about 45 days old — some time in mid-June. The tower on top of City Hall, where the parents have successfully reared their young every year since 2011, is the closest thing Philadelphia has to their normal cliffside habitat.
McMorris said he expects this nesting pair to have more chicks next year, but that the mother might not live long after that.
"The female is 10 years old this year," he said, "which is actually getting to be a little bit old for a wild peregrine falcon. She might have maybe two or three more years left in her."
Peregrine falcons mate for life, but they will take new mates when one dies.
Though their population has rebounded from the brink of extinction in other parts of the country, peregrine falcons are still considered endangered in Pennsylvania. There are just under 50 nests in Pennsylvania — seven in Philadelphia.
WHYY is your source for fact-based, in-depth journalism and information. As a nonprofit organization, we rely on financial support from readers like you. Please give today.