Land Bank gets its first full-time executive director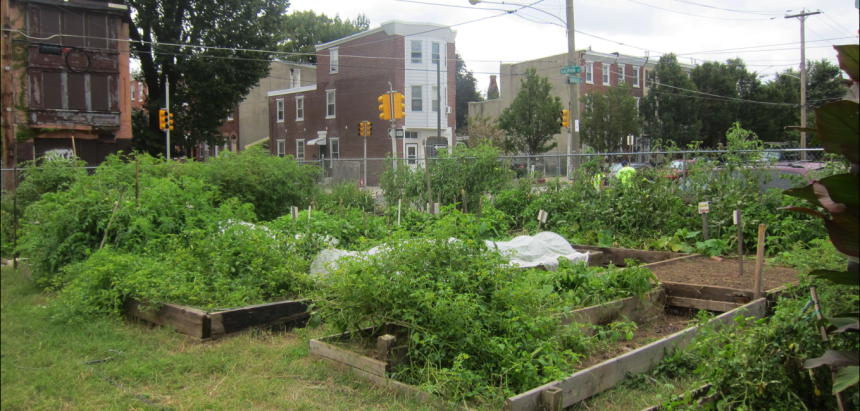 On Tuesday, the board of the Philadelphia Land Bank voted to make Angel Rodriguez, vice president of Asociación Puertorriqueños en Marcha (APM), the nascent institution's new executive director.
The appointment is hugely significant for the land bank, which has struggled to find its place in the municipal firmament since its creation in 2013. Inconsistent staffing is one of the primary challenges the new body faces.
Rodriguez will be the first executive director to serve in a non-interim or part-time capacity.
Rodriguez is currently on vacation and could not be reached for comment. For that same reason, he did not attend the meeting of the land bank board where his new position was announced.
In addition to Rodriguez's appointment, the board appointed Steve Cusano as the institution's new senior counsel. He starts on Monday, while Rodriguez will assume his new position on September 11.
"The land bank has never had a full-time executive director, so this will be a major step forward," said Rick Sauer, executive director of the Philadelphia Association of Community Development Corporations and a member of the land bank board involved in the consideration of candidates for the position.
The process stretched out over three months. Sources familiar with the process, who spoke with PlanPhilly anonymously due to the sensitivity of the personnel matter, said that only candidates already intimately familiar with Philadelphia were given serious consideration.
"Now we need to do the important work of getting more properties out the door and also doing additional acquisitions," said Sauer, "assuming the land bank receives adequate resources [from the Kenney administration] for further staffing and for acquiring private properties."
Stakeholders PlanPhilly reached out to were broadly enthusiastic about Rodriguez's selection. Even those who offered the most tempered praise said that he is hard-working, untarnished by scandal, and that his forceful personality will be an asset in a corner of the municipal bureaucracy that is periodically plagued by turf wars and councilmanic prerogative.
"He's a good, reasonably detached person who will administer the land bank in a fair and evenhanded manner," said David Feldman, director of the Development Workshop, a building industry trade association. "He has a sense of neighborhood needs and has no personal agenda about where the land goes."
Affordable housing and open-space advocates, who compete with market-rate developers for vacant land, expressed support for him as well.
"We are very excited," said Nora Lichtash, executive director of the Women's Community Revitalization Project and a key player in the Philadelphia Coalition for Affordable Communities. "We are glad it is Angel Rodriguez. We know him and we trust him."
Rodriguez is not new to the land bank. He's sat on its board for the past year as one of the city council appointees. (The mayor gets to appoint five seats on the board, city council gets another five seats, and then council and the mayor must agree on the eleventh seat.)
Council President Darrell Clarke backed Rodriguez's appointment to the board last year and was among his supporters when it came to the bid for the executive director position.
Rodriguez enjoys a reputation as an engaged board member, which is by no means true of everyone who sits on the body.
Observers say he doesn't have a clear preference in the debates over the prioritization of affordable housing, open space, and market rate development. The land bank's supporters of all backgrounds hope Rodriguez will be a strong advocate for its mission and prerogatives, finally entrenching it firmly as a legitimate player in the municipal bureaucracy.
Councilwoman Maria Quiñones-Sanchez, the original sponsor of the land bank legislation, said she is encouraged by the appointment. Staff shortages and a lack of consistent leadership have frustrated many of her hopes. But she also says that it is genuinely difficult to hire for a position that involves a significant degree of highly specific expertise and local know-how.
"People who know how to do this kind of development work are either in the nonprofit sector or making a whole lot of money in the development sector," said Sanchez. "And this is in a complicated bureaucracy. You have to want to come in and really want to serve."
In July, Anne Fadullon, director of planning and development for the city, told PlanPhilly that staffing the land bank would be one of her primary priorities this summer. There are four other open land bank positions currently posted. Sauer says that there could be additional hiring if more funding is secured.
During this week's board meeting, many of the mayoral appointees were reshuffled as well. Fred Purnell, Anjali Chainani and Anna Shipp have been replaced by Dominique Casimir, from the Department of Public Property; Deputy City Treasurer Christian Dunbar, and Lauren Vidas, a lobbyist and community advocate with the South of South Neighborhood Association.
"The goal of any board is to bring a diverse set of skills to the organization, and we're excited to add expertise in real estate, finance and community engagement," wrote spokesperson Paul Chrystie, when asked about the wave of new board appointments. "Unfortunately adding new people necessarily means that other qualified people have to come off."
With Rodriguez ascending to the land bank's executive director position, city council will have to make a new board appointment as well. It is as yet unclear who will take his seat.
WHYY is your source for fact-based, in-depth journalism and information. As a nonprofit organization, we rely on financial support from readers like you. Please give today.