Kenney strikes note of continuity at annual Planning Commission gathering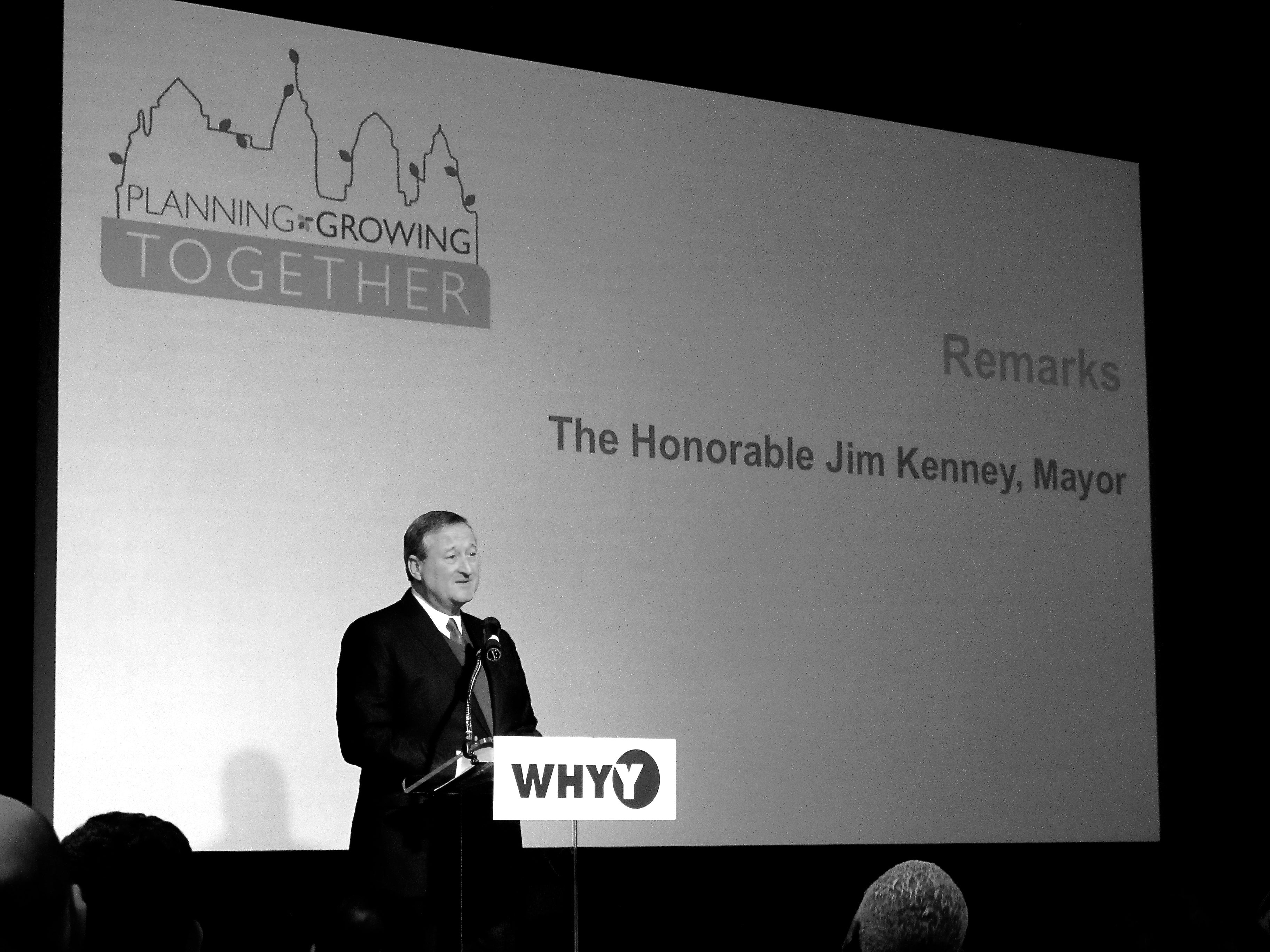 "The cynics will say that people don't care about their neighborhoods or what's going on in their neighborhoods, and they're wrong, because look around this room," said Mayor Jim Kenney, speaking to a room full of city planners, developers, lawyers, City Council members, and community activists.
The crowd was gathered at WHYY headquarters for the Philadelphia City Planning Commission's annual celebration and progress report on Philadelphia2035, the comprehensive planning process initiated by former mayor Michael Nutter which is eventually supposed to result in 18 district plans and new zoning maps for every neighborhood in Philadelphia.
"This room is going keep Philadelphia moving in the right direction and making it even a greater city than it is today," Kenney continued. "And the reason is because, for many, many years, government and the 'smart people' would tell you what you need and what you should have. And now, finally we turned around and listened to you and we find out what you need and what you want and how we all get there together."
During the course of his brief remarks, Kenney gave high praise to Alan Greenberger, Nutter's deputy mayor for economic development and chairman of the City Planning Commission. He thanked Gary Jastrzab, the director of the City Planning Commission, while acknowledging that Council had occasionally beaten up on Jastrzab during hearings. And he said he was lucky to have been able to appoint Anne Fadullon, a developer and former president of the Building Industry Association, as the city's first Director of Planning and Development.
"Philadelphia2035, we're going to continue to move, we're going to continue to do the work that the Nutter administration started, move forward with these wonderful plans, listen to you, listen to the things you need for your neighborhood, and listen to your ideas," Kenney said. "… We need to continue to move forward in the positive direction that the Nutter administration started, and we are committed as an administration to making sure that we go in that direction."
The new mayor also alluded, as he has done before, to a major investment in parks and recreation centers, though he stopped short of sharing details.
"We have some really interesting plans that I can't reveal at the moment for the next budget cycle, but I think you're going to be very, very excited about the direction that we're going when it comes to community investment, neighborhood investment, and parks and rec and libraries and things that we all care about," he said.
Throughout his comments, Kenney re-emphasized the same theme he worked on the campaign trail: investing attention, money and resources in every neighborhood in Philadelphia.
"Every neighborhood in the city needs to feel that there's equity," he said. "Many of our neighborhoods are doing well, and sometimes it's organically doing well, and sometimes it's because of planning and investment. But not every neighborhood in our city is doing well. Many neighborhoods are struggling. Our children deserve better. All of our children deserve better."
"As you know, when you see a really good development, when you see a really good park design and development and renovation, things happen around it. Investment happens around it. Residential development, commercial development happens around it, and that's the kind of investment that the city can put into things, with your tax money directed by you into projects that really improve the quality of life and the opportunity for people to meet their potential."
After Kenney spoke, members of the Planning Commission highlighted a number of projects and plans that were started, and in some cases finished, over the last eight years. Those achievements, highlighted in the annual Philadelphia2035 calendar, ranged from new park space at the Navy Yard, to major developments on Market East, to the reopening of the Manayunk Bridge, and planned improvements to the 25th Street Viaduct.
Finally on Wednesday night, the Citizens Planning Institute graduated its 2015 class of neighborhood planners, bringing the total to more than 300. CPI holds classes in the fall and spring for Philadelphians who want to learn how to deal with zoning, planning, preservation, and development in their neighborhoods. It was started in 2010 with a grant from the William Penn Foundation.
WHYY is your source for fact-based, in-depth journalism and information. As a nonprofit organization, we rely on financial support from readers like you. Please give today.