Jim Kenney cares a lot about the children of Philadelphia. Has he done enough for their schools?
Some of Kenney's boldest moves have come on education issues. But he's also taken a restrained approach to the city's school system.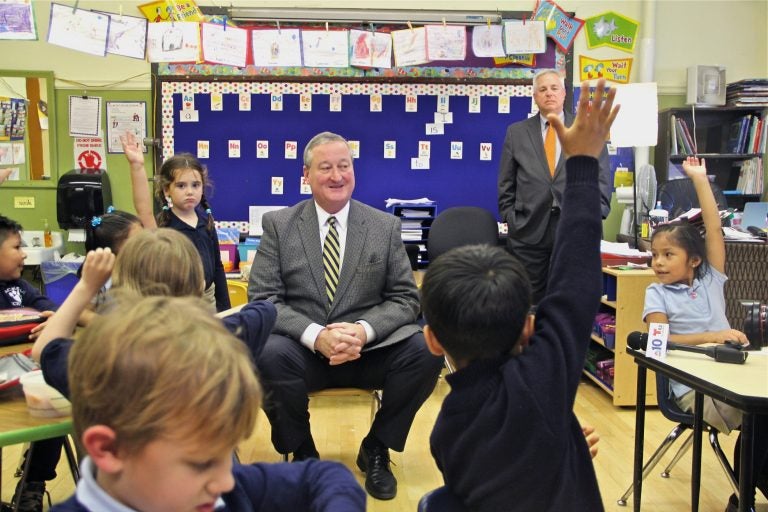 When Philadelphia Mayor Jim Kenney goes before voters in Tuesday's primary, he'll point to his record on education as a big reason why he deserves a second term.
After all, many of his banner accomplishments are related to education.
He pushed for a tax on sweetened beverages to expand access to pre-K and to create community schools that include wraparound supports. He also heeded the calls of advocates who asked him to dismantle the state-controlled School Reform Commission and reappoint a local school board.
But despite having power over the public schools in a way his predecessors did not, Kenney's taken a somewhat restrained approach to the city's long-struggling school system.
In some ways, Kenney has been the "non-education, education mayor." He's focused a lot on the issue without trying to upend the K-12 system — placing a high value on increasing resources and maintaining stability.
"I see the mayor's overarching strategy towards education as one of investment," said Hillary Linardopoulos, a staffer with the Philadelphia Federation of Teachers, which backed Kenney in 2015 and again this year.
Kenney has pushed City Council to send more money to Philadelphia's public schools, with varying success.
In 2018, he proposed a budget that would have sent $980 million to Philly schools over five years, fueled by a 6% hike in property taxes. City Council nixed the tax hike, but approved a package that officials say will add $616 million to school coffers.
Kenney also helped settle a seemingly intractable contract dispute between the PFT and school district leadership.
Overall, through Kenney's term there's been less headline-grabbing drama in city schools: no big layoffs, budget crises, or labor disputes.
How you view Kenney's work with the school system probably depends on how much you value stability — and whether you think the cure for what ails Philadelphia schools is more resources.
'As early as possible'
Asked in a recent interview for his philosophy on how to improve education in Philadelphia, Kenney started with this:
"Actually the important thing is starting education as early as possible, and that's why we started off with the pre-K," he said.
It's a telling answer.
Kenney spent a lot of early political capital fighting for a sweetened beverage tax to fund three things: pre-K, community schools, and better city recreation centers.
A court fight over the beverage tax — combined with lower-than-expected collections — have slowed the rollout of these initiatives and forced Kenney to scale back his ambitions. There will now be 5,500 pre-K seats instead of 6,500, and 20 community schools instead of 25.
Still, all three initiatives try to lower the hurdles kids face before they get to school or while they're out of school — a testament to his belief that the city bears responsibility for each of its children.
"It really angers me when people say, 'Let them raise their own kids!' Or, 'They're not my kids. Raise your own kids!' Well, if you're in jail, you can't raise your kid. If you're addicted to drugs, you can't raise your kids," Kenney said. "If you're poor, it's hard to raise your kid. If you don't have a house, it's hard to raise your kid."
Kenney says it's not fair to "discard" children and blame parents for the failure.
"All that does is create generation after generation after generation of crime and addiction and lack of education and lack of good jobs," he said. "And that's not in the best interest of the city long-term."
There's long been talk of trying to expand pre-K for Philadelphia kids. But Kenney got it done, said Carol Austin, an early childhood advocate who heads the nonprofit FirstUp. That achievement sets a new course for all future conversations around early childhood education, even if the funding mechanism draws ire.
"Everybody sees a need. It's easy to see a need," said Austin. "It takes some courage to do something that may not be that popular to do. And that's what he's doing."
Philadelphia Mayor Jim Kenney sits in on a preschool class at Little Learners Literacy Academy in South Philadelphia in 2016. Pre-K expansion was one of Kenney's top campaign promises. (Emma Lee/WHYY)

Kenney launched his community schools initiative in 2016 at an event at Southwark School in South Philadelphia. It was one of nine schools chosen that year. (Emma Lee/WHYY)

Kenney, shown here sitting down to breakfast in 2017 with fourth graders at Henry A. Brown Elementary School in Kensington. (Emma Lee/WHYY)

In 2018, Kenney addressed the city's new local Board of Education at its first meeting after the dissolution of the School Reform Commission. Kenney chose every member of the new board. (Emma Lee/WHYY)

Jim Kenney at a rally with Jerry Jordan, president of Philadelphia Federation of Teachers during the 2015 mayor's race. (Bas Slabbers for WHYY)
Keeping the ship on course
Kenney wants the city to be involved in what he calls "the entire continuum of our kids having structure in their lives."
Part of that structure is, of course, the traditional K-12 education system.
In late 2017, on Kenney's urging, the state-controlled School Reform Commission disbanded. It was a banner moment for Kenney and education advocates who pushed for the commission's dissolution almost as soon as it emerged in 2001.
The move gave Kenney the kind of control over the city's school system his predecessors lacked. He chose all nine members of the school board that replaced the SRC. He could have used the moment to introduce major reforms or replace Superintendent William Hite.
He didn't.
"I didn't want to blow up the ship because I like Dr. Hite," said Kenney. "I think he's doing a great job. If he had the resources he has now, five years ago, we'd be much farther ahead than we are."
So where are we?
Test scores and graduation rates have increased under the current leadership, but growth has been slow and city schools still lag way behind state averages.
The number of Philadelphia third-graders reading at grade level, according to state testing, has improved as the district invested more in early literacy. But even with those improvements, about two-thirds of third-graders aren't considered proficient.
Previous Mayor Michael Nutter set an ambitious goal around graduation rates — giving the city a concrete standard on which to judge his performance. Kenney has not done the same. There have been no promises of specific, quantifiable outcomes for initiatives such as pre-K and community schools.
Kenney says he knows community schools are working because of "the number of people participating from the community."
Kenney referenced a recent event at Murrell Dobbins Career and Technical Education High School in North Philadelphia, where he said about 300 adults came out to learn about financial literacy and job training.
"To me, it's clearly visual," he said. "It's energized the community."
Many traditional public school advocates agree, describing Kenney as a champion of working teachers, a rebuke to President Donald Trump's education secretary.
"Instead of looking to the Betsy DeVos-style education reform efforts of charterization and privatization, the mayor listened to educators and he listened to us when we said, 'This is the investment agenda we're looking for in our schools,'" said Linardopoulos, with the PFT.
Kenney hopes new energy around Philadelphia schools will reverse decades of discord.
And even some who've sparred with union advocates over the years think he's on to a winning formula.
"Stability is huge," said Farah Jimenez, a frequent charter school supporter who was on the School Reform Commission through an especially tumultuous period for city schools.
That era included a record number of school closures, budget crises, standoffs with leaders in Harrisburg, highly polarized charter school decisions, and years of labor unrest. Disbanding the SRC removed a political distraction, Jimenez said and has allowed the district to gain a sense of relative normalcy.
"It sounds like a low bar," said Jimenez, who now runs the Philadelphia Education Fund. "But given where we've been before, it's actually not a very low bar in Philadelphia."
A charter skeptic?
The mayor sees his approach to the school district — one focused on consistency and investment — as a long-term play.
"The problem is that people expect short-term solutions to long-term problems," said Kenney. "It's a big ocean liner. It takes a long time to turn."
David Hardy, a former charter school leader who now advocates for more school choice as part of the group Excellent Schools PA, thinks the mayor's approach lacks the necessary urgency.
"If your child is in second grade today, they need a second grade that's going to work for them," Hardy said.
Hardy says the mayor has been too cautious, given that there are still many low-performing schools. Hardy wants more charter options and worries that the Kenney-chosen school board has an adversarial stance on the publicly financed, privately run schools that educate about a third of Philadelphia's public school students.
"I think what he's trying to do is figure out a way to save the school district," Hardy said. "Saving the school school district should not be the mayor's goal. Having good education for the children should be the mayor's goal."
Kenney is against more charter schools, at least for the moment.
He doesn't support further charter expansion, he said, until the state revives a funding stream that acknowledged the added costs that districts incur because of charters.
Again, Kenney's argument comes back to resources.
"We can't afford two separate systems where one system pays for it," Kenney said.
Charters could, conceivably, be a wedge issue between Kenney and one his Democratic challengers, State Sen. Anthony Hardy Williams.
Williams ran against Kenney in 2015 and has traditionally supported school choice. He also wants to raise new money for schools without raising property taxes. Williams says this could be accomplished through taxing marijuana — if it's legalized — and by forcing the state to cover the cost of operating the local court system.
Kenney's other opponent, Alan Butkovitz, also paints himself as a fiscal whiz. The former controller believes he could do a better job identifying waste in the school district and fighting for dollars in Harrisburg, where he once was a state representative.
Democratic mayoral candidate Anthony Hardy Williams. (Brad Larrison for WHYY)

Democratic mayoral candidate Alan Butkovitz. (Emma Lee/WHYY)
Kenney, meanwhile, is focused on a steady path forward — even if a few years of relative stability hasn't changed the minds of many Philadelphia residents when it comes to the quality of Philly's traditional public schools.
A recent Philadelphia Inquirer poll found 56% of Philadelphians believe the traditional public schools are getting worse, against just 11% who think they're improving.
Kenney believes that perception will change with more time and money.
"So they're not convinced yet," he said. "And I think we need to continue to invest to convince them that's the case."
WHYY is your source for fact-based, in-depth journalism and information. As a nonprofit organization, we rely on financial support from readers like you. Please give today.