How the Jersey Shore looks 5 years after Superstorm Sandy
While the Shore Acres Yacht Club in Brick, N.J. was still standing after Sandy, the building was knocked off its foundation and the interior was severely damaged. (Photo by Krista Burslem)

Stewart's Root Beer Drive-In on Route 35 in Seaside Heights, N.J. (Photo by Chris Raia, Toms River Township)

Route 35 at 3rd Avenue, Ortley Beach, N.J. (Photo by Chris Raia, Toms River Township)

Bay Blvd and Washington Avenue in Lavallette, N.J. The First Aid building is the red brick building. (Photo by Chris Raia, Toms River Township)

This is Fielder Ave near Ocean Avenue in Ortley Beach, a section of Toms River, N.J.. (Photo by Chris Raia, Toms River Township)

Looking East from the Tunney Bridge that connects Toms River and Pelican Island, N.J. (Photo by Chris Raia, Toms River Township)

Seaside Heights, New Jersey. (Photo by Chris Raia, Toms River Township)
On Oct. 29, 2012, Superstorm Sandy devastated coastal areas of New Jersey and New York, causing billions of dollars in damage, and killed dozens of people in the U.S. and Caribbean.
Here's a look at where things stand with New Jersey five years later:
DAMAGE:
New Jersey reported $36.8 billion in damage. While most of that money has been spent on recovery, some funds continue to be spent five years later, including aid for damaged homes.
The Federal Emergency Management Agency says it has paid out$1.9 billion in public assistance funds in New Jersey. Aid to individuals and households has been $422 million in New Jersey.
New Jersey reported 12 deaths related to Superstorm Sandy.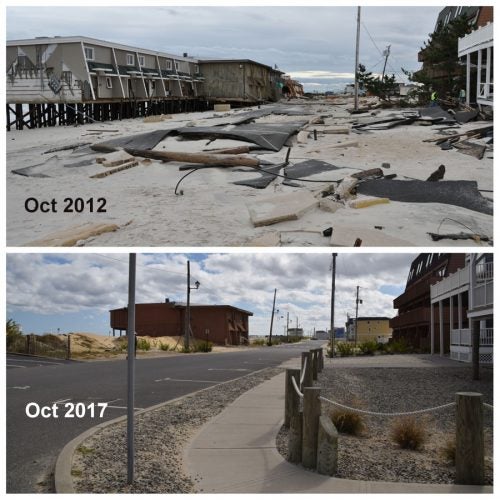 REBUILDING:
New Jersey Gov. Chris Christie, a Republican, has often put the number of homes and buildings damaged by Sandy in his state at 365,000. But victim advocacy groups say that total is wildly inflated, and that the true total is closer to 40,500 primary residences, and 15,600 rental units that sustained major damage in the storm. Thus far, nearly 5,000 homes have been elevated in New Jersey.
____
TRANSIT:
New Jersey Transit, the state-run commuter railroad, recently secured storage space on higher ground to avoid a repeat of the damage to many of its rail cars that were left parked in a low-lying area during Sandy.
____
UTILITIES:
New Jersey has shored up and elevated electric infrastructure and set up an energy resiliency bank to fund critical projects.
____
WHAT IT LOOKS LIKE NOW:
New Jersey has rebuilt all its boardwalks damaged by the storm, and most beaches have been replenished, though some of the hardest hit areas won't get new sand for a few more months. The Jet Star roller coaster that plunged into the ocean off an amusement pier in Seaside Heights, providing one of the storm's enduring images, was dismantled and replaced by a new roller coaster this year.
___________________________________
Special thanks to Chris Raia of the Toms River Police Department and Krista Burslem for providing the then and now photos. Raia was on patrol during the storm and sought shelter with Lavallette Police Department personnel in the Lavallette First Aid Squad building.