Is Philly growing too big, too fast? Gentrification concerns fuel City Council zoning reform call
City Council President Darrell Clarke wants a redo of the sweeping code that governs construction and development in Philadelphia.
This article originally appeared on PlanPhilly.
—
City Council President Darrell Clarke thinks Philadelphia's zoning regulations are accelerating gentrification and wants a redo of the code that governs construction and development in the city.
Under a resolution authored by his office and on the agenda for Thursday's City Council meeting, Clarke is calling for a new Council-led commission to comprehensively review and revise the city's code, last reworked in 2012 in a sweeping reform that marked the city's first major zoning revision since the 1960s.
"There are significant concerns about gentrification, significant concerns with density," said Clarke. "We aren't sure that [the zoning code reform of 2012] accomplished its intended goal. The simple reality is that we need to revisit it."
A main target of Clarke's resolution is the city's Zoning Board of Adjustment, which he believes plays an outsized role in development even after the 2012 reform made changes meant to reduce the influence of the board, which is wholly appointed by the mayor.
That Nutter-era reform was intended to modernize the rules shaping development by adopting national best practices: reducing parking requirements for new buildings, encouraging mixed-use projects and creating a code that made it easier for property owners to build without seeking variances from the ZBA.
Builders would get a smoother path to development and neighborhood groups would be protected from the capricious decisions of the board, which tends to favor development and grant most variances.
But it didn't work out that way.
In 2018, the Planning Commission found that the number of variances only declined by a few hundred cases a year, while the zoning board continued to approve the overwhelming majority of developer asks.
Much of the text of Clarke's resolution focuses on the zoning board's permissive ways, which Clarke argues are contributing to gentrification and disempowering neighborhood groups.
"You hear people coming in talking about height limits; on two-story blocks, people are building four-or-five story buildings," said Clarke. "The density is an issue in a lot of neighborhoods. In every neighborhood you go to people talk about the lack of parking."
His resolution seeks to create a new Zoning Code Review Commission, comprised of councilmembers and others appointed by Clarke's office. The commission would hold public hearings on the state of the code and ultimately submit a report with recommendations for change to the full Council and mayor.
The Council President's office hasn't said who would be on the commision other than Clarke or one of his representatives and Brian O'Neill, a Republican district councilman who represents the Far Northeast. Both men sat on the original Zoning Code Commission, which negotiated the development of a new code for years prior to its 2012 adoption.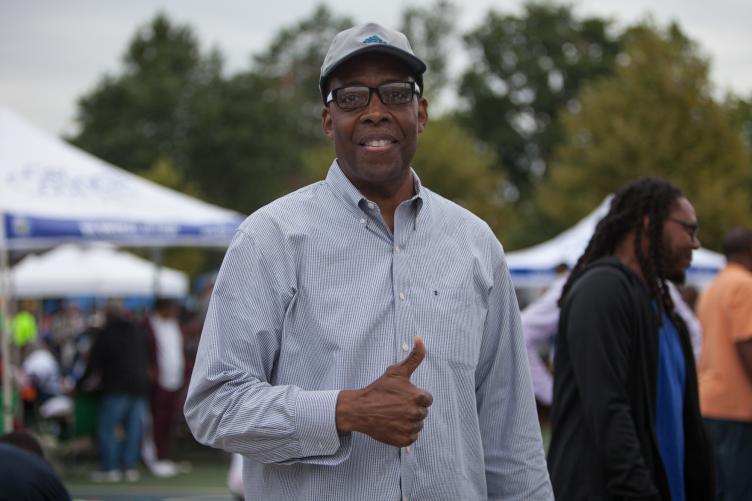 A no-apartment district?
When asked about his priorities for reform beyond the ZBA's aggressive permissiveness, Clarke highlighted parking shortages, as well as gentrification and density.
Clarke has long fought to increase the mandatory parking minimums established under the new code, arguing that when the city reduced the amount of parking developers needed to include with new projects they made on-street parking too competitive in residential neighborhoods.
Before 2012, the city required one parking space for most new housing units. Under the new code, most multi-family zoning districts only require three spaces for every 10 housing units and some require no parking at all.
A handful of American cities have eliminated mandatory parking minimums, which drive up the cost of construction and encourage automobile use. But as Philadelphia's population grows, and street parking in many neighborhoods grows scarcer, Clarke says that increased parking minimums will ease the strain on growing neighborhoods.
"While we encourage public transportation and people taking bikes, there are a lot of individuals who want to have their cars and are not getting on public transportation," said Clarke. "And people like myself probably can't ride a bike anymore."
The Crosstown Coalition, an alliance of civic groups from across the city, welcomed the news of Clarke's resolution and called on Mayor Jim Kenney to act immediately.
"Without waiting for a 6-month review, the Mayor could improve the ZBA now through either concerted retraining of current members or the appointment of new members who have more knowledge of zoning law and fewer conflicts of interest," Jeff Hornstein, chair of the Crosstown Coalition, wrote in an email message.
The Building Industry Alliance, an advocacy organization for residential developers, said that they were supportive of the idea as long as real estate interests were represented on the review committee.
But others expressed reservations about the Council-led initiative. Cheryl Gaston, a Philadelphia zoning attorney, pointed out that the city's legislative body has been amending the new zoning code, and undermining its original intent, since it first passed. Perhaps, she argued, there wouldn't be so many variances required if City Council had left it alone to begin with.
"The code has been amended since it was adopted many times and as a consequence more uses require variances," said Gaston, who is a member of the Philadelphia City Planning Commission and once served as counsel to the zoning board. "The number of variances hasn't dropped because the original intent of the first reform, which was to make more uses by right, hasn't been realized. It's the chicken and the egg."
Civic activist Matt Ruben, who has participated in a number of zoning battles, said that he would be more comfortable with the proposition if the Planning Commission's staff were leading the charge.
"Council should not be doing this unilaterally — the Planning Commission should be taking the lead," said Ruben, a longtime advocate and ZCC member. (He is president of the Northern Liberties Neighborhood Association, but was not speaking in that capacity.)
Ruben pointed out that seven years after the adoption of the new code, many City Councilmembers have been extremely slow to update the zoning maps in their districts despite long standing recommendations from neighborhood groups and the Planning Commission.
If Councilmembers had been more diligently remapping their districts to match current conditions and uses, there might not be such as high demand for variances. But Council President Clarke is one of the members who has been more reliable with his remappings, even if they haven't followed the exact letter of the Planning Commission's recommendations, and the rate of variance approvals is clearly still a major issue for him.
"I assume they have some fixed ideas in council about what they want to change and they just need cover," said Greg Pastore, a former member of both the zoning board and the Zoning Code Commission. "This is a shot across the bow [of the ZBA]."
The Council President didn't stop with a resolution either. The bill was introduced on the same day as legislation that would create something called a "Single Family Preservation District," which would ban the ZBA from granting variances for multi-family housing in any area designated as such.
The bill would make all of Clarke's council district a "Single Family Preservation District," in which it is illegal to give multi-family variances in any single family zoning district. (The bill would give other Councilmembers discretion over creating such structures in their own districts.)
It is unclear if the bill would be legal. Zoning lawyers have their doubts.
"I don't in any way question the council president's intentions it's just that if you asked me as a lawyer, its unconstitutional," said Matthew McClure, the team leader of Ballard Spahr's Zoning and Land Use Team. "What if you have a non-residential structure in an area that's zoned for single family use? There is clear case law on this."
WHYY is your source for fact-based, in-depth journalism and information. As a nonprofit organization, we rely on financial support from readers like you. Please give today.