Is Pa.'s prison mail policy legal? It might depend (in part) on how fast guards can read
A federal trial is underway on whether Pennsylvania's policy for handling legal mail sent to prisons violates inmates' First Amendment rights.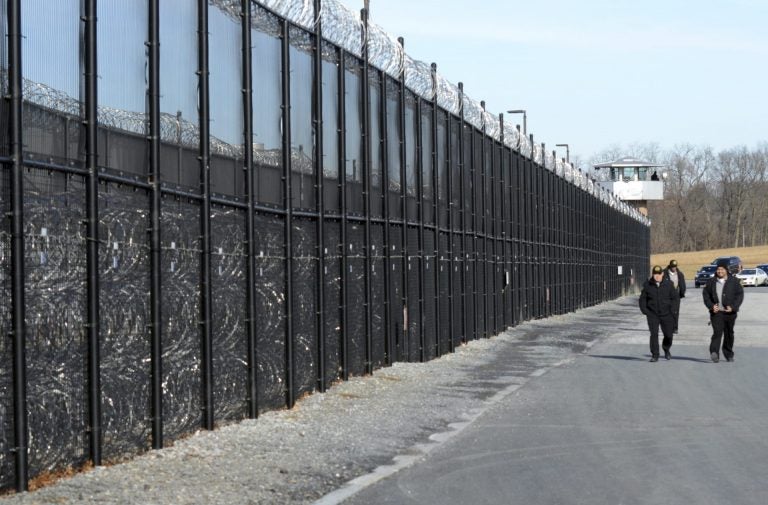 A federal trial is underway on whether Pennsylvania's policy for handling legal mail sent to prisons violates inmates' First Amendment rights.
Legal mail is supposed to be private.
But in state prisons, guards are also wary of smuggled contraband — and striking the right balance between security for prisons and attorney-client confidentiality has become fraught.
The Department of Corrections' legal mail policy was updated in fall 2018 — part of a broad slate of security-tightening measures made in response to what the DOC says were mounting concerns about powerful, synthetic drugs being smuggled into prisons.
Under the previous rules, confidential legal letters were marked with a special attorney sticker. Staff opened them in front of the inmates to whom they were addressed, shook out the pages, and handed them over. Inmates then stored them in their cells.
The new process still involves stickers and letter-shaking. But according to state policy and witness testimony, the DOC now has staff holding documents up to the light, photocopying them, then giving inmates the copies and temporarily storing originals in a secure box. The entire process is still carried out in the presence of inmates and is videotaped.
Pennsylvania's chapter of the American Civil Liberties Union is contesting the updated policy, along with the Pennsylvania Institutional Law Project, Abolitionist Law Center, and Amistad Law Project.
Lawyers for those groups have stopped sending confidential mail almost entirely since security was tightened.
ACLU-PA Legal Director Vic Walczak, one of the lawyers trying the case, said the first day of the trial was "very much about showing that the concerns about either deliberate or inadvertent breach of confidentiality by DOC staff in the legal mail is just too great to allow these legal services organizations and public defender offices to continue to use the mail."
Thus, the litigants hit the ground running with hours of testimony about the mechanics of photocopying.
The plaintiffs called four attorneys and an inmate — who video-conferenced in — to the stand.
The attorneys all testified that they felt sending legal mail was too risky given the DOC's additional security and that defending clients without that communication avenue has, in some cases, delayed trials and led to logistical nightmares in setting up in-person visits.
The first attorney was ACLU Deputy Legal Director Mary Katherine Roper, who testified that she feels there is no guarantee prison staff won't read confidential mail, even though the DOC policy technically prohibits it.
The second attorney, Leane Renee, is the assistant federal public defender in the Middle District of Pa.'s Capital Habeas Unit. She represents death row inmates and, like Roper, said the DOC's new policy doesn't meet her office's ethical standards.
She said she has about 15 clients in Pennsylvania, and that the inability to send them confidential mail has been "stifling."
The inmate who testified is Davon Hayes, who is currently housed in SCI Smithfield. He is serving a life sentence for a crime he denies committing and has been involved in lots of litigation since his incarceration in 2005.
Hayes testified that along with proceedings on his original case, some of the lawsuits and grievances he has filed have been related to his treatment in prison.
He said he thinks prison staffers may have read his legal mail since the policy change. He described seeing the staff tasked with checking his mail holding documents up to the light for 30 seconds and said on one occasion a staffer flipped through a few pages in a way that made him feel she was reading them.
Hayes noted, he initially resented his lawyers' decision to no longer send legal mail, though he now agrees with the move.
Hayes's attorney, federal public defender Lisa Freeland, spoke on the stand as well.
"At every step of this process, someone other than me or my client was going to have access to [the legal mail]," she said. "That's what gave me pause."
Pa. Institutional Law Project Deputy Director Su Ming Yeh testified similarly.
The state hasn't yet called its witnesses, and DOC Secretary John Wetzel said he's not commenting yet.
In their opening statement, defense lawyers for the commonwealth stressed that DOC policy dictates original copies of legal mail remain taped and stored in a locked box controlled by a third-party contractor when they're not in an inmate's sight. They also said since its heightened security policies went into effect, drug use and violence have gone down in the prison system.
In cross-examination, state lawyers focused on whether it was reasonable to assume mail could be tampered with.
The trial is slated to continue all week.
Walczak said that next, the prosecution plans to focus on whether the DOC had enough legitimate concern about the previous legal mail process to justify tightening it.
WHYY is your source for fact-based, in-depth journalism and information. As a nonprofit organization, we rely on financial support from readers like you. Please give today.