Is Flyers' decision to erase Kate Smith a sign of the modern NHL?
The Flyers' decision to remove a statue of singer Kate Smith comes as hockey is trying to reach more people of color.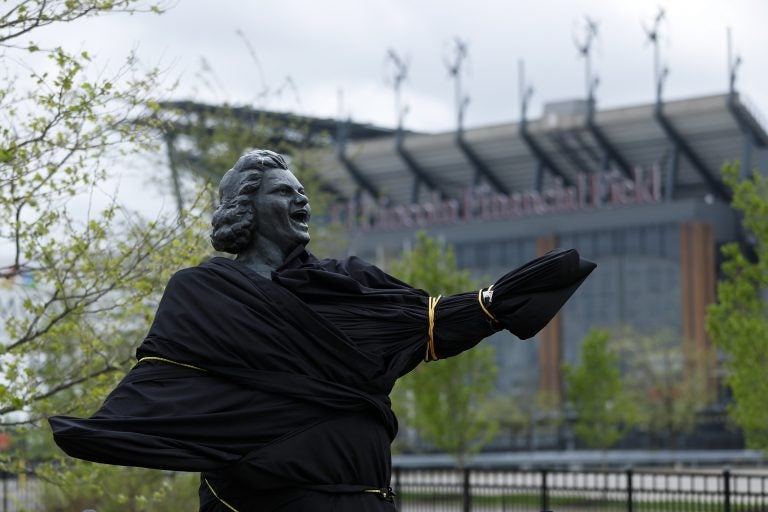 Kate Smith's connection to the Philadelphia Flyers began because of objections to another patriotic song.
At least that's what former team vice president Lou Scheinfeld told Sam Carchidi, the Flyers' beat reporter for the Philadelphia Inquirer and Daily News. In 1969, with the Vietnam War raging, Scheinfeld said he noticed fans tuning out the national anthem.
"He played Kate Smith's recording hoping people would be more respectful," Carchidi said.
Scheinfeld picked Smith's version of "God Bless America," and it quickly became a team talisman.
The song cemented its good-luck status when Smith performed live before a crucial game in the 1974 Stanley Cup finals. That night, the Flyers won their first championship.
Now a tradition birthed in politics has created its own political debate.
Smith, known as the "Songbird of the South" because of her Dixieland roots, performed two songs in the 1930s that contained racist, anti-black lyrics.
A disgruntled fan recently brought those uncomfortable facts to the attention of the New York Yankees, who also played Smith's rendition of "God Bless America." The Yankees quickly axed Smith from the musical lineup, and the Flyers followed suit. The team also covered — and then removed — a statue of Smith located near the Wells Fargo Center in South Philadelphia.
"The NHL principle of 'Hockey is for Everyone' is at the heart of everything the Flyers stand for," said Flyers President Paul Holmgren in a team statement. "As a result, we cannot stand idle while material from another era gets in the way of who we are today."
Lots of fans disagree with the team's logic.
Some point out that one of the offensive songs may have been satirical, evidenced by the fact that black singer Paul Robeson also performed a version. They also note that Smith raised millions to fight the Axis powers in World War II, and that her song selection was merely a product of the times.
"I think you have to kind of put the context together. This was 1930, and, unfortunately, things were different," Carchidi said. "But we've learned from that and moved forward."
Carchidi put out a Twitter poll to his followers about the Flyers' decision. Thousands of responses painted a pretty clear picture. Only about a quarter supported the move to ax Smith's statue; another quarter said they didn't care, and nearly half opposed the team's decision.
"It was pretty one-sided," Carchidi said.
Expanding hockey's appeal
But this may not be a case where majority rules, says longtime sportswriter Cecil Harris, who used to cover hockey and wrote a book on the experiences of black NHL players.
The NHL, he said, is trying to change its perception in communities of color. It started a campaign called "Hockey is for Everyone," and argues in policy briefs that the sport needs to broaden its appeal to survive in an increasingly diverse country.
"The league is trying to convey the message that anyone should be allowed to play hockey," Harris said.
Hockey is a whiter sport — in terms of participation and fan demographics — than football, baseball, and basketball. Less than 5% of NHL players are people of color, according to the Sports Business Journal.
There have been recent examples of racist fan and player behavior at the pro and amateur level. But Harris said most of the black hockey players he interviewed didn't face the kind of overt racism that pioneering black baseball players endured.
He attributes that, in part, to the fact that many black players hail from Canada, the sport's cultural epicenter.
"More of an emphasis is placed on race here than in Canada," Harris said.
Instead, black players simply haven't been part of hockey's historical narrative.
There was a hockey league for black players in Canada during the early 20th century. But the NHL didn't integrate until Willie O'Ree suited up for the Boston Bruins in 1958.
Harris said the Flyers' decision to remove Smith fits into the league's growing inclusion push — one it feels is necessary for the sport's future.
"We cannot continue to play this music and then tell black people, 'Oh, you're welcome at our games,' or tell black players. 'Oh, you're welcome to be part of our organization'," Harris said.
Fans weigh in
One of those fans is Kevin Smith, who is black and grew up in South Philadelphia. He fell in love with the sport's physicality.
"I don't see color," Smith said. "I just happen to like hockey. It's the toughest sport out there."
He was, however, "appalled" when he learned about Kate Smith's past performances, and he applauded the Flyers for their decision.
He wouldn't have held it against the franchise, though, if it decided to stand by the late singer.
"I would have just looked at it as status quo in America," Smith said.
The question is whether those Flyers fans who still love Kate Smith — or those who believe the team chose political correctness over tradition — will be as forgiving.
Sports radio host Glen Macnow of WIP believes most fans feel little residual connection to Smith, who is most closely associated with Flyers teams of the 1970s.
"A small, but vociferous group of people are very upset by this," he said.
Some of those vociferous fans have told Flyers' beat reporter Sam Carchidi that they plan to cancel their season tickets or stop watching games. And he thinks the Flyers' decision could hurt the team at the box office initially.
"But then again, if they start winning, then this controversy will be put in the past," Carchidi said.
Winning brought Smith into Flyers lore. And it may be the thing that smooths over her exit.
WHYY is your source for fact-based, in-depth journalism and information. As a nonprofit organization, we rely on financial support from readers like you. Please give today.