Inside Cherry Street Pier's $5 million remake
With less than a month and a half left until the scheduled opening of the renovated Cherry Street Pier on Oct. 12, the 99-year-old structure on the Delaware River waterfront.
This story originally appeared on PlanPhilly.
—
With less than a month and a half left until the scheduled opening of the renovated Cherry Street Pier on Oct. 12, the 99-year-old structure on Philadelphia's Delaware River waterfront is still very much a construction site.
A large trash receptacle and piles of lumber, metal pipe, and drywall fill the platform, along with construction vehicles and a scattering of sliced-open shipping containers that will serve as garden planters. On the north side, facing the nearby Ben Franklin Bridge, most of the pier's large metal doors have been removed, but planned replacement glass doors and guard rails have yet to be installed, leaving the bays open to the river.
Interior structures are still bare frames, including a bathroom area where workers dug a pit to bring in plumbing. A glass curtain wall that will bisect the pier has not been put in. The remaining doors on the south side, facing the Penn's Landing Marina and Pier 5 condominiums, have yet to be repainted. Workers driving forklifts zoom in and out of the arched entryway on Columbus Boulevard.  (See the action with your own eyes in the animated slideshow below.)
None of that comes as a concern to the staff of the nonprofit Delaware River Waterfront Corporation. The agency has plenty of experience creating attractions along the river, including neighboring Race Street Pier Park, and Spruce Street Harbor Park and Blue Cross RiverRink down the road, they say. Much work has already been done at Cherry Street Pier, from underwater surveying of the pier substructure to installation of utilities and weather-coating of exposed metal trusses. A set of shipping containers that will serve as artists' studios are in place, and staff said they're confident the rest of the project will come together quickly.
"One thing about this project that is interesting is that a lot of the elements are fabricated off-site and then just brought in and installed," said Lizzie Woods, DRWC's vice president for planning and capital programs, who is managing the work. "The shipping containers are almost all in and installed and done. The glass wall and the garage doors are coming in and will be installed in the space of a week. A lot of the work between now and the opening just focuses on the electrical and plumbing."
When it opens next month, the refashioned 55,000-square-foot pier will house 14 studios with windows that will let visitors watch resident artists work, as well as space for art exhibitions and food and drink offerings. On the river end, roof slats have been removed to create an outdoor garden area under the exposed trusses. A farmer's market and space for art vendors will eventually be set up. The pier, which is also known as Pier 9, will be open to the public year-round.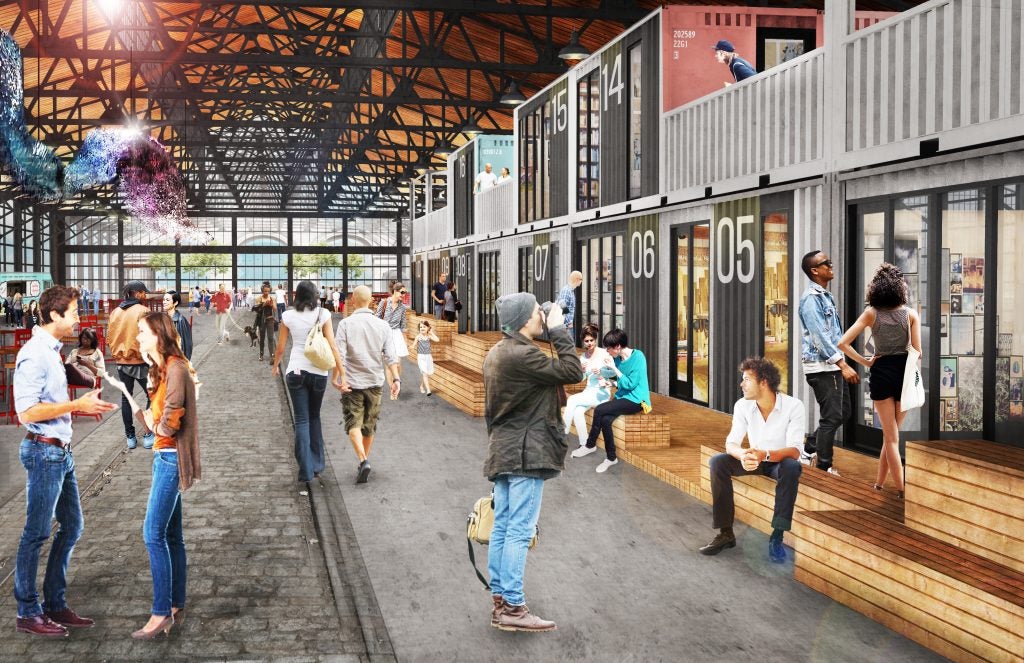 If the place still looks a bit rough around the edges when it opens, that will be partly by design, as the alternatives would have been cost-prohibitive. A 2012 feasibility study found that a full-scale rehabilitation would require virtually rebuilding much of the pier and cost at least $12 million, Woods said. "It just didn't pencil out, in terms of being able to do all the substructure repairs that we needed and all of the utility work and all of it," she said, during an Aug. 30 tour of the site.
The DRWC decided instead to pursue a simpler renovation that takes advantage of the building's existing capabilities, such as sections of the substructure that can support the shipping container studios, and adds just enough new features, like basic utilities and the glass doors, to allow reuse of the pier. The total cost will be close to $5 million, with funding from the city, state, and private foundations.
"We recognized that we had this asset, and we were looking for a way to activate and bring it back into public life that wouldn't require $12 million and an extensive, long, drawn-out process," Woods said. "We thought, what is — I don't want to say the bare minimum, because obviously, this isn't a bare minimum — but what is the most we can do with the least to get the biggest impact? And then build on that and create an even greater space based on the feedback that we're getting."
That means some parts of the pier that are clearly degraded, like its crumbling, weedy sea wall, will be left basically untouched until some possible future phase of renovation, she said. Other original features, like the trusses and hundreds of small clerestory windows near the top of the roof, are getting conservation treatment but retaining their vintage postindustrial look.
"We treated the trusses with weather protection, but left them as the rustic industrial steel they still are, not trying to gussy it up, not trying to make it too pretty," Woods said.
"It's a beautiful structure. It doesn't need that," added Emma Fried-Cassorla, DRWC's marketing and communications director.
The interior amenities will be ready for visitors by opening day, but they'll also be left somewhat incomplete, Woods and Fried-Cassorla said. While the design went through multiple rounds of review and public input, including consultations with nearby residents and an open house last year that drew hundreds of people, it will continue to be subject to change and adaptation after it opens, they said.
"We really didn't want it to be so 'done' when it opens that we can't adjust as we learn what actually makes it work. That's something we've learned from our other projects — you can do as much design thinking and as much outreach as you want, but until you see how a space really works, you're not going to know what the best placement is of every little thing, what the best operational procedures are, what the best programming is or anything like that," Woods said. "We're really just excited to get it open, and then to respond as we hear from folks what's working and what's not."
Among those consulted were people living in the Pier 5 condos, who look out at the Cherry Street Pier across a marina. Resident Ronald Higman said when he first heard about the project, one of his main concerns was noise from possible large events that might be held there. DRWC officials told him and other residents that events would be held mostly in the enclosed part of the structure, he said. Fried-Cassorla said the organization also considered noise when reviewing artists' applications and will not have tenants who use loud equipment.
The waterfront around Pier 5 is already fairly loud, with the constant hum of traffic on Columbus Boulevard and the Ben Franklin Bridge and the periodic roar of PATCO trains on their way to New Jersey. Sound from amplified concerts and other events floats north from Penn's Landing, making for a noisier neighborhood than when Higman moved in six years ago. "Over the last five years it's gotten progressively louder at night, and the crowds have gotten larger," he said. Higman is a member of the condo board but said he was speaking on his own behalf.
A related concern is the pier's proposed hours, which Higman was told will run from 11 a.m. to 10 p.m. on weeknights and until 11 p.m. on Friday and Saturday, he said. He would prefer a daily 10 p.m. closing. While Fried-Cassorla said the hours are still being finalized, Higman said the DRWC told him it would try out the 11 p.m. weekend hours for the next few months and then reevaluate them. Fried-Cassorla noted that the resident artists will have 24-hour access to the site.
One other issue is the large doors on Cherry Street Pier's south side: Higman described them as "pretty ugly" and said he's looking forward to the promised repainting. On the whole, though, he described the renovation as a "very good project" that he's very happy to see happening.
"We're looking at the pier being developed as a positive thing," he said. "If it goes as planned, it will change the way we view things a little bit, but that's progress."
The pier debuts October 12 with a two-week arts festival called Festival for the People that will include participatory programs, events, sculptures, installations, videos and banners.
WHYY is your source for fact-based, in-depth journalism and information. As a nonprofit organization, we rely on financial support from readers like you. Please give today.