Inis Nua Theatre Company tames 'The Monster in the Hall'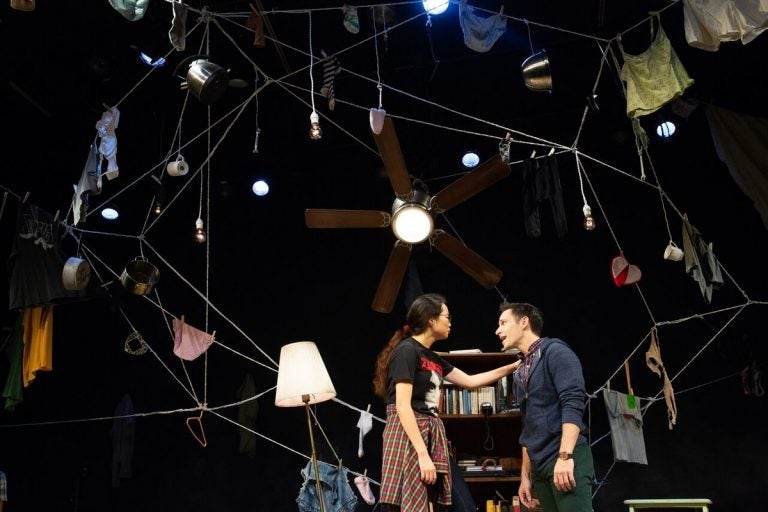 When fantasy and reality butt against each other until they somehow coalesce you get "The Monster in the Hall," a delightful Scottish play with music, in a spirited production. The story is narrated, sung and acted by its characters and it's great fun, written by the Scottish playwright-director David Greig. Here, though, the production is key. The show shimmers under Claire Moyer's inventive direction for Inis Nua Theatre Company, with a thoughtful display by creative designers and fine-tuned performances from an energetic cast of four.
A 16-year-old girl named Duck (the endearing Claris Park) lives a life that calls for plenty of commitment, especially for someone so young. Her mom died in a motorcycle crash when she was three and her gentle, isolated dad (Doug Durlacher, excellent) is suffering in an early stage of multiple sclerosis.
She cares for him when she's not in school. To take care of herself, she becomes lost in writing at sunrise each day. She's created a fantasy that's approaching novel length, with a princess who has a charmed life and is her alter-ego. In real life, Duck and her dad live hand-to-mouth in a seedy two-bedroom flat, wonderfully created by set designer Apollo Mark Weaver with overhead clotheslines full of laundry and playing spaces that sit askew, insulated underneath by trash.
Duck has her ideas about dad's obsession with the computer after midnight, when she's supposed to be asleep. She knows things are pathetic. She can't get serious attention from a handsome guy (the talented Jamison Foreman, who wrote music for the show) she works with in drama class. She's always cleaning up after her constantly messy father. Worse, someone from the Department of Child Services (Eleni Delopoulos, a treasure here) is coming for a check-in. How does this bode for Duck's future?
The monster in "The Monster in the Hall" is both fantasy and real, too — I won't explain it here. It figures fully in the plot, created in the style of other contemporary plays from the British Isles — actors hand off lines to one another, there's heavy narration, music enters here and there (concert style), the cast plays many instruments and key dramatic scenes are breathlessly described and performed.
At least that's how this tale should work, and does, in Inis Nua's telling, with appropriately inelegant costumes by Natalia de la Torre, Amanda Jensen's precise lighting, and dramatic sound design by Edward Smith that's every bit as effective as the fine cast. My guess is that the props designer, Sarah Sindelar, had the best time finding the multitude of bric-a-brac that perfectly accessorizes the evening.
_
"The Monster in the Hall," produced by Inis Nua Theatre Company, runs through Oct. 21 at the Louis Bluver Theatre at the Drake, to the side of the Drake Apartments on Spruce Street between 15th and 16th Streets. 215-454-9776 or inisnuatheatre.org.