Some who've spent time behind bars in Pa are eligible to vote, and this group is spreading the word
Anyone not serving a felony sentence in the Keystone State is eligible to vote, and a new group is working to help facilitate the practice.
Ask us: As Election Day draws near, what questions do you have?
An effort is underway in Pennsylvania to get all qualified voters a ballot this time around. That even includes some who are incarcerated.
"The problem is that every year there is a contingency of elected officials, advocates, some might say Republicans, that go on a misinformation campaign to tell individuals that are convicted of felony charges that they cannot vote. That is not true," said Lee Owens of the Penn Franchise Project.
According to Pennsylvania's Dept. of State, even those convicted of a felony may be eligible to vote if they meet certain criteria.
Anyone can register and vote under the following circumstances:
If they are a pretrial detainee, confined in a penal institution awaiting trial on charges of a felony or a misdemeanor.
If they were ever convicted of a misdemeanor.
If they have been, or will be released by the date of the next election from a correctional facility or halfway house. This must be upon completion of the term of incarceration for conviction of a misdemeanor or a felony.
If they are on probation or released on parole. This includes parolees who are living in a halfway house.
If they are under house arrest (home confinement). If this is you, you can vote no matter your conviction status or the status of the conditions of confinement.
Anyone serving time on a felony conviction or who was convicted of violating any provision of the Pennsylvania Election Code within the last four years is not allowed to vote.
Kallel Edwards of Black Voters Matter said the formerly incarcerated and those who are currently in custody deserve to vote to have their opinions heard.
"A lot of the folks in these communities may have tried to have conversations around gun violence and housing and education, and now is the time to have these conversations, to find a champion that stands behind those issues long term or short term solutions," Edwards said.
As part of the effort to engage people who are incarcerated, workers provide registration forms and absentee ballot requests in prisons.
"I sat down and was able to register 41 first-time voters in just two hours in the Cumberland County Prison," said Kirsten Cornell, the family and community support director at the Prison Society. "It really shows how important it is to meet with people one on one, explain the process, answer questions, and really have that outreach to a disenfranchised population."
Nick Presley, state director of All Voting Is Local, spent most of his twenties in and out of county jail in Centre County. "I was a repeat recurrent resident of that and for a long time, I didn't know I could vote after I got out of jail, let alone while I was in jail. We're here to change that narrative," he said.
"Some of you all may know, but it bears repeating, that Pennsylvania has one of the largest incarcerations in the country. We know that the United States has the largest incarcerated population in the world. If Pennsylvania was its own country. We would be second in the world behind the United States."
Advocates say that even though prisons are mandated to offer voter services, what is actually being offered varies from facility to facility. The new advocacy group includes the NAACP and others who vow to help those behind bars exercise their right to vote this year. They're using this as a test for what they need to do for the presidential election two years from now.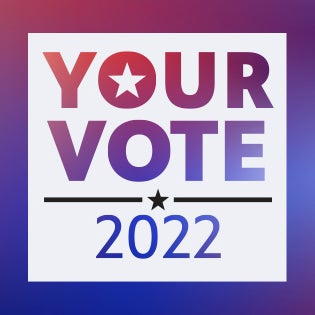 Your go-to election coverage
WHYY is your source for fact-based, in-depth journalism and information. As a nonprofit organization, we rely on financial support from readers like you. Please give today.