In Profile: Richardson Dilworth, Historical Commission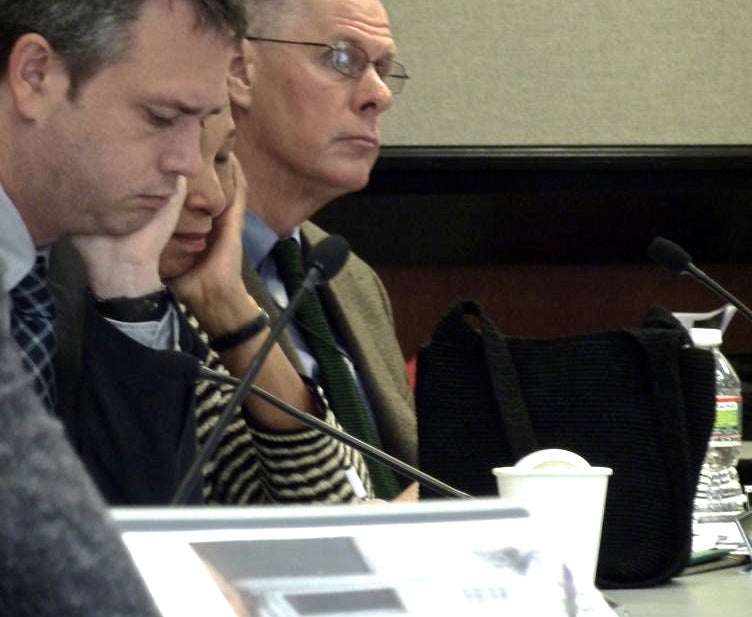 Richardson Dilworth visited the Dilworth House on Washington Square just once as a little boy, but he's pretty sure that the fact that he and the house are inextricably linked — his grandfather, the ex-mayor of Philadelphia, built the controversial Colonial Revival house in 1957 — is the reason why Mayor Michael Nutter eventually invited him to join the Historical Commission.
"We're not really a sentimental family," he says now, sitting behind a cluttered desk at Drexel University, where he's associate professor of urban policy development and director of the school's Center for Public Policy, a think tank-like operation that he founded. "The house wasn't in use when my parents took me into it — my grandfather had died when I was a year old and my grandmother was in a nursing home — but it was totally furnished. My parents said I could have whatever I wanted. I took a seashell and a flag."
He lets out a dry chuckle, adding, "When I was appointed to the Historical Commission, the house was in the news again, and I'm sure my name stuck out."
An only child, Dilworth was born near 12th and Pine, not far from his grandfather's controversial home. He spent his formative years, though, in Alden Park, roaming through all three towers — his divorced parents each lived in a different building, and his father later married another woman who lived in the third. He recalls playing in the basement — "an incredible labyrinth" — of one of the buildings with his best friend, who just happened to be the son of Richard Tyler, the former head of the city's Historical Commission.
Still, he never thought to ask for a spot on the Commission — entering his name on the Nutter administration's web site only at the urging of Drexel's government relations officer and even then offering no special request or interest. He was appointed in 2008 as the Commission's designated historian — "but I'm not a historian," he comments, before qualifying the observation. "Although, I am part of a little sub-class of political scientists that talk about infrastructure and urban systems, so to that extent, I suppose I'm an appropriate choice." Right now, though, a particular research interest of his lies in commercial corridors and BIDs and the complex competitor-compatriot relationships inherent in them.
With close-cropped graying hair and wearing a conservative but sporty checked shirt opened at the neck, he seems professorial and game at the same time, serious but with an edge.
Dilworth's modesty when it comes to his legacy has been consistent, starting with where he's chosen to live —in New York, he was based in Greenpoint, Brooklyn; in Philly since 2000, he's called Passyunk Square home, living in a row house with his wife, Martha Lucy, an art historian and Drexel professor, and their 9-year-old daughter and one-year-old son. His career path has been similarly workaday. After graduating with a degree in economics from NYU, he started in operations for New York's parks and recreation department. He moved into tenure-track academia with a decade-long stint at Drexel after acquiring a Ph.D. in political science from Johns Hopkins, publishing a handful of esoteric-sounding titles along the way.
His anti-patricianism also shows in the tolerance he regularly exhibits toward the little guy. During Commission Meetings, it's his voice more than any other that attempts to bring a degree of sanity into the often picayune discussions that ensue over applicants' windows and decks. "It seems to me that these things have orders of magnitude," says the 42-year-old, raising an eyebrow. "I would prefer to err on the side of reasonableness over architectural purity, except if it concerns someone redoing, say, the Boyd Theater."
He expresses surprise at how often what he terms the "windows issue" comes up, but he also acknowledges the difficulties faced by the Commission when it comes to working with certain historic but always changing neighborhoods.
"The city has a tradition of innovating to make these historic properties continue to work and be economically productive," he says, "but some districts can be especially challenging. Like Society Hill, where there's this schizoid relationship between the Colonial architecture and the redevelopment architecture and it's all connected and relevant to the historic district designation. Girard Estates is another one, it's so uniform but so much was grandfathered in by the time of the designation and then we hear that 'everyone on my block did it' argument when it comes to changing a back yard or front porch."
He's practical about the house that bears his name, too. "It doesn't make sense to have that small of a building on that site in this real estate market," he says. "It's not the highest and best use. I liked the idea of using it as an entrance to condos." Then he shrugs, once again lifting his left eyebrow in silent comment as if to say, 'whatever. . . . '
As he gets ready for an upcoming trip to Shanghai — bringing with him graduate students from the Center, as well as his daughter and 74-year-old mother — such matters don't seem top of mind. Several planning books on that shining city litter his desk — I recommend he add one more to the pile, Daniel Brook's A History of Future Cities — as do stacks of blue test booklets (it's finals week) and an unopened packet from the Historical Commission. "I haven't even looked at that," he says with a chuckle. "I guess it's the designation stuff, right?"
He heads the Commission's Designation Committee, which submitted its recommendations for more than a dozen new additions onto the city's list of historic properties. His presence on that committee echoes his comportment behind his desk today and at the commission's table each month: listen carefully, keep things moving, speak only when it matters.
It's not surprising, then, that when I ask about a photo of a Victorian-era gent in a picture frame on his windowsill, he tells me it's Boies Penrose. "Someone gave me the frame and I needed something to put in it so I printed this out," he remembers. "He was notoriously corrupt, I just think he's a really interesting character."
The anecdote is delivered in his familiar deliberate, self-deprecating tones, but the distancing from politics comes across loud and clear. After all, it was Boies, a Republican politico from the late 19th-century, who once famously observed "public office is the last refuge of a scoundrel."