In Philly, 'Abolish ICE' protests meet the Jewish high holidays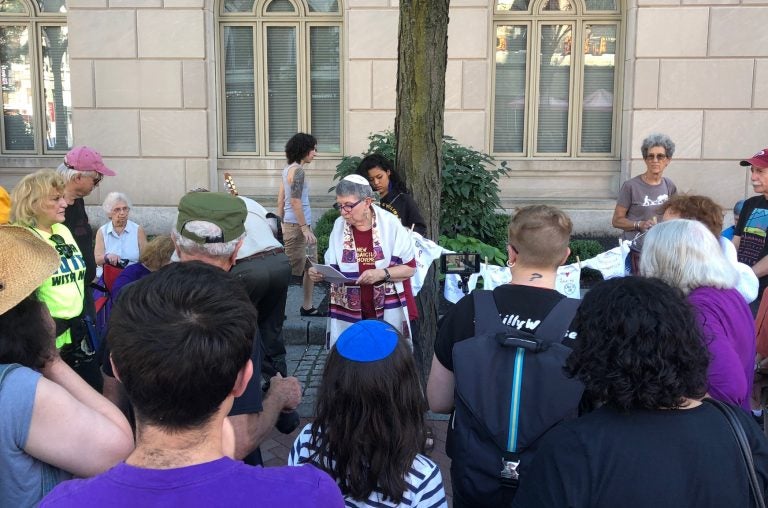 During the Jewish High Holy Days between Rosh Hashanah and Yom Kippur, observers perform the tradition of Tashlich, which means "cast away" in Hebrew.
After Rosh Hashanah (the Jewish New Year), observers gather near a body of water and cast their sins, usually in the form of bread, into the moving waves in a ritual symbolizing the letting go of their misdeeds and leaving them in the past, letting the water carry them off.
This year, about 50 people brought the ceremony to the offices of U.S. Immigration and Customs Enforcement on Chestnut Street in Philadelphia, asking the agency to do the same. But instead of throwing bread into water, demonstrators tossed ice cubes in front of the building, hoping that ICE will "leave their sins behind and melt their hearts."
"ICE, you need to melt what you've been doing," said Rabbi Linda Holtzman of Tikkun Olam Chavurah, which helped organize the event along with other Jewish organizations and immigrant rights activists.
"You can be forgiven for what you've done if you if you turn around and start doing things differently," Holtzman said. "And if not, you yourself should melt."
It was a twist on the summer's "Abolish ICE" and "Occupy ICE" protests in which dozens of activists camped out overnight, first at the agency's offices on 8th and Race streets and then at Philadelphia City Hall.
Among the "sins" ICE should cast away, protesters said Sunday, was its separation of 2,654 children from their parents who illegally crossed the Southwest border.Recently, the New York Times reported that about 12,800 children are being held in federally contracted detention centers this month, a nearly 500 percent increase since May 2017.
The group also brought a list of demands, including "an end to racist stereotyping of refugees and immigrants" and "a just policy for paths to citizenship for undocumented residents."
"This country would not be who we are if we didn't have immigrants from all over the world," said Deborah Zubow, a member of Tikkun Olam Chavurah. "And just the barbaric treatment that people are getting is just unthinkable."