In Walnut Street Theatre's 'Matilda,' being smart is not enough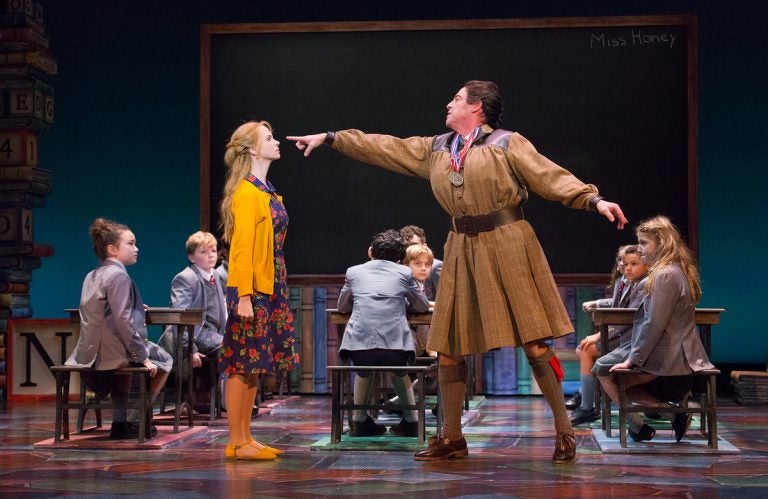 Pity poor Matilda, a sweet British five-year-old girl despised by stupid parents who never wanted her. She's blessed with a strong sense of right, a passion for reading (which she's taught herself) and an engaging talent for making up her own elaborate stories. Her parents send her off to first-grade at a school from hell, where the head mistress calls children "maggots" and worse. How will Matilda survive?
"Matilda" comes from the mind of the late Roald Dahl, whose most well-known work is probably "Charlie and the Chocolate Factory," and whose idiosyncratic sense of humor will delight or repel you depending on the way you feel about dark comedy involving children. So when you see the musical version of Dahl's book on the main stage of the Walnut Street Theatre, beware: the cartoonish extremes of the heavies in this musical don't altogether overcome their inherent nastiness.
The musical, with a score by Tim Minchin and a book by Dennis Kelly, was a hit on London's West End and then on Broadway, where it had run for more than 1,500 performances by the time it closed almost two years ago. Kids — particularly young girls — are fans of the story, and why not? Except for the librarian who is enamored of the stories Matilda tells and a first-grade teacher who quickly becomes a fan of Matilda's smarts and ethos, all the other authority figures are downright reprehensible.
I'm no fan of Dahl's sensibility, but I am a fan of fine acting and the Walnut's production directed by Linda Goodrich has much of it. This begins with the bravura of Ian Merrill Peakes, the veteran Philadelphia-based actor whose drag performance of the headmistress Miss Trunchbull will be, I bet, the most memorable image of this "Matilda." He delivers a woman utterly devoid of empathy for anyone but herself — a trait perhaps more meaningful these days than when the show opened on Broadway four years ago. Peakes also manages to be, at once, funny and frightening. You may laugh at what he does with his character now, but you fear what he might do in the next moment.
Matilda's parents, clueless and malevolent, are played just so by Lyn Philistine and Christopher Sutton. Mom dances competitively with a dumb hunk (played by Jacob Tischler) and Dad's trying to make a killing by selling Russians cars with rolled-back odometers. Both despise Matilda for her fascination with reading. (The stage setting of oversized books and letter-blocks is by Robert Koharchik.) Matilda's father, with no time for girls, calls her "boy." She has an older brother, played by Mark Donaldson in the show's most thankless role — he comes off as either stunningly dull or high. Maybe a combo.
Demetria Joyce Bailey is the librarian who adores Matilda for her storytelling and Matilda's first-grade teacher is a sweetheart portrayed by Laura Giknis. I've seen Giknis several times in other productions, some of them musicals — her voice is a crisp joy to listen to. In this production, she comes across as tinny in the execution of Elizabeth Atkinson's sound design, but so does the show.
The matter's made worse by the lack of a dialect coach — none is credited — particularly for the large cast of children the night I saw it. (Two casts of children act, sing, and dance to Michelle Gaudette's clever choreography in the show, one on weekends and another weekdays.) Their accents wander from Britain to Australia and who knows where. The charming Jemma Bleu Greenbaum was the Matilda I saw; her counterpart on other nights is Ellie Biron. It was near impossible to make out some key parts of the dialogue — one story told throughout the show about an acrobat and her Houdini-like husband, an "escapologist," came across as being about an anthropologist. I kept looking for Margaret Mead. Maybe she ran off with the dialect coach.
—
"Matilda" runs through Jan. 6 at Walnut Street Theatre, on Walnut Street between Eighth and Ninth Streets. 215-574-3550 or walnutstreettheatre.org.